Google Plus is setting out to be a Facebook Killer. Thanks to my friend Cyndee Haydon, Clearwater Realtor, I am IN and messing around with the new system!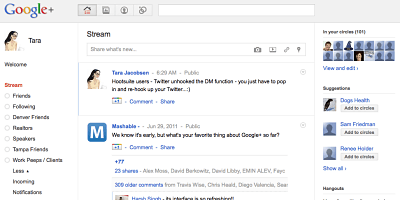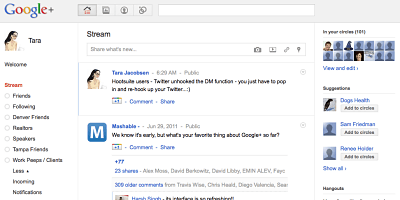 So, what does this new social media platform mean for real small business owners RIGHT NOW? Not so much. Like all social media thingy-ma-bobbies, if you are not going to participate, you will get no results. That having been said, if someone invites you, make sure to sign up! (Check out my post on Social Networking First Responder Advantages).
So after an extensive 10 minute mess around with Google Plus, what are my feelings?
I like google – all of my google stuff is hooked together and they pulled my contact list in, set up my profile for me and generally it works like the other google stuff so I am happy!
HUGE PRO – It seems to have WAY more control of who sees what you post. You set up circles and can then share things with just people in those circles or publicly.
It has a place to upload videos – not sure yet if these will then be on YouTube – more on that to come when I have more time to mess around.
Cons – there aren't many people on it yet so it is not so interesting.
Cons – you have to be invited by someone already using it, a la the start of gmail when you had to get an invite.
The interface is truly lovely, plain and easy to use!
Did not see a business page section yet – have to see how this plays out!
So, does this mean that Google Plus is going to be a Facebook Killer? Who knows? Facebook has a gagillion people using their service BUT they have lost sight of WHY some people use it.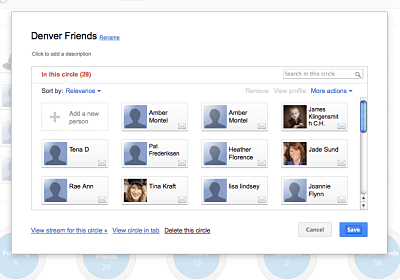 In my social media workers world, we all have noticed that getting a business page "liked" is almost impossible at this point. You can no longer "suggest to friends" as they don't send an email to notify someone that you suggested that page. You can't upload your database, well you can, BUT they do not tell anyone you did that so no one responds. The general consensus is that Facebook wants us to pay for ads to get pages "liked". Well, not sure of the great value of having lots of likes AND if they are going to spend hard earned money elsewhere, we would rather have our peeps pay to have their website or blog visited than to have their Facebook page liked.
At every social media class I give I remind them of AOL. I was in internet hosting and website development in 2001 and AOL was HUGE. When they merged with Time Warner, it was AOL who did merging. Well, today they are no longer a player and popular culture things do come and go! The best way to use Social Media for your small business is to stay agnostic. Do a little of FB, a little Twitter, some LinkedIn, LOTS of YouTubes (had to throw that one in) and now a bit of Google Plus.
I KNOW, we all wish there was just one thing we had to like the Yellow Pages in the old days, but those days are gone. We don't know if Google Plus will be a Facebook killer but we do know that something will be. Worth the time to set up your Google plus if you get an invite and then wait and see!!!