We spend a lot of time talking about lead generating here. Marketing is all about getting opportunities to sell your product to someone who has a need. BUT what if your customer service is letting your lead generating down?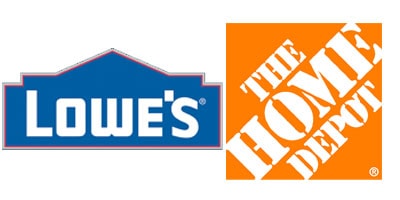 Last week Lowes sent me a really great email newsletter with ideas about how to make my laundry room a fun and functional place. It painted the picture so well that I trotted out this weekend in search of some paint, shelving and baskets to use on the project. Now, since the idea came from the Lowes email, I decided to visit that retailer rather than Home Depot where I normally shop for these kind of items.
Differentiating Your Business From The Crowd
As most of us know, Lowes, Home Depot, Ace Hardware and other stores have the same kinds of products, much the same way that all Mary Kay reps, bookkeepers or Florists offer the same makeup, accounting or flowers respectively. So what can a small business owner do to differentiate themselves from the competition?
Offer ridiculously good customer service – With all the outsourcing overseas, it is rare that I call a company that has its call center in America. GoDaddy has GREAT customer service who are ridiculously patient with non-techy people. Most small business owners are the ones to answer the phone and make decisions about how problems are to be handled. What if you decided that each request or problem from your customers was a chance to make that relationship better?
Note – I started going to Home Depot because of marketing. Tony Stewart (a Nascar driver) is my favorite and he represented Home Depot for years so marketing got my feet in the door. What kept me coming back was the fact that all those orange people constantly ask if they can help me and then walk me over to exactly what I was looking for, that is customer service HELPING your lead generating efforts.
Keep Your Marketing Word – If you are going to promote the "best something ever", it better be! Many times buyers remorse comes because the marketing promise is not delivered in the actual product. My pal Seth Godin always talks about how the marketing department should be on the development team. This makes total sense for small business owners. When you are developing a product or service to offer, make sure that your company is good at doing that function and that you have systems in place to assure that the same great experience happens each time for each customer.
Set Realistic Expectations – I see more small biz owners tearing their hair out because of their unrealistic clients. Funny that, most times it is because the business owner did not frame the product in such a way as to assure that the client gets a value and the business owner makes a fair wage. Too many times small biz owners want to make the lead generating sale and worry about the implementation later. The BEST way to have happy clients is to make sure they know what they are buying and you know what you are selling!
NO One Offs – Last one! Stop changing your business to fit the needs of your clients, it won't serve you well and it will just wind up annoying them. For example, we make small biz blogs on GoDaddy. Now is that the best host, maybe not BUT we have a 6 page document that details a step-by-step process for setting up a blog perfectly on GoDaddy. A couple of years ago someone came to us and wanted to use a different web host and said that they would not hire us unless we used their choice. It was tempting to say, "well maybe we will get more people who like that host too". We did not take the project and in the ensuing YEARS, no one has ever asked for that host again. There was a good chance we would have done a poor job because we did not have a system in place AND I can guarantee that it would have taken twice or three times as long as usual since we would have to learn a new system.
So what does all this say about lead generating and customer service? You better make sure all of the pieces of you small biz marketing puzzle are on the same page or your efforts will just be churning and burning more unhappy customers.
PS – Because I am so happy with Home Depot, I thought Lowes would be comparable. Their products might have been, but their customer service was lacking. 3 people were at the paint station but only one (somewhat incompetent and grouchy) lady was actually help mixing paint so it took almost 20 minutes to order a gallon of paint. Then the shelving lady was barely mobile and took a 10 minute phone call in the middle of selling us some shelving. I thought I was going to have peel my mother-in-law off the ceiling, she was so mad at being ignored. Needless to say, we are back at the depot now and will just take all the great lowes ideas there!