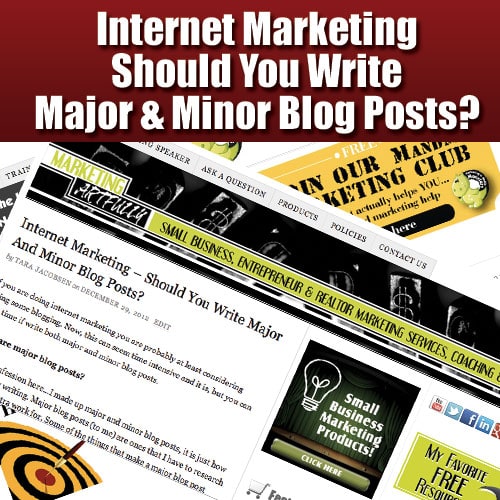 If you are doing internet marketing you are probably at least considering doing some blogging. Now, this can seem time intensive and it is, but you can save time if write both major and minor blog posts.
What are major blog posts?
Okay, a confession here…I made up major and minor blog posts, it is just how I think of my writing. Major blog posts (to me) are ones that I have to research or do some extra work for. Some of the things that make a major blog post are:
I would say that a major post can take between an hour and a couple of hours to write. They require more than my personal knowledge to write and are probably interesting to me and a smaller segment of the small business population than most of my posts! They are also generally longer than most with some bumping up on 2,000 words.
What are minor blog posts?
Minor blog posts are the ones that I can write off the top of my head. I have 15 plus years of experience in marketing and spend HOURS a week researching and learning about different marketing techniques that could work for our small business peeps. That means that I have A LOT of information that other people don't know. This is key.
You probably have a lot of information in your industry that other people don't know. Sometimes it can seem like what you are talking about is too basic but that is because you KNOW it. Other people probably do not know it and could use your expertise.
These posts usually take less than a half an hour to write because I write them from experience and they are generally around 500 words max.
Which are better?
So I like doing major posts because I generally learn something during the process and they tend to be interesting to me and very high level advanced marketing. Sigh…well come to find out, they are not the magic that gets people to my website. My top posts last year in order were:
So 4 of my top 5 blog posts were written off the top of my head. They total 13,872 hits to my website last year and just sit there like little soldiers, bringing people by to see my site daily.