So we do internet marketing and we get a lot of questions about websites, websites versus blogs and whether they are important anymore with the advent of social media. So let's break down the bits in a way that my small biz peeps will be able to understand!!!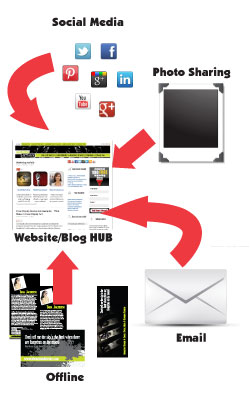 Having a hub…first off, let's talk about what either a blog OR a website does. It makes a place (HUB) for all of your social media marketing to land and is your home base for your marketing efforts. ALL of your marketing materials, online and offline, should point back here.
Some of the places that you should have linking to your "HUB" include:
Facebook
LinkedIn
Twitter
Email Marketing
Pinterest
YouTube
Your Blog (if separate)
Business Cards
Brochures
Photo Sharing Sites
the list goes on and on!
Okay, I have to say that as a marketing person, I am a HUGE blog proponent. The RSS capabilities of a blog make having one vital in today's interconnected internet. There are two types of blogs, free blogs and paid blogs. Free blogs come from places like Blogger.com and WordPress.com and are a great way to dip a toe in if you are not ready to go the paid route.
Paid blogs have hosting with a company like GoDaddy and are owned by you, providing much more latitude to selling or pitching your product. We recommend having a blog because of the high SEO (search engine optimization) factors and the ability to target keywords with each post! MANY of our marketing clients have a website HUB and a separate marketing blog (which we recommend and is a post for another day!).
Now, blogs can be prettier than they were in the past, BUT we are not going for pretty with our blogs, we are going for FUNCTION! Hard core SEO and get you noticed on the search engines kind of thing. Find out more about our blogging setup and maintenance services!
Why You Should Have A Website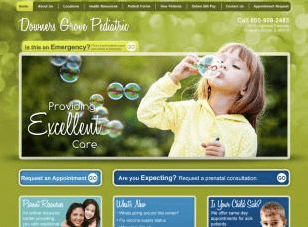 So, am I anti websites with all this blogging talk? Nope! I do think that for specific industries a blog is not going to suffice. Blogs are for computers and a really beautiful, well designed website is for humans!
This website is for a pediatric office, and is designed by the internet marketing for doctors company, Officite. If you are considering taking your child to a new doctor, you DO care what the initial impression of the website is. Does it convey professionalism and reliability? Additionally, it offers functionality like appointment scheduling and an interface with the doctor's office.
So who needs a website versus a blog? Doctors, lawyers, people who require confidential information be submitted online like mortgage pros, oh and Ecommerce peeps who want to have a big online store!
Wrap Up
So, with all of this social media talky talk, are you saying that you need Facebook, Twitter, Pinterest, videos, photos, a blog AND a website? For some of my small biz owners, YES! I KNOW, having all of those properties and managing them effectively is a hassle and I would love to tell you that all you need to do is buy a yellow page ad and be done like in the old days…but that is not the way the world works anymore. Having a strong web presence is VITAL to having a success business in this day and age!