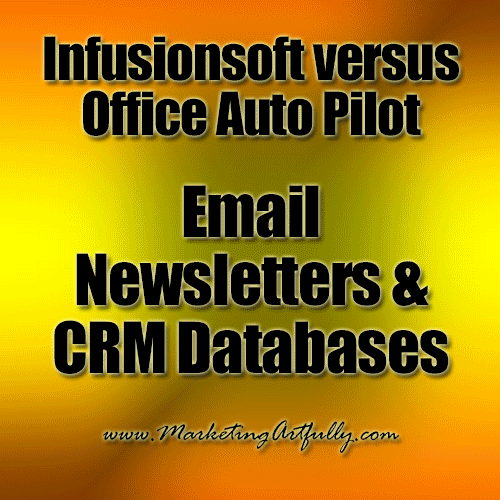 I get a lot of clients who ask about the difference of Infusionsoft versus Office Autopilot (Ontraport) and passions run high on both sides!
Just this last week I had a client come to me and say that her business partner was insisting on using Office Auto Pilot for the email newsletters and internet marketing. While I DO think that Office Autopilot is a great system, I DO NOT think that it is a good fit for her! She is a smart woman with a pretty good grasp of technology (much like I am) BUT….
The one major difference between Infusionsoft and Office Auto Pilot (Ontraport) for me is ease of use. I signed up for OAP about 3 years ago and they were talking about putting a new user interface on it so that setting up campaigns, autoresponders and lead capture would be easier. I logged in today and there was no interface yet (at least 3 years later) so I am not thinking making the system easier to use is a priority for them!
With Infusionsoft there is a Campaign Builder that is made especially for small business owners to make the steps easy to set up and see what you are doing! Check out the difference here…
With this in mind, we have suggested Infusionsoft to all of our clients without reservation! Some of the reasons we love them include:
Setting up autoresponders and web forms is easy peasy (see the example from the video here – The Best Darn Free Email Marketing Course EVER)
Doing events is super easy too – we just made one event with all the followup emails and can copy it for each new event we have!
The ability to target people and know what they are interested in using tags is invaluable
Our open rates shot up when we switched over to Infusionsoft (I don't know about deliverability rates for each but I do know more people are opening our emails now)
OH THE TRAINING – when we started with AOP they had unlimited training but that changed over to a paid version shortly before we switched. Infusionsoft has a setup fee BUT…gasp…they helped us set up everything and got us up to speed fast PLUS my assistant talks to them all the time and their help desk is super helpful
Okay, you get the idea that we love the Infusionsoft….want to find out more and see more behind the scenes? Check out our Why Infusionsoft page!