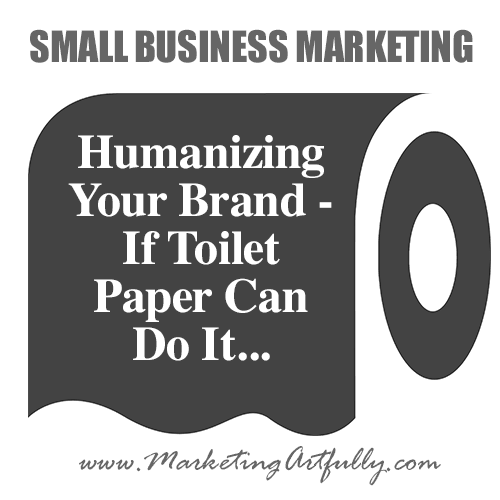 With the advent of social media, the world has shifted. Before SM a company could sit up on high and just be a corporation (or small business) without having to have a human personality. We talk with A LOT of small business owners who want to use their logo instead of being the face of their business…this is a huge mistake. As small business owners, we benefit when we take a look at what the big brands are doing to humanize their brands!
Not too many of us have hundreds of thousands of dollars to launch a major advertising campaign. We don't have the money to hire actresses or do HUGE focus groups to see whether they like one thing or the other more. What we do have is the ability to copy what we see the "big dogs" with deep pockets doing. And what they are doing is putting a face on some really strange products like toilet tissue!
The Toilet Paper Lady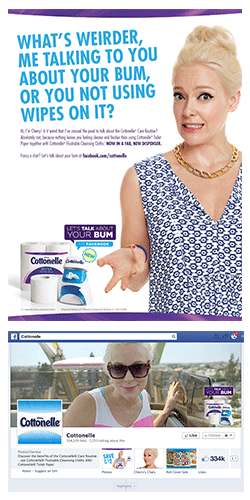 So I was cruising one of my girlie (craft) magazines on my iPad the other day and came across a woman talking about toilet paper. She is British, relatively good looking and seems to have my best interests at heart (she just wants me to be clean and safe). She is talking to me about "bums" and invites me to head over to the Cottonelle Facebook page to talk about toilet paper (now I have to say that unless I was a marketing nut I would NOT have been compelled to go there BUT since I am, over I headed).
They are doing some stuff pretty right, there are some funny posts (like toilet paper sports casters) and seem to have some good interactions on the page. That said, it does seem like there are A LOT of ladies chiming in with love stories about toilet paper. How did that happen?
Oftentimes a brand like this will contact mommy bloggers and other influencers and give them free offers to "promote" their page or comment with their own opinions. Now, you can be sad about this or know that there are two great things about this… 1) you can grow a following yourself and get free toilet paper and 2) you can get this same kind of thing on a smaller level by offering your products or services for free in exchange for social interaction. I also am a huge proponent of begging (I infrequently ask my tribe to do things because I have built up good will through sharing great content for free – like this post!)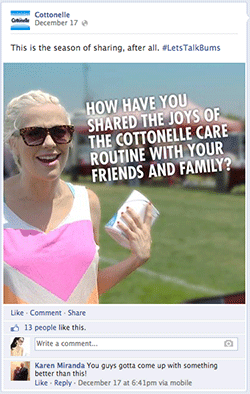 What they are doing wrong… so it is kinda little to see, but one of the Facebook peeps actually said to them, "You guys gotta come up with something better than this!" in response to a picture question, "Have You Shared The Joys Of the Cottonelle Care Routine With Your Family And Friends?" Seriously? Cottonelle thinks that we are going to share this photo to our timelines or spark a conversation with my Midwestern hubby about why we have to have a toilet care routine (that WOULD be fun, but could lead to a divorce!)
The page has a couple of neat posts but you can see that the corporate parent is not so comfortable about moving away from traditional push marketing and is losing the "person" in their brand. Just putting a picture of this chick onto a sales message isn't going to work!
This Is Not New!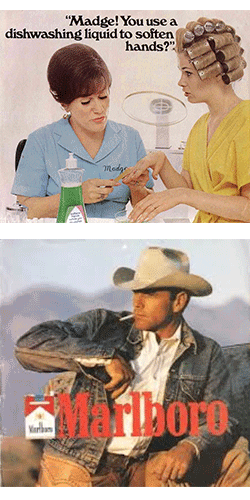 So it is easy to think that this is a new phenomenon with Social, but I can think of literally hundreds of examples over the years…from the Marlboro Man (my Mom smoked Marlboros and so do I) to Madge the lady who said you should soak your fingers in dishwashing liquid.
While we can see that the some of these brands have been modernized, the concept is still the same. Have a strong, silent man to represent your smokes. The thinking is that if you buy (and smoke) Marlboros too, you will be as cool as this guy.
Where I think Cottenelle is missing the boat is that the toilet paper lady is not "cool" or hip. She is obviously "mom-ish" aged, but she is a little cartoony for my taste. I happen to know that most women in the 35-45 demographic are not ready to lie down and die, turning into the stereotypical "mother". This may be because having a "neutral" character is far less scary to a big brand than injecting a little edge into the equation.
Some interesting notes about humanizing your brand:
It is widely held that women are more approachable and shared on social media. This may be why we see so many women "spokesmen" for brands.
About 80 percent of buying decisions for this kind of thing are done by women so it is no wonder we have lots of ladies.
As humans we tend to like to see people who are "like" us. Have to think that the blond haired, blue eyed lady is not flipping the switches for African American or Hispanic buyers.
So there you have it, my take on humanizing your brand for small business marketing. If you have a favorite from today or days gone by, please leave a comment below so I can add him or her to the post!!!
(Visited 100 times, 1 visits today)