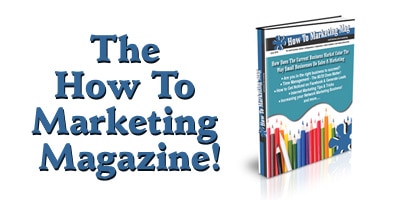 A month ago I had no idea how to write a micro magazine, although I did know how to promote it if one should magically appear. Here are the hows and whys of my brand new How To Marketing micro magazine!
Check out the FREE How To Marketing Magazine
Why write a micro magazine?
I have to say that two of my favorite marketing gurus could not be further from each other in opinion. Seth Godin is an old school, permission based marketer who helps you get in the right frame of mind without specifics about how to implement your great ideas. Gary Vaynerchuk is a new school marketer who is taking advantage of technology to grow a new media empire, again without too many specifics about how to do that.
So when both of these guys said that the wave of the future is having a magazine (or email list) with ads that target a niche, I took notice. Here is Seth's post on Micro magazines and a future of media and a great Gary video on Where niche marketing is going for small business.
Hmmm…so both of them think that building up a following for something you love and being able to advertise to them is a good idea. I DO think having a website or blog as a destination is great BUT what about a magazine?
How do you pick the topic for your niche magazine?
It was pretty easy for me to pick the topic for my magazine! I started with marketing which is REALLY a broad niche. Then I took a look at my clients which include small business owners, entrepreneurs, Realtors, MLM or Direct Sales and then some local businesses like Retail and Restaurants. NOW it is possible that even that is too broad BUT I have to tell you, I am NOT going to make a magazine and distribution channel for each one of those so basically I am targeting businesses up to about 10 employees with relatively small marketing budgets.
How do you get content for your magazine?
So I wanted to do a sixteen page magazine, figuring if I ever print it I will have four 11X17 inch pages folded. That is a LOT of content. Because I like marketing so much, I tend to gravitate towards friends who like marketing also. So I did the only thing I could think of! I told my in-person networking group I needed articles, I emailed friends and also posted it on facebook. Here is the breakdown of where the articles came from:
In-person networking – four
Friends – two
Business Partners and past clients – four
Facebook – one
For the next issue I have someone already willing to write and a leftover half from a prolific friend. This time I had 11 articles and wound up having 20 pages.
How do you set up a micro magazine
I have a confession to make, I am graphic designer so this is REALLY unfair to people who do not have access to unlimited design time. I used Adobe InDesign for the layout of the magazine and made all of the ads myself. I used photoxpress.com for some free photos to include in the articles.
Some things I would change about the original design after the fact:
It looks more like a webpage with a header across the top
The marketplace section is very busy
I would have more pictures instead of masses of text
I would write an editor note or article myself (I was wiped out and did not have one brain cell left to spare on writing)
How to market your micro magazine
This one was easier for me than the average bear BUT here goes some ways you can get the word out there
Post it on facebook on your profile or business page
Set up a business page for just your magazine www.facebook.com/howtomarketingmagazine. Make sure you get 25 fans so you can get the custom url
Do an event on facebook the day it launches
Tweet it on Twitter – www.twitter.com/marketinghowto
Set up a blog with the book to download in PDF format – www.HowToMarketingMagazine.com
Do a press release on www.Free-Press-Release.com
Make sure to write a blog post about your launch and bookmark it!
Send a graphic of the magazine and a templated announcement to your authors so that they can send it to their spheres
AFTER you get a decent response you can do more like facebook ads, google adwords, etc. DO NOT spend money yet because there WILL be things you need to tweek and you can be sure people will email you to tell you about it!!!!
Well there you have it, it was harder work than I thought it would be BUT now I have a super great freeby to offer, I can sell advertising on my site and in the magazine AND I have a focus for growing a list of people with like minded marketing interests.
If you would like to find out how to get a snazzy magazine like this for your small business, I would be happy to give you a quote…1 MILLION DOLLARS…:) Okay, maybe not that much BUT I will tell you that if you do not that the ability or software to do the desktop publishing and graphic design, this puppy would cost a fortune in time!