So I am on a mission this morning to analyze our stats, see what we are doing right and what we could be doing better. I am going to check Marketing Artfully and see how that traffic is, check our Thrive Client Contact System website, and see how I can generate more hard leads for our websites. I am NOT going to do this in any organized fashion as I am a free spirit who can't be constrained by logic or orderly-ness (even though that would make life SO much easier!)
The Thrive Contact System is a partnership between Mary Dado of Business Writing, Ink. and myself. We send out monthly marketing information for small businesses to send out to their clients, generating new business, increasing their name recognition and encouraging repeat sales and referrals. This great material includes newsletters, call scripts and emails. We have been managing the Thrive Client Contact Program for Realtors for about 6 months but expanded our offerings and branded the program Thrive just last month. The Thrive site has been live since November 16, 2008 (less than 30 days).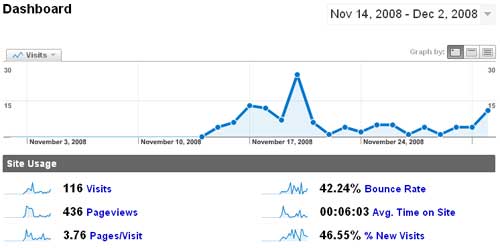 Let's start with some overall statistics. On November 20th we had our best day ever with 26 visitors. There are some days that we have had none due to the utter lack of initiative on the part of the chief marketing officer (sigh). I will review what was so special about November 20th later. We have had 116 total visitors (I screen my IP address out) and they have had 436 pageviews with 3.76 pages per visit.
What does that mean?
The content we have is great! They are looking around once I get them there. This activity has translated into about 3 leads and 2 sales to date. Because we have an affordable entry level price and reoccurring billing, that translates to estimate of about $600 of income over the course of the next year. I am okay with that for now! Let's see what the good, the bad and the ugly things are!
The good
On November 20th we sent out an email to 195 people from our database, had 99 people open it and 19 people came to the site as a result of that. WOW – over 50% open response and about a 20% click through rate, I am pleased with that! How did that happen? I sent a really good message, with interesting content to targeted group of our clients, sphere and prospects. If I had used a bought list those numbers would have been very different. We also provide great content EVERY time we send an email to our database so they are more apt to open something we send. I think this a problem many marketers have, they want to get SOMETHING out so they are willing to just send anything instead of making sure each communication is valuable in itself.
The bad
So why so few actual leads? Using analytic tools, we will try and infer what the problem might be and how we may be able to fix it!

If we look our pageviews, you can see that we have had 29 people go to the sign up now page. 29 people and only 3 leads – arggg. So what to do – I added a line to the top of the page that they could sign up OR request more information. It could be that they are worried that by filling out the form that they are going to be obligated to pay. While I would like them to be ready to pull the trigger, I am also happy with someone to add to my database as a prospect and then set them up on a drip campaign that we have to tell more about the Thrive program. Hopefully this will increase the number of leads that we receive!
I DO have to say that we have a flaw in our system – neither Mary or I like to call people so we tend to answer by email. I sometimes wonder if we called those people whether our conversion rate would be better (you think?) We have two fabulous women who we are going to have coming on as sales people so that should help with the whole non-communicating thing!!!
Finally, back to the good things – we are number one on google for Client Contact Program AND got click through from it already!!! We are on page 2 for "small business lead generating" due to a post that I wrote about (ironically enough) "Small Business Lead Generating – Why you can't do it!".
Stay tuned for tomorrow's exciting episode – "Generate more website traffic – how the heck do I do THAT?"