Lots of my customers ask how to send free video email. Because my peeps know they can email me anything marketing related to review, I have been getting a glut of "should I buy this video email program?" questions. The ones that are the current MLM (multi level marketing) darlings are quite pricey, with setup fees up to 500 bucks and hefty monthly payments.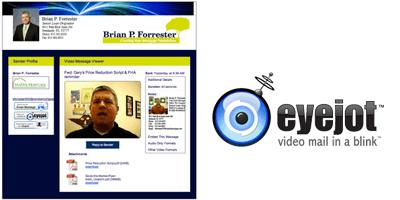 So what if I told you there is a FREE VIDEO EMAIL?
Well, I was teaching my 100 Free Marketing Ideas class the other day and did a whole bit about how to use video email for sales and the attendees were astounded that there was a way to send video emails for free using a safe, reliable service! Eyejot.com – a free video email service! aff link
What Is Video Email?
So, one of my favorite friends and clients, Brian P. Forrester of the Mortgage Communication Spot, does video email better than anyone I have seen. He has compiled a list of Realtors who have an interest in changes in the banking industry and when something happens, he sends a translation email of what those changes actually mean in English! He also uses them to promote his events (as you will see at the end of this email).
How To Send Video Email That Works
So, as with any "new" technology, video email has some great applications and the ability to be used as a spamming machine. Make sure you are using your video email for good, not evil!
Follow up to an interview or sales call – image if your salesman from yesterday "remembered" just one more thing to tell you and sent a little video email over with a message that he or she would be calling later in the day to see if you have any questions. I guarantee that you would probably get a pretty warm reception from that prospect!
Keep in touch with past clients – one of my bestys is an Irish Realtor and don't you know she sends out a video email to her entire database for every St. Patricks Day. Why stop at that? I would do something every couple of months at a minimum! Note – unless you are going to have VERY entertaining video emails, if you send out a happy Valentines, Christmas, Thanksgiving, Groundhog, the effectiveness will drop off dramatically.
The video DOES NOT need to be embedded in the email to be effective. I know of people who pay exorbitant rates for video email because they believe having it play from inside the email client matters. Technology rarely matters! I check out Brian's messages because I know, like and trust him, and am not bothered by the fact that it does not automatically play when I open it!
Branding and the ability to post on a blog or website – one thing I DO like about Brian's emails is that they are branded with his information. As the "premium" cost for the branding upgrade is between $29.95 and $99.95 A YEAR, this is a great price point for being able to snazzy them up a bit AND I like the fact that you can try it for free first to make sure you will actually use the service!
It doesn't have to be perfect! Seriously, none of us like to see ourselves on camera and if you wait for a perfect moment, take, hair day, you will never send anything. Just jump in and do some!
Seriously, if you are willing to learn how to send free video email, you will SO set yourself apart from the crowd!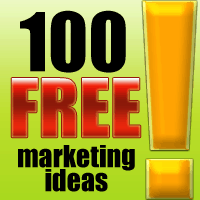 Small Business Marketing
Looking for more great FREE marketing ideas? Check out our best ideas for free marketing. From online to off, blogging, email, social media and more!
Today, much of marketing is free (or almost free), knowing what and how to use them is key to being successful!
(Visited 88 times, 1 visits today)