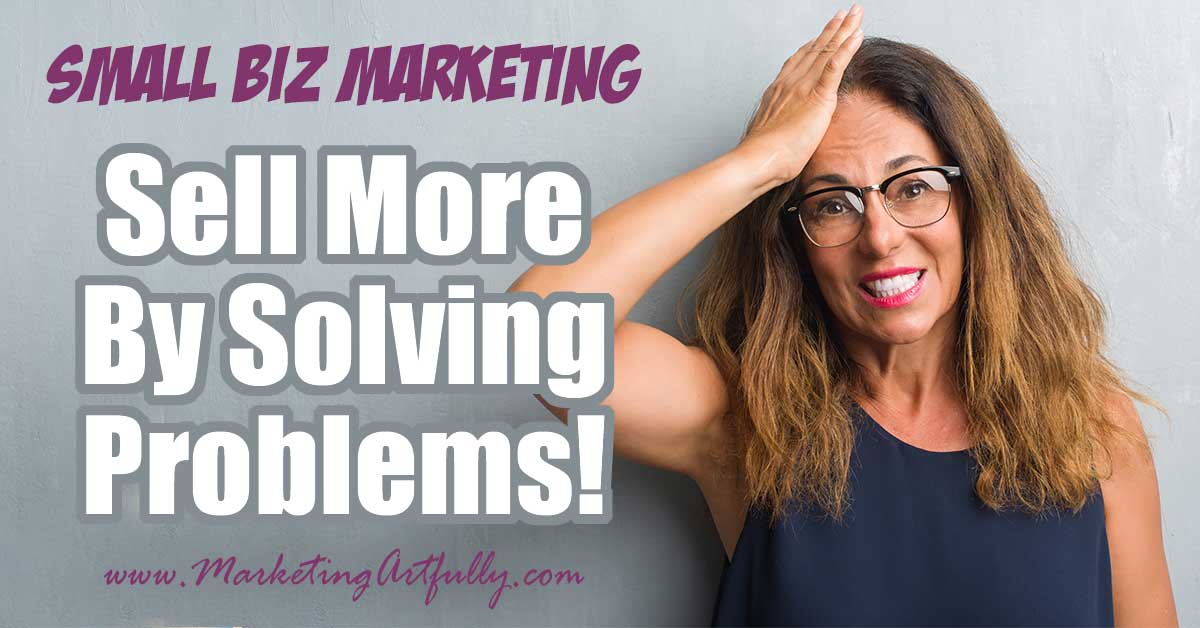 There are a million ways to figure out what to sell or blog about, but the best way is to figure out a HUGE problem your customer has and then solve it for them. My whole small business marketing focus changed when I (finally) figured this out!
I went from having a few blog posts that got okay traffic to having a bunch of posts that consistently got a whole ton of traffic. In fact, if you look look at the last three months compared to the last year, I increased my views by 32.42%! WOW!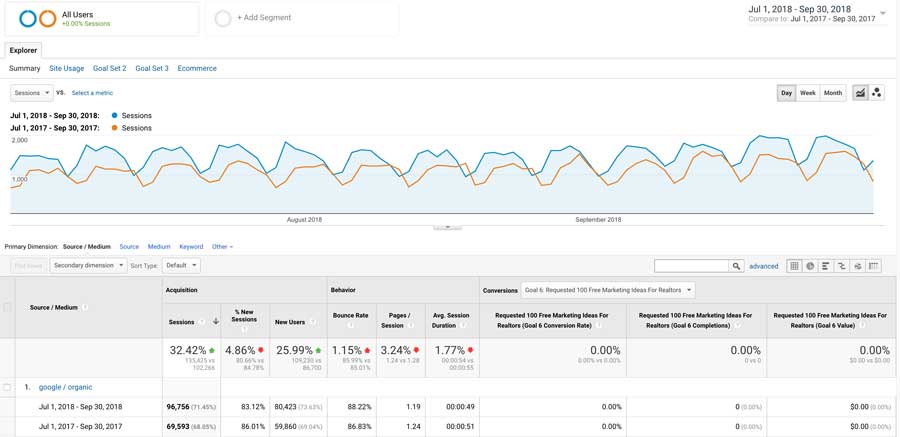 Now, I have been doing marketing A L-O-N-G time and thought I understood this. I would do a search for topics and products people were looking to read about or buy and then talk about those things…seems simple right?
But it didn't work so well.
Yes I got readers, and sold stuff, and was thinking that I was killing it, but I really wasn't gaining any traction.
Until I started teaching an in person class about Etsy Marketing. It was a 2 hour class and I would spend the first hour and half answering questions about shipping. So…many…questions. And mostly it annoyed me. They had never even listed a thing, but were worrying about shipping?
But they couldn't start until they figured out how to do shipping.
So in desperation, I made a HUGE shipping post, answering every question they had about shipping and then offered a PDF download of the info. And guess what?!?!
I get a ton of traffic to that page because it is REAL problem people have when starting an Etsy shop.
Oh, and I wrote a post about how to get your first listing client for real estate agents… a REAL problem new agents have, same result, lots of traffic and sales of my course.
But what if you sell something physical like houses or jewelry or something without substance like a mortgage or insurance? Same thing, you have to go deep and find out a problem your product solves!
Painkillers Versus Vitamins
There is a school of marketing thought that says you should sell a pain killer not a vitamin. "Pain killers" solve a problem your customer has (like a headache) and a "vitamin" is preventative maintenance, i.e. something nice to have.
This can be minor like selling hair bows versus selling lice treatment (nice to have versus bugs) or major like selling life insurance versus selling auto insurance (nice to have in you die versus need to have to drive).
In each of these cases it feels like we have to try and sell something boring and practical, rather than selling something cool and innovative.
So how do we, as creative rebel entrepreneurs, find a way to sell what we want to make?
To make more sales we HAVE to figure out how our product will help our customers solve a problem!
What Are Big Problems?
As a marketer, I know that there are big problems in the world and most of what I see for sale will not solve any of these…
Food & Shelter
Health & Wellbeing
Make Money
Lose Weight
Find A Mate
These are the "Your Money or Your Life" problems, that you see a lot of websites built around. They are often focused on scarcity of resources and fear of being harmed.
But what if you sell art, or vintage items or, hell let's go there, marketing services. None of these at a super high level will sell to people who are in mortal danger, lonely and afraid, so we have to start looking at other problems people have.
What Are Ordinary Problems?
My peeps tend to sell things that are "nice to have items", say essential oils, vintage jewelry, tshirts, even houses. If you already have a safe place to live, why would you NEED a new house?
A new tshirt will not change the world if you already have clothes and an old necklace won't make anyone recover from cancer, so what gives? How come anyone buys anything they don't NEED to survive?
The only reason to buy something that anyone doesn't need is because it solve a problem in their lives!
Today we are going to look at what ordinary problems people have… all of them start with a problem and offer a solution. I might not hit every problem, but reading these might spark your creativity in selling your products!
Work Backwards
Before we start, let's get a plan for figuring out problems by starting small and literal, then work backwards. Say we are selling something weird like Anthropomorphic Animal Stickers. While super cute, NO ONE in the whole world NEEDS a pair of cute otters dressed in a fancy little frocks to survive, are you with me on this one?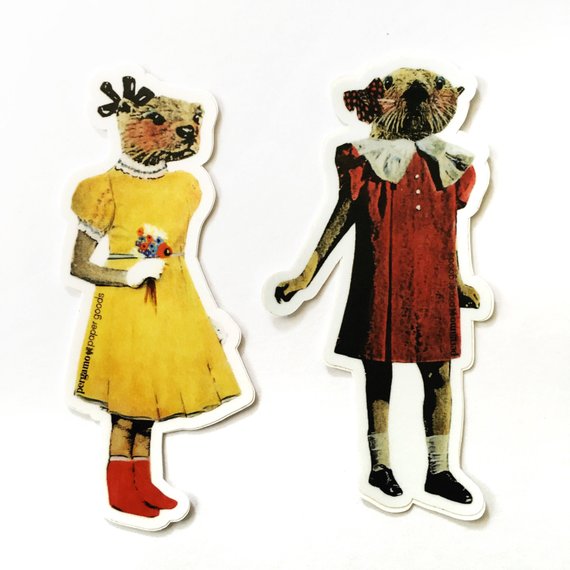 So how can Gianna from Pergamo Paper Goods ever sell them? Well, let's work backwards…
So they are stickers, who needs stickers, nerds like me who like to put stickers on their laptops. So my problem is needing cute stickers. BUT WAIT… there are more problems.
My children also have problems with me! They often need to get me presents for Mother's day, my birthday and Christmas. Also, they are short on cash being children so relatively low cost, amazingly cute otter stickers could solve a "mothers day gift for nerdy moms" problem OR "inexpensive christmas gifts for moms" OR "what to get your mom for her birthday" problems.
Other sticker problems include Yeti cups that are boring, kids with plain notebooks and even people who like to have cute things to stick on their car windows.
Plain Laptop > Otter Stickers
Need Mom Present > Otter Stickers
But let's go back even further in my problems… WHY do I need stickers for my laptop? Am I bummed out about my work? Did I lose a big deal that I thought was a sure thing?
So now we have more problems!
Cheer Up Coworker > Plain Laptop > Otter Stickers
Make Friends At Work > Cheer Up Coworker > Plain Laptop > Otter Stickers
Be Happy > Make Friends At Work > Cheer Up Coworker > Plain Laptop > Otter Stickers
At each step of the problems, we again a broader and broader audience for our products & services!
I promise you when I started this train of thought I was like, what is the hardest, most "not useful" thing I could pick as an example and I got all the way back to being happy. Sitting down and thinking backwards got me some great ideas in a couple of minutes!
Life Hacks
Hope for humanity > Save the planet > Environmentalist / vegetarian > Animal lover > Dead frogs > A frog pool ramp
Technology frustrations > Has to keep ordering cables > Wasting Money > Broken plugs > A cable holder
Busy job > Travels a lot > Flies on airplanes > Wants to sleep > Neck cushion
Business
Need insurance to drive > Sell car insurance > Afraid of dying > Want to take care of family > Sell life insurance to same customers
Make more money > market down due to a correction > house sales have slowed down > in a slump > get more listings > course for listings agents
Newly adult/married/single > wanted more time freedom & more money > career change > new agent > get more listings > course for listings agents
Health & Wellness
Get a promotion > Feel more confident > Lose weight > Easy lunches at work > Mason jar salads
Stay around for their kids > Needs to get healthier > Wants to exercise > Needs encouragement > Pre workout smoothie
Clean living > Has allergies > Hates doctors > Want to avoid medicine > Essential oils
House & Home
Had a baby > Thinking of good schools for kids > Wants more kids > Need a bigger house
Stressed about getting everything done > Super busy running around > Kids in sports > Need quick 20 minute meals
World is not a safe place > Weather is scary > Lots of hurricanes > Worried about storms > Floor safe in home
Family
Work from home mom > Need to get work done > Kids home for summer > Ebook about kids activities
Grandma wants to help > Daughter had a baby > Brand new mom > Stressed out by baby > Fun baby hat
New dog owner > Barks all day> Worried about getting kicked out of apartment > Train your puppy course
Storage & Organization
Bad wife > Not a good housekeeper > Stressed about cleaning > Messy kitchen > Vintage bread box
Good mom > Love your kids > Organizational challenges > Mess in kids room > New box for toys
Needs a new job > Long commute > Messy car > Checklist to organize trunk
Feel Good About Yourself
Start dating again > Be more attractive / Youthful > Wrinkles > Face cream
Taken more seriously in fitness industry > Be more attractive / Youthful > Wrinkles > Face cream
Family > Life experiences > Strong feelings about a social issue > Politically frustrated > a fun tshirt
Spiritual
Need friends/family > Lonely > Missing deceased loved ones > psychic readings
Make more money > Pay bills on time, buy gifts, travel > Right career path > upcoming financial situation (mad money, traders, suze ormon) > psychic reading
Find love > Get married > Lonely > find the right mate > know about love interests > psychic reading
Some notes about figuring out problems…
1. Start at what you are selling or offering. Work backwards through ideas about why someone would want your products or services.
2. You can do this from a fear point of view (world is not safe) or positive point of view (make your life amazing). There are whole books written about whether you should sell based on fear or hope, but in general some people are influenced by staying safe and some by optimism. You will need to check your market and how you like selling.
3. Each point along the way can be included in your product description or sales copy. Just doing this exercise will help you find different customers than you might have thought to sell to before.
The Key To Selling More – Figuring Out Your Customers Problems
You will FOR SURE sell more if all your products solve a problem for your customers. But what are their problems?
Pinterest
I swear, I feel like Pinterest can solve ALL of my marketing problems! I just pulled some pins from my feed and will walk through their problems. If you were doing it for your business you could use keywords that make sense for you!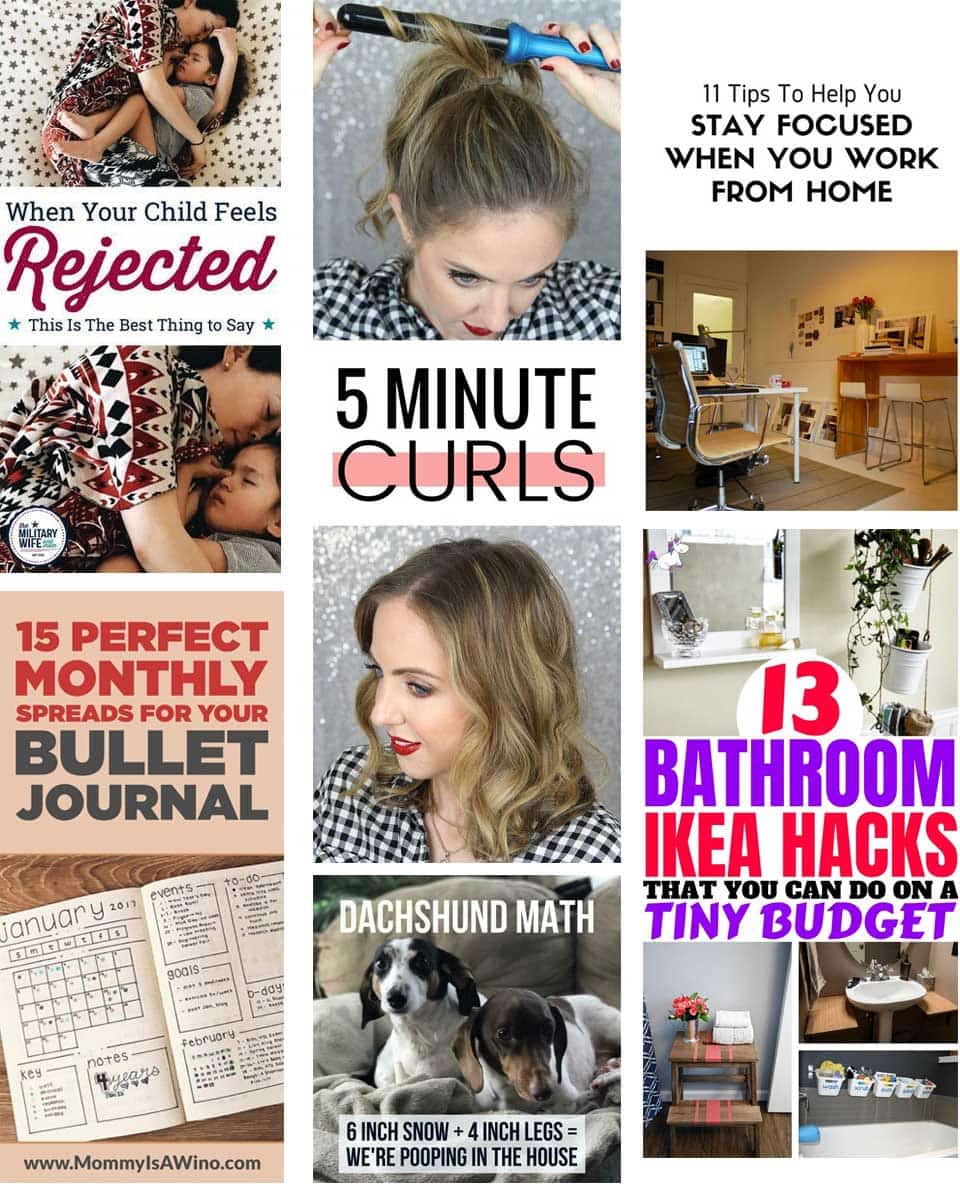 source Rejected, Bullet Journal, Dachshund Math, 5 Minute Curls, Work From Home, Bathroom Hacks
The Best Thing To Say When Your Child Is Rejected – Would appeal to moms, caring for your children, fear for their safety, sad about rejection
15 Perfect Monthly Spreads For Your Bullet Journal – Need to be organized, there is a "perfect" solution, looks pretty, you could bullet journal easily
5 Minute Curls – Busy in the morning, need to get out the door fast, looks easy
Dachshund Math – Doggie problems, you are a good dog owner even if your dog poops in the house, funny meme to share with your friends
11 Tips To Stay Focused When You Work From Home – Need to focus, feeling out of control, not getting things done, there is help, lots of different ways
15 Bathroom Ikea Hacks That You Can Do On A Tiny Budget – Need cheap ideas, wants a cute house, wants to have a cute bathroom
Answer The Public
Answer The Public is a great place to find problems! You just put in your product and see what kinds of things people are asking about.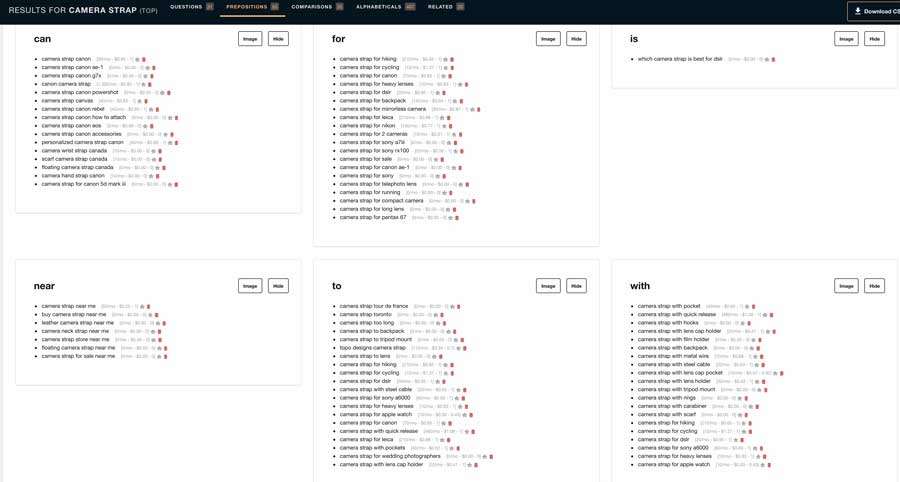 As you can see when you do a search here you can get A LOT of ideas, but a few are jumping out at me!
camera strap too long – could be someone worried about buying present for someone that would not fit?
camera strap with pocket – do photographers carry around a lot of other gear? maybe their phone?
camera strap with steel cable – are they worried about having their camera stolen while on vacation?
camera strap with lens cap holder – is lens cap management a big issue, do photographers lose them often?
So if you were selling camera straps on Etsy, these are all things you could talk about in your description! You could also have different products to match different problems.
Then Being An Expert At Solving Them
So now that you know all the problems your customers have, you need to go about solving them!
Think about why YOU are the perfect person to help solve the problem. Maybe you have experience in that area or you buy those kinds of things all the time for your family.
You researched all the problems and found a perfect solution. Because you know so much about these problems, you are right person to help them!
You are thinking of them first. Most people marketing a product don't really think about the customer. They spend all their time talking about how great their products are, without talking about how it will help the customer's life get better.
Having taken the time to actually think about your customer and their needs, you will be perfectly positioned to be the one to solve them!
Sell More By Solving Problems Wrapup
Like I said at the start, I thought I was solving problems by focusing on questions people asked, but got much better results when I went further back in the chain and figured out their real problems!
Also, keep your eyes open for things people ask that are aggravating. I was seriously grumpy about them asking shipping questions over and over until I realized that all those questions were a huge opportunity for me!