This month's second small business marketing newsletter was about having multiple streams of income, which got me thinking about how we should choose those streams for ourselves. I have a confession to make…I am a huge proponent of multiple streams of income and I have an entrepreneurial spirit so I spend lots of time considering new things I COULD do to increase my business opportunities. This post is about what I (and you) SHOULD do to maximize my time and effort and minimize pain!
John Jonas gave the best description I ever heard about how to pick what to do. He said you should never get more than one step away from what you do now or more than one step away from the kind of customer you serve now when deciding new things to try.
Here is my one step approach for Marketing Artfully. The three main things I do for my business are blogs, information products and speaking. Because information products often have affiliate programs, starting my own or joining someone else's is a good fit for me and makes sense to add to my resource page. Also, doing internet masterminds involves speaking (which is one of my things) so it is okay also.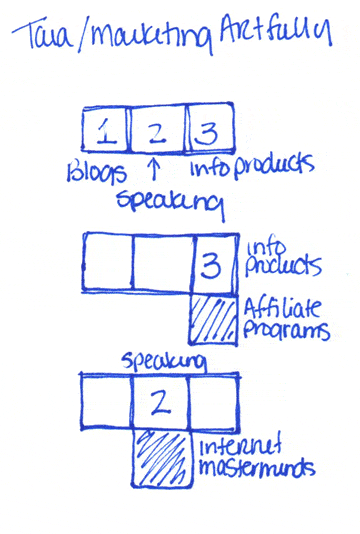 Some other things for me that would be a good fit are things that provide services to entrepreneurs and small business owners, social networking items and other business related items.
Now here comes the brilliant part – when I get a great idea of something to do that is NOT one step away, I can drop it quickly. Instead of spending time and energy on researching something (or more likely diving into something) that will not help my business, I can easily determine if it is a good fit and, if not, move on!
This system works for ANY business! My buddy Deb Ward of Deborah Ward and Associates is a realtor in the Tampa Bay area. You can see from her blocks that there are some things that match well with her business model and some that don't. She does coaching, sells real estate and owns a team of realtors. Getting referrals and owning shares in a title company are great for her, she could also add speaking to realtors easily because of her coaching focus. BUT, adding non-real estate related items would dilute her message and efforts.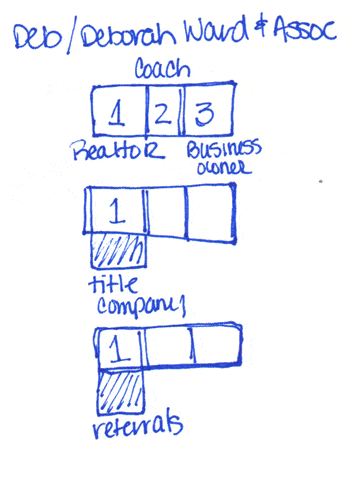 So, to all you entrepreneurs out there considering new ventures…make sure that you are checking your blocks and keeping on track for success!!