While we are thrilled to report that New Business Denver featured Marketing Artfully in their Social Networking edition, is that really interesting to our readers? I feel like that kind of notification should be reserved for a press release (more about that later). That having been said, I thought that it would be good to tell you some of the ways that small business owners and entrepreneurs can capitalize on good press!
Blogs are not press release sites and I FIRMLY believe that writing a press release and posting it here does no one any good. It probably just makes you (my loyal readers) roll your eyes and it would definitely not attract the kind of attention that I am looking for, which is for other press people to pick it up and possibly use me as source for information or quotations in the future.
Fortunately there are press release sites that allow you to post your information in a structured format that notifies places like google news that you have published. In my world there is "NEWS" like I am on the cover of a magazine and then there is "news" like I am teaching a workshop.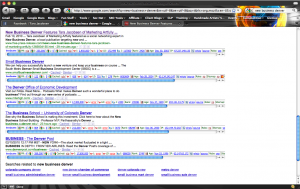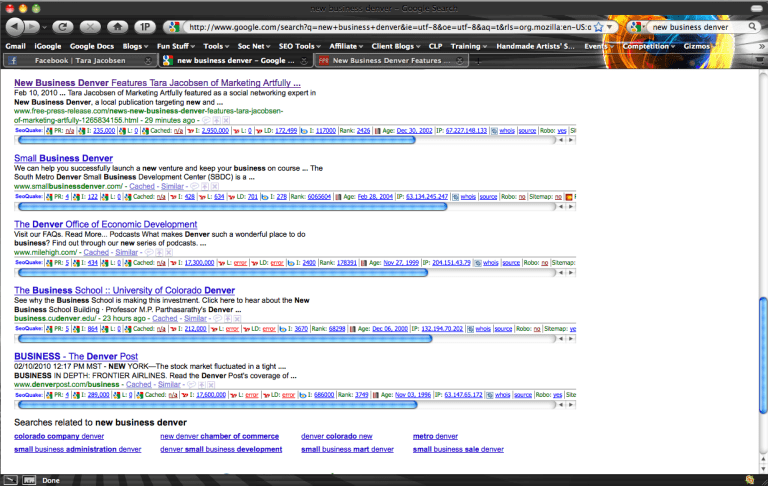 As some of you may know, I am a pretty frugal marketer and so I do not like to spend the big bucks on press releases. I use the site www.free-press-release.com and I sprang for the big money release – thirty bucks. The super cool thing is that right now I am number 7 on google for the search term "new business denver" for my press release – yay! If you have "news" you can get it out there for one dollar which is a great value. If you are a little less frugal you could use the site www.prnewswire.com which starts at one hundred and twenty five bucks and works up over three grand.
So then I "tweeted" my press release news and will be tweeting my blog post about my press release also. I facebooked and asked my friends to vote up my press release so that I would get more eyeballs (my friends ROCK – I have 14 votes already…:) PLUS it has the added benefit of being about to watch my view stats obsessively just like I do my google analytics. Here's a link if you would like to read my New Business Denver Social Networking Press Release.
I also social bookmarked my press release on sites like Stumble Upon and Digg (although I did not do all of them since I am going to be promoting this post also and I don't want to be spammy).
SOOOO if you get great press, make sure you let the world know and try to do it in the proper medium! If you would like to read the whole Social Networking Article on New Business Denver click the link!