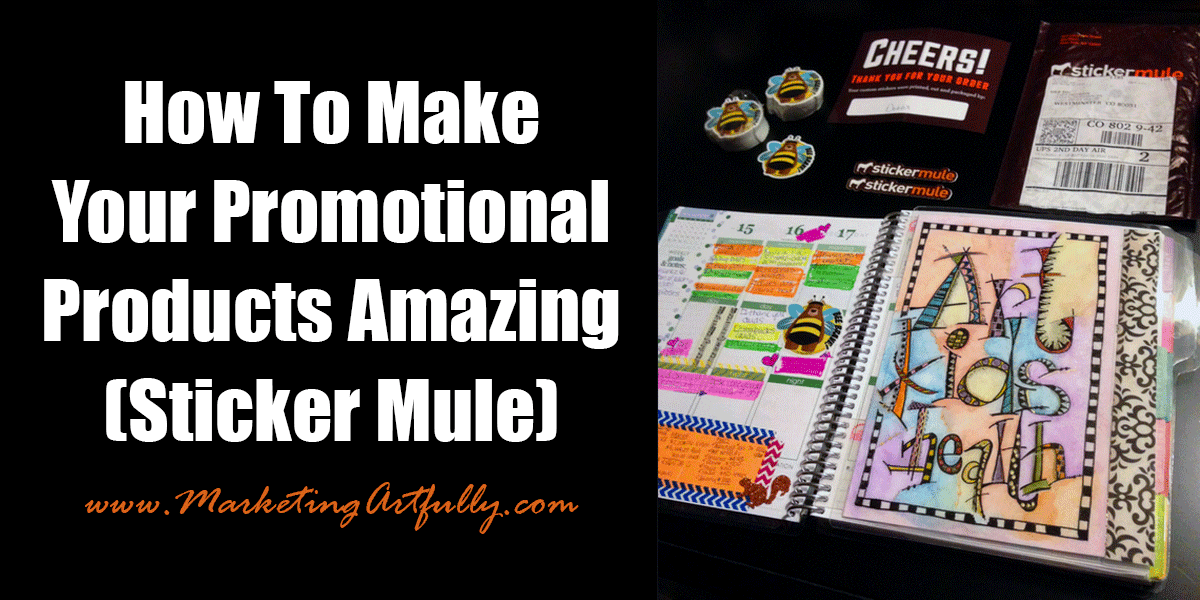 I have been looking at stickers for a while, coveting them and wanting to get some to promote my business, but I really never had that spark of creativity that would make them amazing..until now! Today's post is about how to make your promotional products so amazing that people would pay for them.
Where I got them
So I checked out A LOT of sticker companies when I was looking for somewhere to do my stickers and Sticker Mule came out on top buy a big margin! Their pricing was great for the die cutting sticker that I wanted. There were a number of other places that would make round stickers or square stickers, but I really wanted to have a more interesting sticker than that.
The thought behind them
In the past I had ordered more self serving stickers that were my logo with a saying that people would take but they were just being nice. I didn't want that to happen again, I wanted to make something that would make them WANT to get a sticker. Hell, one that they would be willing to pay for!
In his book, YouTility, Jay Baer says that your marketing needs to be so great that someone would be willing to pay money to get it. I wanted my stickers to be that…super cute and pay-worthy.
The design
So next was the design. It needed to be something cute, but what about marketing was cute? I could use a quote or something…then I was cruising DepositPhoto one day and came across a dumpy little bear who just made me smile!
I personally love bears and then when they dress them up like little bees, I am a goner! So I ordered the bear with an extended license and we were off to the races.
Now, I am super lucky that I am a graphic designer so I could add some stripes and wings to the bear, but if you aren't no fear I have some ideas for you below.
Note on the Extended License: I am not a lawyer so check with yours if you have a question, BUT I wanted to talk just a tiny bit about extended licensing on stock photo sites. For most uses (like blog posts, book covers, even quote pictures) I can just use the regular license from the stock photo sites. But for this one I KNEW I was going to sell it so I wanted to make sure that I paid for the commercial rights. This cost $80 on Deposit, it costs $100 on Big Stock and if you use another site, you might want to check yours out. It is seriously not worth designing something beautiful to sell without paying for the right to use it!
The concept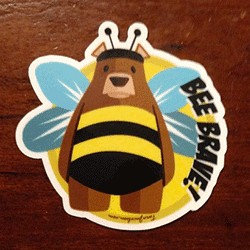 Now we are getting down to the meat of the matter. If I made a bee bear that had Marketing Artfully all over it, what would I gain? Again, people would take it but they wouldn't covet it! They wouldn't sign up for contests to get it or give me their email and mailing address just to get a bee bear.
So I branded it with my name as the designer TaraJacobsen.com but not any commercial website or logo.
It is a HIT! My kids love it, my hubs loves it and my clients are digging on it!!! Wheeeee
Size
Now, I got the 2X2 stickers so I could give them out to everyone I see (the cost was really low because I had some referral money and they did a thing where you got $10 for tweeting about them). Generally it would have been about $70 for 100 which I thought was really affordable.
I also wanted to make sure that they would fit in my Erin Condren planner so tiny worked for me! The next time I order I am moving up to 4X4 so you can see my name and they are a little more substantial. But overall I am over the moon excited about my stickers!
Getting them designed
I have two suggestions for getting your stickers designed if you are not a graphics artist.
1. 99Designs.com – for a project like this I would definitely consider doing a contest for illustrators. It looks like it would cost between $149-249 to get something exactly what you want.
2. Fiverr.com – Fiverr has illustrators that work on spec too, but don't let the title fool you on this one. A vector file from Fiverr will cost anywhere between $20-100 and that is what you need for a graphics product like stickers.
Selling them!
The last thing is that I AM selling them! Whoo whoo…:) I think they are definitely cute enough that people will want to pick one up from the Sticker Mule Marketplace.
Now, it would be great to think that I could just put my sticker up and make a ton of money off of selling it, but it doesn't really work that way. I will have to promote my sticker on Facebook, LinkedIn, Twitter, Pinterest, etc. to get exposure and sell them.
Made In America
Last but not least, being from Pennsylvania and a rust belt, go USA kind of gal, I am proud to say that these were Made In America! Whoo whoo
Disclosure: I did not receive compensation for this post, I paid retail for my stickers and if you do click my link and order, I will get a discount on my next order of stickers and you will get a discount…:) Win, win!