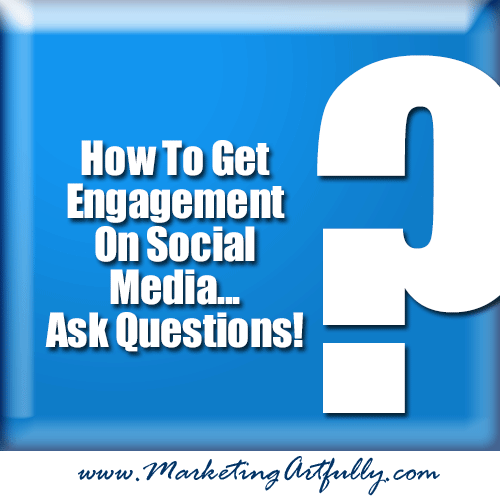 A big topic of conversation around here is how to get engagement on social media sites like Facebook, Twitter and LinkedIn. Another big "discussion" topic is how stupid it is to foster that engagement by asking inane questions.
My business partner is big on these. She is a question asking fool and I was actually skeptical that this would work. I wouldn't answer silly questions on Facebook so why would anyone else…or so I thought! Come to find out I am compelled to answer some of these silly questions when she posts them and I KNOW that they are just to get engagement…sigh.
Why do you want engagement like this?
Since I have a trouble with this, I am sure you are asking yourself the same kinds of things…if I sell real estate or jeans or business services, why would I want to go off topic and ask questions that have NOTHING to do with my product or service? Here are the only things that I can think of to justify this:
It works. Because social is about more than selling, people DO respond. They WANT to share their personal thoughts and feeling so you get engagement. Which leads us to..
It matters that people talk to you. Most of the sites use an algorithm that measures how often someone talks to you and then serves up additional "views" based on those connections. Facebook is a huge one for this. If you can get a number of people to talk to you about something non-business related, you get more opportunities to talk to them about things that truly matter.
Custom messages. Last but not least in my book…they tell you things about themselves that you can use later to sell more! How cool would it be to take the answers to each of these questions and include them as tags in your database and then send customized messages based on their likes and dislikes? I haven't done this (yet) but would love to hear if it is working for you!
So what kinds of questions should you ask? Rebekah was very nonchalant about this and said, just ask them "this or that". She can come up with millions of them off the top of her head. I on the other hand do not have this creative bone so I made her give me some examples. I will admit, once we got started it became easier and more fun to "play along". Here are some of the best ones we came up with…feel free to use them in your social media postings AND make sure to swing back around and let me know which ones worked best!!!
Questions to ask to increase interactions on social media
Cool questions:
Who was your childhood hero?
Who was your favorite teacher?
Who is your favorite superhero?
Winnie the Pooh or Underdog?
Guns and Roses or Metallica?
Alfred Hitchcock or Steven King?
If you had a million dollars what would you do with it?
What are you doing this weekend?
Sports:
Sox or Yankees?
Soccer or football?
Skiing or ice skating?
How bout them (insert home team)?
Food and Beverage:
Beer or wine?
Steak or chicken?
Vegetarian or carnivore?
Hotdogs or hamburgers?
What is your comfort food?
Pizza or tacos?
Chicken or egg?
Chips or pretzels?
Tootsie Rolls or M and Ms?
Donuts or Bagels?
Hot sauce on eggs?
Fashion:
Shoes or sandals?
Who has more fun? Blonds, Brunettes or Redheads?
High heels or flats?
Suit or jeans?
Locations:
Did you come from a big city or small town?
Cozumel or Paris?
California or New York?
What was your all-time favorite vacation spot?
What is your favorite hometown landmark?
What's your favorite thing to do in (insert town name here)?
Technology:
iPhone or Android?
Mac or PC?
Twitter, text or talk?
In person meetings or Skype?
Personal:
Who was your biggest crush?
Who was your first crush?
What did you want to be when you grew up?
Do you have any brothers or sisters?
Did you go to prom?
Have you ever smoked?
Have you ever skinny dipped?
Have you ever been on a blind date?
Have you ever missed an appointment?
Have you ever lied on a job application?
Are you married?
Do you have kids?
Do you mind telling people how old you are?
Do you have pets?
Would you let your kids get a hampster?
Do you have any allergies?
Do you go to the doctor when you are sick?
Weather or Location:
Summer or winter?
Spring or fall?
Live up north or down south?
What part of town are you from?
Favorites:
What is your favorite book of all time?
What is your favorite movie of all time?
What is your favorite album of all time?
What is your favorite rock band of all time?
What is your favorite Disney Movie of all time?
What is your favorite Broadway musical of all time?
What is your favorite black and white movie musical of all time?
What is your favorite quote?
Holidays:
How do you celebrate New Years Eve?
Open presents on Christmas Ever or Christmas day?
Does the Tooth Fairy come to your house?
Do your kids still believe in Santa?
Business:
What do you do?
Do you have a Facebook page?
How's business?
What do you love most about your business?
Do you have a favorite customer?
Who was your favorite customer of all time?
What is your biggest business goal?
Are your goals written down?
Do you have a vision board?
Well there you have it, some questions to get you started getting engagement on social media…if you have more, please leave a comment below and I will add it to the list!!!