Finding your passion is all the rage today. You are supposed to get out there and start doing what you are put on this earth to do. Problem is, most people do not know what their small business passion is!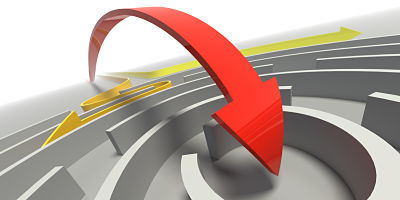 Yesterday I wrote about having a small business and entrepreneur marketing focus and man-o-man was I humbled by the response from my past clients and readers. Hearing that they are making thousands or tens of thousands of dollars more from the advice that I gave them was overwhelming.
So what is the magic that causes this to happen? Is it because I talked to them? Nope. Is it because they magically had the secret to making millions online. Nope. It is because they had a passion for what they wanted to do with their business and then worked really hard to make it happen.
About ten years ago I dubbed myself "Queen of Marketing". No one bestowed that on me and I have no fancy schmancy college degree in Communication or Marketing. What I do have is a passion for marketing that is all out proportion with how interesting it is to normal human beings. I read about it, watch webinars, teach classes and consult with clients, basically it consumes about 75% of my waking hours. Can you say that about your business?
How To Find Your Small Business Passion Overview
I have read Gary Vanerchuk's book Crush It and know that you have to have a passion. I have read about half of Joel Comm's book KaChing and know that you have to have a passion. I have also talked with thousands of small business owners, entrepreneurs and realtors and know that most do not have a passion. They like their work well enough OR hate their work but like the income OR just are doing something for right now to get them through.
REALLY? You are spending 40 hours a week or more doing something that makes you go meh. Stop it now!
How to find your passion seems to be somewhat vague and most people have no idea how to go about it, and even less about how to fit it into their business model.
Where To Start
Start by figuring out what you like to do. I do not mean knitting, unless you are a rabid knitter and it consumes your every waking thought. Most people have hobbies and those should not be confused with their business life. Keep those fun and figure out what you like to do work wise. Here are some weird things that I know people like to do:
Accounting tasks – now I am an accounting dud. I hate balancing my books BUT there are people out there who get a thrill from making all those numbers add up. One is my client Joy (of Lakewood Bookkeeping and Accounting fame) who likes to work with small business owners. She enjoys helping them to regularly manage their accounts and grow their business. Another client likes to get in there and find out all of the problems in small and medium sized businesses, straighten them out and get them on an automated track. Same job, two different versions.
Real estate – My pal Cyndee, Clearwater Realtor extraordinaire, is hyper focused on providing great service and information to high end buyers in the Tampa Bay area. She has spent the last two years targeting that group and referring out anything that does not match her high-end criteria. NOW, you may think who does not want to target high end buyers, well many realtors actually would rather work with first time homebuyers OR sellers in distress OR people looking just for waterfront properties. Each person needs to target exactly what their passion is and go after that with gusto.
MLM Business – Two of my friends and clients are in multi-level marketing (or direct sales). They sell such diverse things as passion products and green cleaning supplies. While they LIKE their products they LOVE sales and business building respectively. It would not really matter WHAT they were selling, they are focused on the aspects of their businesses that they have a passion for.
So what is your passion?
If you do not know what your passion is, frustration can overwhelm you. Stupid passion talk.
Stop beating yourself up and start noticing when you are having fun. If you are making phone calls, getting leads and making things happen, maybe doing phone support is your passion (and one that can be VERY lucrative). If you ADORE researching new products online and figuring out what is going to be hot next season, maybe that is your passion.
Yesterday I spoke at a networking group and asked an insurance guy if he had THE MOST INTERESTING insurance information. He said no. Why would I want to read, listen or buy from a guy who did not have the passion for his business to make sure that my home and family are secure.
Here is how you do it…close your eyes (oops that doesn't work for this venue), well keep your eyes open and think about what one thing you would do business-wise if that is all you could do for the rest of your life. Don't worry about your industry, concentrate on what tasks you like to do within your business life.
There. You are done! That is your passion and now you can go out and make yourself work that matches that passion. It will probably not start or be lucrative today. You may have to keep your J-O-B for now or keep selling to people who do not thrill you today. BUT if you know what you want to do and take one or two steps towards that everyday, you WILL get there.
Fast Track To Passion Success
Most people should stop at the end of the last paragraph. They will find something they like to do, do a bit each day to move towards that and in a couple of years be comfortable financially or personally, whichever is important to them.
If you do not have a burning desire to build something, grow your influence or make a change in the world, that is fine! Finish here and prosper.
Warning Hard Work Ahead!
Okay, now that we have the "nice" people out of the way, here is the hard core, make it happen soon, get me to the finish line version.
If you want to Crush It with your passion, you are going to have to work hard with a single-minded focus for a while. You need to live, breathe and work your business for a while before she is going kick ass and take down names.
Whenever I hear tremendously successful people say that they would have done it differently if they had the chance today, it makes me NUTS. If they had worked less, spent more time smelling the roses and enjoying life, they would not be where they are today.
Great success takes hard work. If you can not work on your passion at your current work, you are going to have to do it some other time. Do it early in the morning, knock out some at lunch, stay up late, work on the weekends. If you have the luxury of working at your passion now, can you honestly say you are giving it your all every day?
The only way to succeed at this is to find someone who will kick your butt. I am NOT talking about a warm and fuzzy accountability partner who will pat you on the head if you make your calls today. I am talking about someone who will help you to set steep but realistic goals for the next week or two and who you would be HUMILIATED to tell you failed. I have been up at 11 o'clock at night (REALLY late for me) finishing things that I said I would get done so that I would not have to tell my person I just did not do it.
These should be YOUR goals and the the things that will make the most impact on your business in the next week or two. Do those things and then set new goals. Do them when you do not feel like it, do them when your car breaks down or your cat tears up your curtains. Do them when you would rather be fishing or getting your nails done. Life will always try and distract you BUT if you really want to succeed you will soldier on through and "just do it".
Start today.