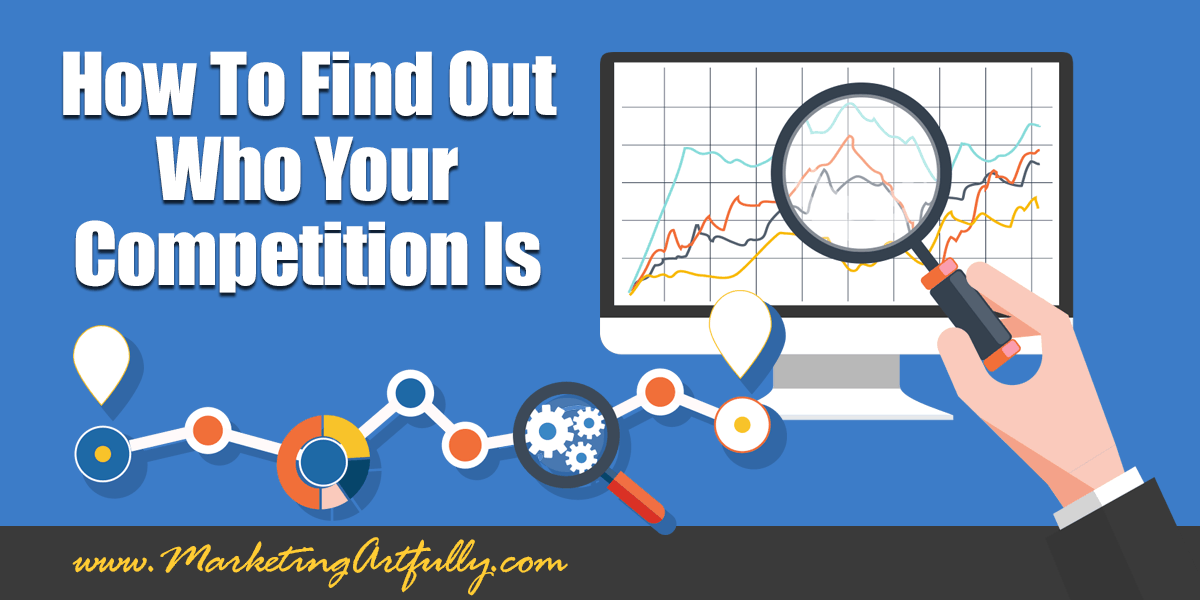 There are many reasons to find out who your competition is online for your small business marketing efforts including:
1. Knowing who you are competing against
2. Being able to target their customers as a paid advertiser
3. Getting good ideas for what might be working
4. Having a goal to increase your followers or web hits based on what they have
5. Finding new keywords to target in your marketing
BUT, and here is a big one, it is really easy to get discouraged and think that you are not doing enough. For example, a super easy competition website to mine is Entrepreneur.com. It gets over 3 million hits per month and is ranked highly for many of my most competitive keywords.
They (and I) are competing with sites like Inc.com, FastCompany.com and Forbes.com. Holy schmoleys, those are super big names with offline magazines and staffs of hundreds, if not thousands.
Which leads me to my first question…
Big or Small
Should you target BIG huge sites in your competition results or littles ones that you can gradually beat and then move up.
I personally find that trying to compete with HUGE sites makes me too sad to be very effective. I think, how am I going to go from 25,000 hits a month to three million and am overwhelmed at the start.
That said, there is something really powerful about going all Grant Cardone, 10X Rule, and shooting for the moon.
Either way, make sure to use what will work for you!
Compete.com
An easy way to find out who the big players are in your industry is to use Compete.com. They will give you a report like this to look at and see their web hits volume and who the big name competition is.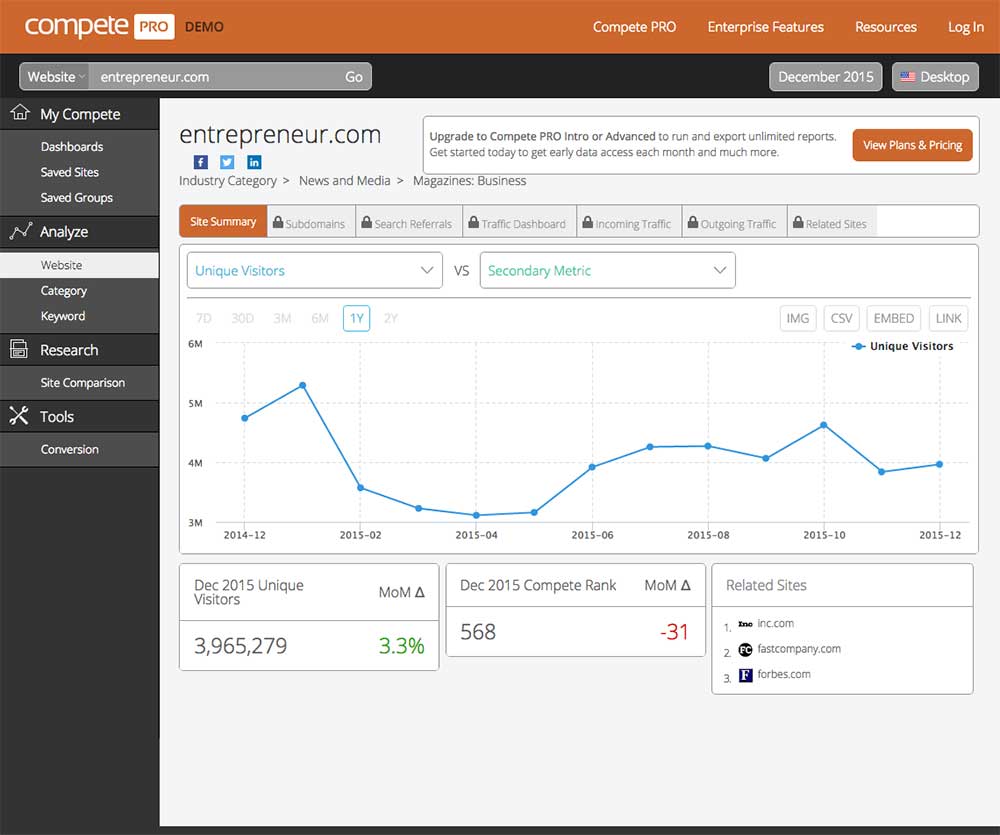 That said, they do not keep data for smaller sites and so you may want to try a different service like SEMRush (one of my favorite sites for SEO research!)
SEMRush
They track many more "smaller sites" and give a much more realistic version of who your actually competition is, not just the biggest sites in the business.
You can find out top keywords, competitors and all different kinds of AWESOME information.
Social Media >> As I am going through this data I check on the site and see if they have links to Facebook pages or other social media! I keeps notes on this too.
Google Adwords
Once I have identified a few sites that are ACTUALLY my competition keyword and content-wise, I head over to adwords.google.com to get a comprehensive list of the keywords they are using.
I like to use the keyword planner tool and put my competition in there to see what Google thinks their site is about.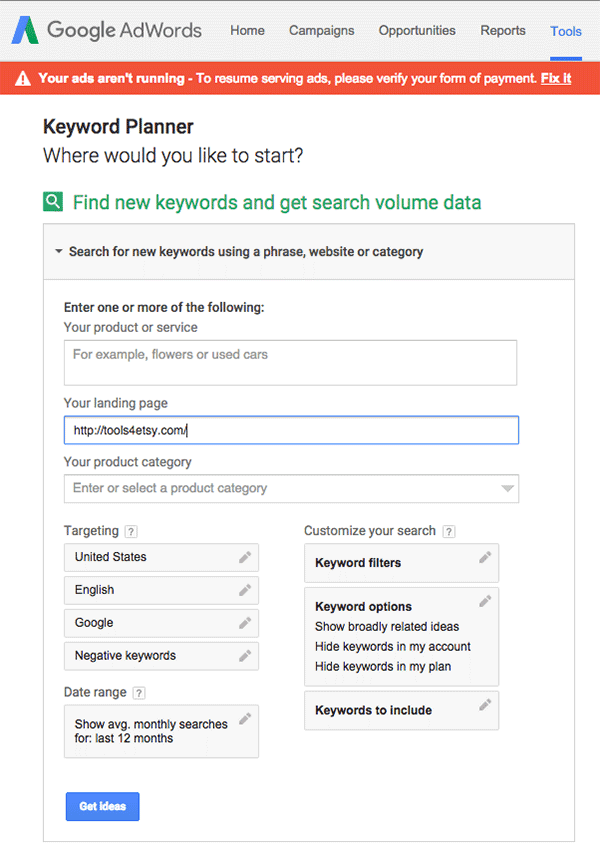 This will get me a big long list of keywords that I can use to start seeding my ideas. Hmmm…the site above isn't giving me great data so I switched up for this search.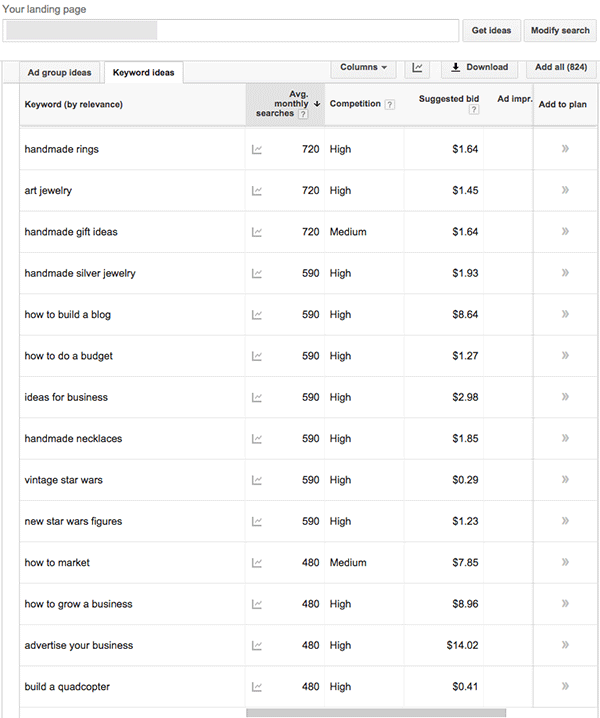 There are some that I like such as:
Crafts that sell
How to make money
How to grow a business
Advertise your business
The nice thing about verifying that they have comparable keywords to yours is then you know that they are an actual competitor with an audience similar to what you are trying to attract.
Your Ecommerce Competition
If you are selling something rather than just doing information marketing, you will need to also check your competition on the sales site you use. I use Etsy, but this would work for Ebay, Amazon or any other Ecommerce sits.
First do a search for one of your main keywords and then note the stores that are directly competiting with you for that term. Check and see if they have:
A website listed
A Facebook page listed
Instagram, Pinterest or other social sites
Start collecting all kinds of info on them too…check and see if their website gets more or less hits than yours. See what they do on their social sites to get sales.
Facebook Pages
One super fun thing to do with your Facebook pages once you get a list is to do a search for "pages liked by people who like X". So this search is for pages liked by people who like the Handmadology Facebook page…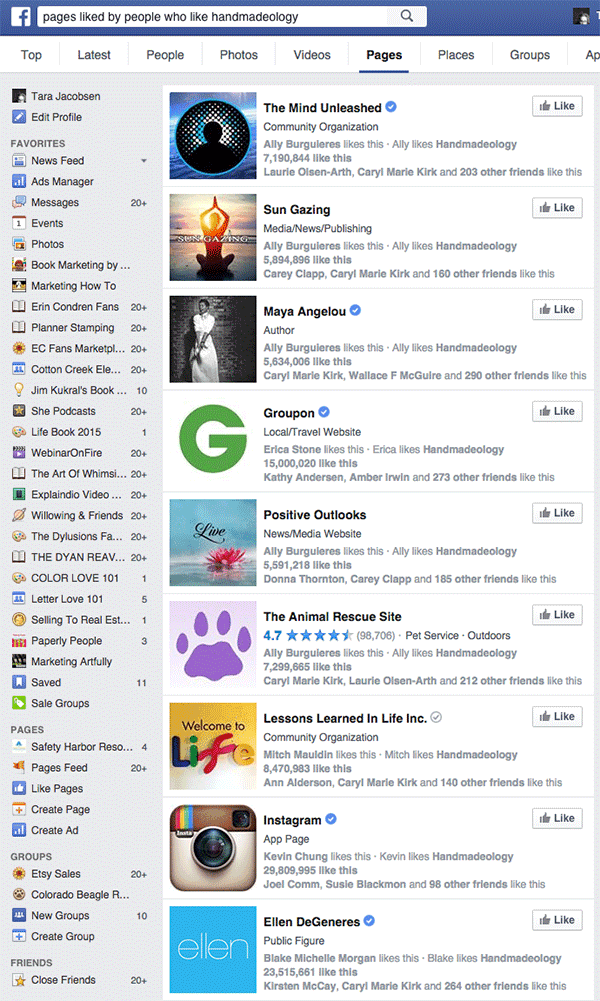 This is great for if you are doing promoted posts or paid Facebook ads.
Wrapup
As with anything, you need to actually DO something with all this data. Here are a few ideas:
Get new topics for blog posts
Advertise on Facebook, Instagram or Pinterest using this data
Find competitive websites and watch what they are doing
Learn more about your customers and what they are likey to consume
It is really eye opening to take a couple of hours and see what is going on with your competition. Definitely worth the time and something that most of us probably don't do enough of!

How To Develop YOUR Customer Avatar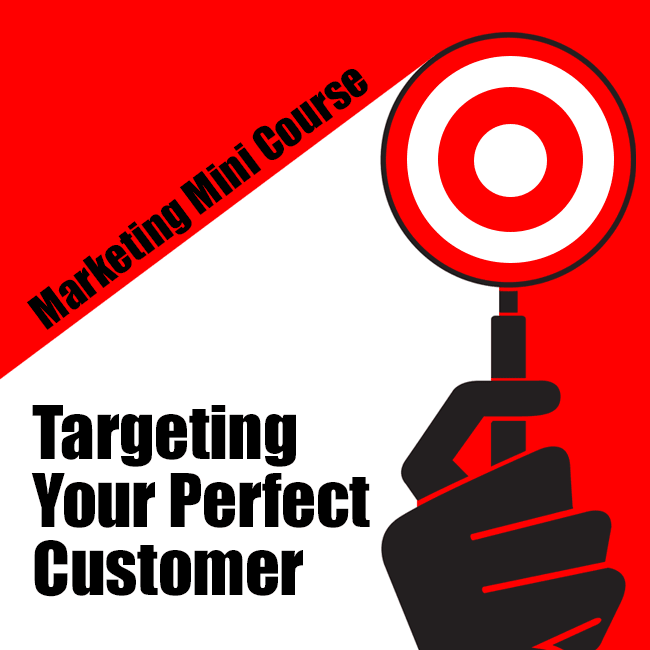 Here is an additional resource for you to work on your customer avatar!
My marketing bestie and I sat down and recorded 6 videos about how to target your perfect customer and create your Customer Avatar. This is probably one of the most impactful things you can do for your business so we made sure that it was affordable for all of our "peeps"!
You get ALL of the information that you need to fill your business with customers you love! Not just videos but a worksheet, book and even examples of completed sheets that you can use to help make your "perfect customer"!
Nice things they say… "I thought I already knew how to identify a target market but this worksheet and video really opened my eyes up to details I hadn't thought of. Exactly what I needed to improve my my research and products. Thank you!" Rachel