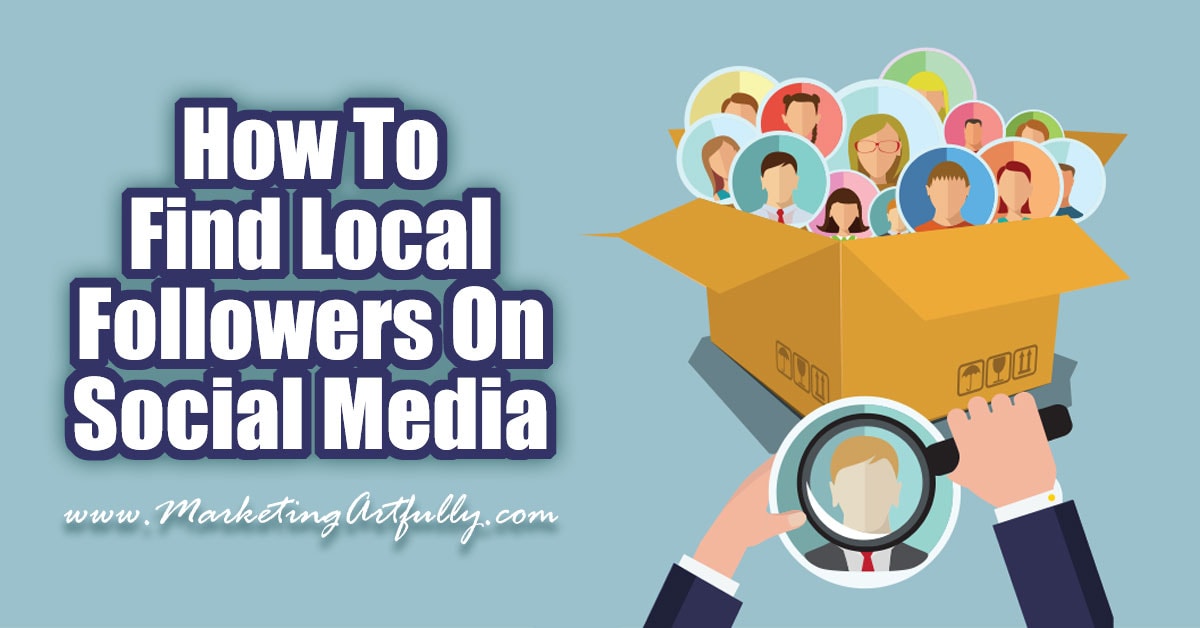 If you have a local business, like real estate agents, contractors or retail, finding local followers on social media is super important. Yes, numbers of followers matter, but if you are using social media to grow your business then having people within a certain radius of your biz is super important.
What Radius Do People Buy In
In common marketing lore, people will generally travel about 5 miles or less to consume goods or services, but is that really true? (these are called "market areas")
I researched a ton of great data about this if you are interested in this but here are some good points to consider.
Grouping like businesses in one place will make all them more popular… "Taken individually, each store would have a limited range. However, as a group they tend to attract additional customers from wider ranges for many reasons." (Hofstra University)
So it seems that 10 kilometers is generally thought to be a reasonable distance for people to travel for shopping or services (this is 6.21371 miles for us here in the US).
"Going Local" has become cool again. From restaurants that source locally grown produce to the old fashioned "Buy American", the tide has turned and we are now more focused on helping local businesses than simply going with national chains or international conglomerates (yay!) This means that you can play up your "hometown real estate agent" or your "local insurance agent" as a feature of your business.
Central Place Theory says there are higher and lower order goods. Low order would be your local pharmacy or grocery, high order would be more like real estate agents, jewelry store or health food stores where people are willing to travel to find specialty services and higher quality.
According to the US Census 2010 there are an average of 7,496 people per zip code.
So based on all this, I think that you could base your local social media marketing efforts off a couple of different kinds of things…
Zip Codes – targeting your efforts on an area that is defined this way would make it easy to reach people online AND do direct mail to layer your marketing efforts
City Names – OF COURSE doing NYC or Los Angelos would be hard to do with city names, but if you live in a medium or small sized location it might be good to target your city
Radius – if you are a location specific business you can sometimes choose a way to pick a certain diameter around your location
Bonus Resource: Zip-Codes.com… awesome lookup tools on the sidebar
Should You Do Paid Advertising?
One last thing, I will do both free and paid options. If you are working hard on growing your social media presence you may want to consider throwing a couple of bucks at growing a local following.
What Is Your Goal
So now let's talk about what kind of goal you should have for growing your social following (this may be the most important part).
To Keep In Touch With Your Current Clients
Many times we think of growing our social followings so that we can get new customers, but sometimes it is about being able to talk with our current customers without being so "salesy".
To Get New Customers
Here is the main thing most business owners focus on… getting sales leads from social media. That does work, although social media is more for growing relationships than for hard core sales.
To Get People To Your Events
Finding a group of people who 1. local and 2. interested in coming to your events requires ore finesse than just gathering local people. I will focus on this when
Finding Local Followers On Facebook
Okay, let's get the big dog out of the way first! For the sake of this post we are talking about ways to get people to connect with you and identify themselves as "local" connections.
Friends List – This first way starts with your personal friends on your profile. You can make a friends list that is location based. For example, since I have lived in Tampa and Denver I have a "Tampa Friends" list and a "Denver Friends" list. This way I can just post things to people who are geographically desirable. Also I can invite them to Events or to like my local page. (how to make a friends list)
Search Facebook – You can then do a search for a local city name and then pick the selections for "friends of friends" and "your city". This will bring up all the friends of your friends who are close and you can ask to friend them. This works well because you already have a connection with them through your mutual friend. It only shows people that have that city name in their name title.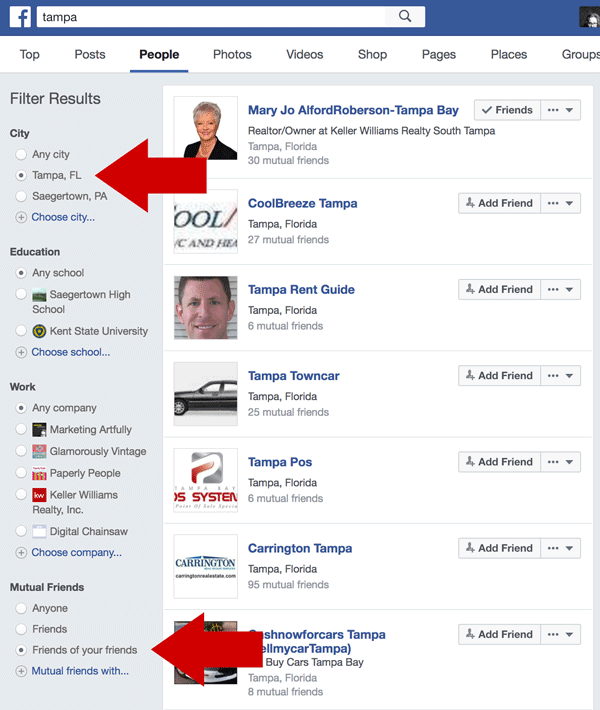 Like As Your Page
It used to be really easy to use Facebook as your page. Now it takes a bit more finagling to like other pages as your page.
Find a local page and then click the three dots next to the like button and pick "like as your page".
The more local pages you like as your page, the more likely local people who see that page will like your page.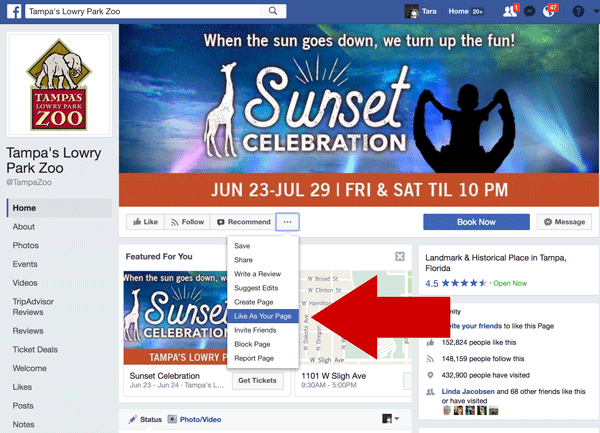 Make A Local Group
It is unlikely that you will get a lot of people staying joined to a marketing only group BUT if you can start a group that is consistent with your industry you are good!
PLEASE note that it is better to have people ask to join your group than to just just randomly add people who haven't asked to belong.
This could be something like a market stats group for Realtors or an "area events" group where you can post a variety of different items and then include your posts from time to time.
Join A Local Group (or Several)
I actually like the idea of being active in other groups more than having to manage your own group! There are many different kinds of groups that are frequented by local people who will over time become aware of your business (just like they would if you belonged to a local civic club or networking group).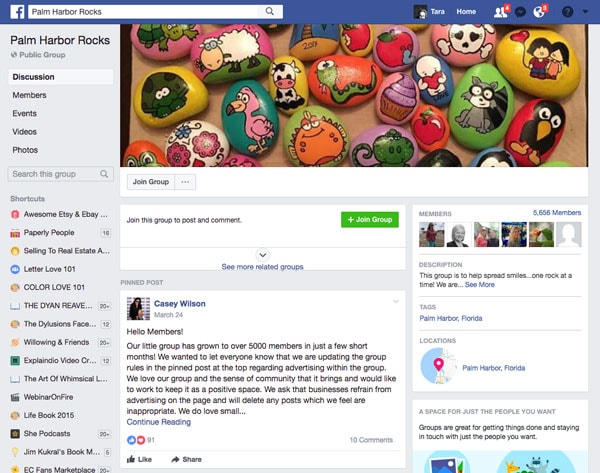 For example, this group that paints and finds rocks all over Palm Harbor, FL does allow some posting of marketing materials in a structured way…
We do love small businesses and know that they are the backbone of our community so we would love to lend our support. If you are the owner of a small business and would like to do a true giveaway (free ice cream, haircut, etc), we would love to hear from you! We are happy to encourage the hiding of giveaway rocks (a limited number each month where the rocks also promote the Palm Harbor Rocks page). We discourage any postings that only offer a discount or giveaway with a purchase.
It would be great to make your local business a "rock" space and encourage members to visit!
Pay For Advertising
There aren't as many ways to grow local followers for free on Facebook as there used to be. If you are dedicated to using Facebook to grow your business then budgeting some marketing money for ads is a great idea!
You can laser focus on different demographics within Facebook to find local people including:
City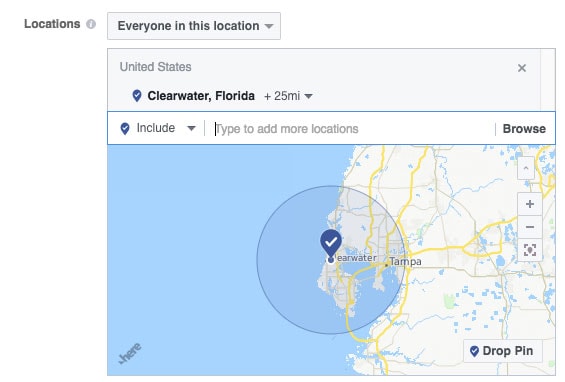 Zip Code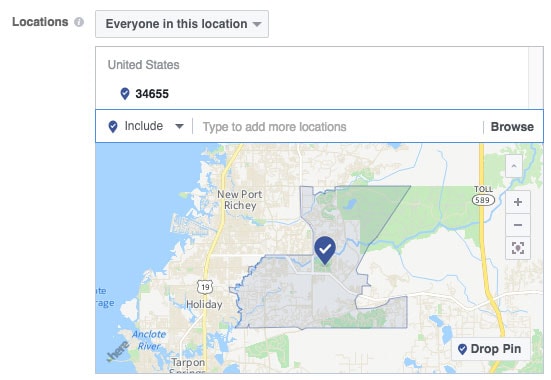 Events
You can even advertise your "Local Events" and then advertise with the explicit goal of getting event responses (coming, not coming, maybe).
Finding Local Followers On Twitter
While Facebook is nice, I find that Twitter is MUCH better at finding local people who you can reach for free!
Hashtags
The first way is to find people who people who are on Twitter from your area is to look for hashtags! For example I did a search for "#palmharbor" to find a bunch of users who are from your area.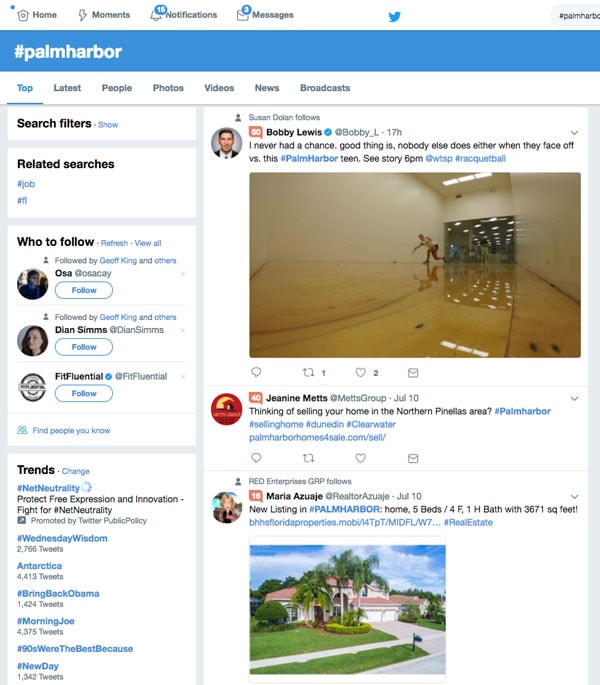 Then the neat thing is that you can refine your search filters and pick only people "near you". This is good for filtering out people who have visited your town but are not always nearby.

You will want to follow these people and then add them to a Twitter list (how to make a Twitter list) I have Twitter lists for Tampa friends and Denver friends.
Other People's Lists
A neat way to save time is to find other people who have already built a list. This list was made by a fellow who I found that already had a Tampa list developed. I can go right down the list and follow those local people! (how to search for lists on Twitter)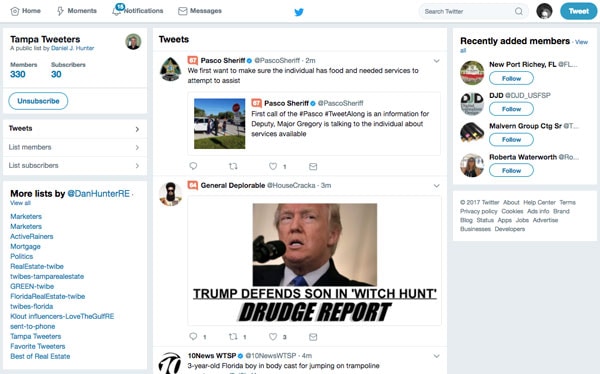 Finding Local Followers On LinkedIn
I am not a big "LinkedIn-er" even though I have almost 20K connections BUT I do see the value to finding local people to make connections with there!

As you can see you can search for connections using filters in LinkedIn. In this example I typed "Florida" and then LinkedIn suggested the Tampa/St. Petersburg area.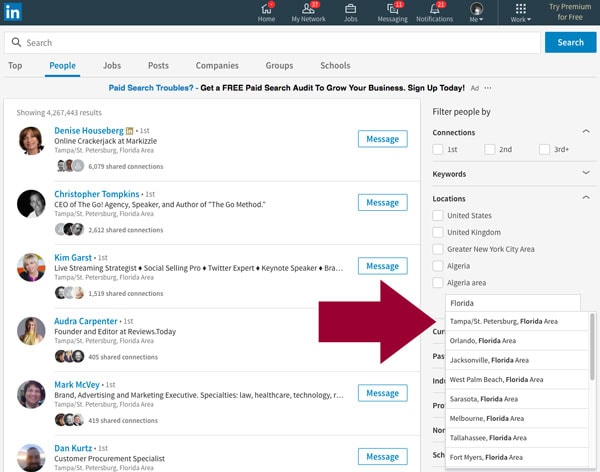 And then the next thing you want to do is pick "2nd" which is people who are NOT connected to you but ARE connected to someone already in your connected list. These are great people to target since they will see who else you know that they know too!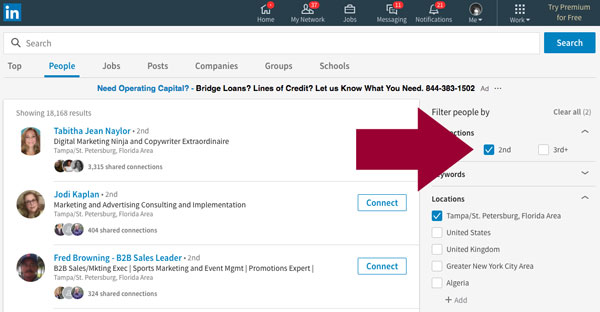 Finding Local Followers Wrapup
Okay, as you can see there are always ways to target local followers on social media. Whether you are using Instagram, SnapChat or another social network, you can figure out how to find local people who are potential customers for your business!
Just take a bit of time, dig around and find out the search tools you need to use on the social sites to find local people!