Today we are going to talk about how to do keyword or SEO (Search Engine Optimization) research for your website, blog or other internet property in order to increase your keyword marketing efforts.
The very first thing I want you to do is go to the google and do a search for any keyword, let's say how to make paper airplanes (you can click the link to see the search)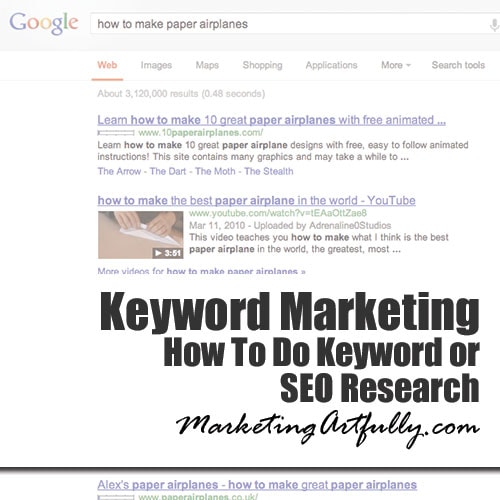 As you can see, all of the results that come up have that keyword phrase in their headline or at the very least in the description somewhere. This is VITAL to know as most small biz owners and non-seo types do not understand that google cannot extrapolate. If you are selling salon services in New York City but talking on your blog or website about coupon clipping, the chances that google will rank you highly for your target term are none.
There is just too much competition out there now with people who produced content that EXACTLY matches what the user is searching for and that is what google is going to give them…exactly what they are looking for.
So should you produce crap that has those keywords and hope google doesn't find out? Nope, that does work anymore either! Google uses algorithms to figure out if what you say your page or post is about and then factors in how many people link into it, whether people bounce (come to it on a search and then reject it by clicking the back button) as well as zillions of other factors to make sure that what you say in your title and description is actually what the page is about!
Tools For Keyword or SEO Research
The Google External Keyword Tool – works great for finding out how popular a keyword is and how much competition you will have for that word.
Google – this is a duh moment for many people is figuring out how many competing sites there are. If you do a search without quotes, you will find the keywords in any order, if you use quotation marks, you will get the results of that keyword in that particular order.
Google analytics – if you do not have analytics on your site, stop right now and go get them on there! Figuring out what you rank for easily allows you to pick the low hanging fruit of keywords that you can ultimately rank for without a lot of effort.
So there you have it, my top tips on how to do keyword or SEO research for your Keyword Marketing efforts!