There are marketing plans and then there is a MARKETING PLAN. Today we are going to talk about all the steps that you need to take to create a kick ass, take no prisoners marketing plan that will get you more customers and make you more money than you ever dreamed possible!
Warning: Just a word of caution, this post will make you very successful at whatever you choose to promote. Please don't just skim over the first parts. This is totally the, "I got to the top of the ladder and found out it was against the wrong wall" if you are not completely sure about what you are trying to accomplish.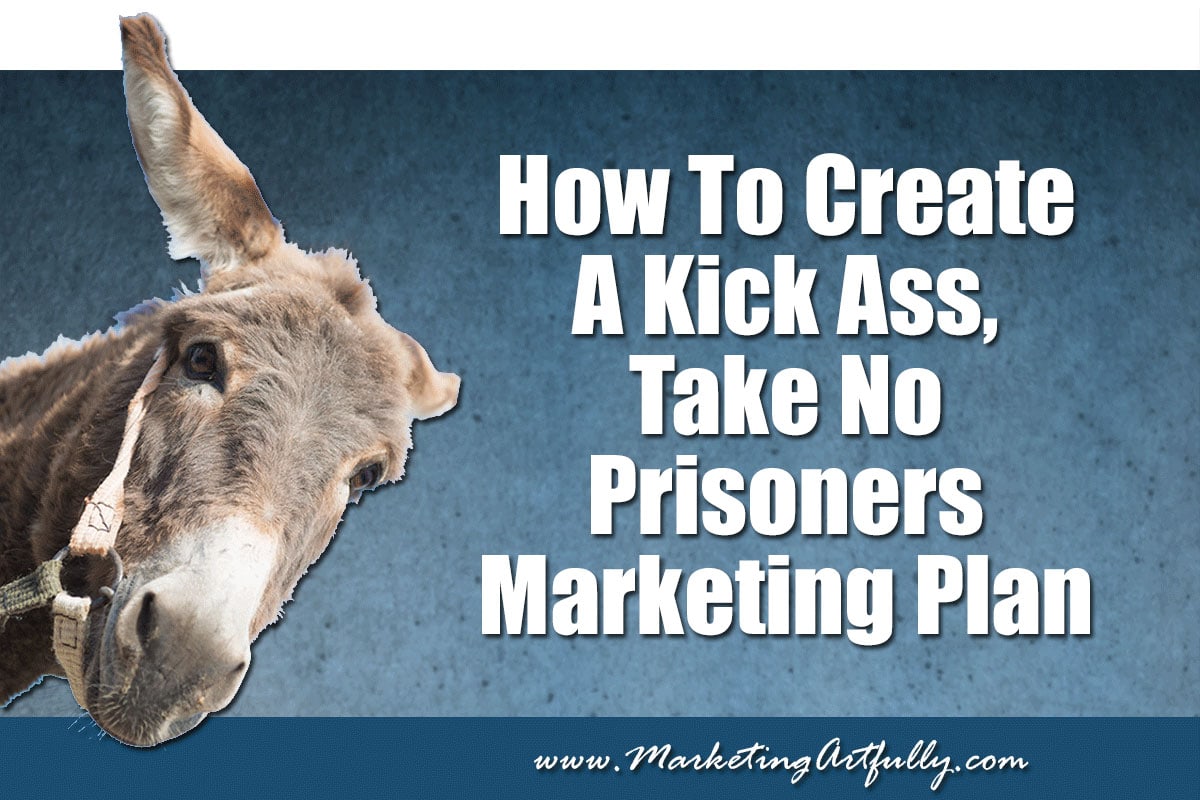 Having cruised the internet to find out what the "marketing plan template" competition is offering I was pleasantly surprised to find that they stink. While their process and format might work in business school or be the bomb in corporate America with 12 levels of management, this type of marketing plan is for business owners who will be implementing it themselves or perhaps working with someone on staff or outsourced to get it done. It is also for someone who is less concerned with "process" and more concerned with making money, getting leads and making sales.
How To Do Your Marketing Plan
Okay, we are ready to get going! First off, if you are really going to do this, please put down your phone, stop checking emails and get out a tablet of paper to write on. OF COURSE you will not wind up with a complete marketing plan in 30 minutes like some people promise, but you should be able to get a good start and a plan or path for which way to go.
What Are You Selling
The very first thing you need to do is is to know EXACTLY what you are selling. I have talked with almost a thousand small business owners and very few knew exactly what they were selling. There are two ways to think about this:
Selling an exact product or service that people are looking for like jewelry, business coaching, homes for sale or any other number of things that people are actively buying.
Selling the answer to a problem like "how to get the man of your dreams" or "becoming a better salesman".
Sometimes you are better off to sell the factually correct product or service and sometimes you are better off to sell the solution to problem. The one thing never to do is to sell a concept like "security" if you are selling insurance or "beauty" if you are selling makeup. That is too cute and obscure to be a good marketing goal.
So the first thing you need to figure out is 3 Things You Are Selling. Write them down in pencil for now.
Selling online.
If you are reading my blog on the internet or a phone then you are aware that much of marketing is done via the internet these days. You probably did not just type in the whole long url to get here, you might have come from a Google search, seeing a social media post or even being subscribed to my blog feed. All of these ways of finding someone require words, more specifically keywords.
The reason I said to pencil in your three things you are selling is that you need to figure three relevant keywords that will show up in searches on the internet when someone is looking for your product or service. There are two ways to think about picking your keywords:
Tiny niche, big fish. If you want to have very fast results, pick a "long tail keyword" that is very specific and has little competition. This will allow you to rank highly for a term quickly and get eyeballs on your marketing fast.
Big niche, lots of opportunity. The other way to do this is to pick a big hairy audacious keyword and then work for a while to rank highly for that on Google and share it frequently on social media to get backlinks and gain authority about that term.
Whichever way you pick, you want to take your three products or services you are selling and make sure to research each to know what keywords you should actually target for those terms.
Who Are You Selling To
This is the most important thing to consider when doing your marketing plan. If you don't know who you are selling to you cannot effectively plan how to market to them. Gone are the days when you could head out to social media, make friends and sell "stuff". Today you need to be laser focused on who you are trying to reach and where they are going to be spending their time, online or off. Because of all the competing marketing messages (think email, online, texting, billboards, postcards, networking), you have to make sure that all of your efforts are concentrated on reaching your exact customer, exactly where they are.
We have written whole books on how to figure out who your perfect customer might be, but to get you started check out, Customer Demographics Versus The Perfect Customer Profile. This will help you find your current customer demographics as well as the "perfect customer" who will buy and buy.
What Is Your Budget
The next thing to consider is how much do you have to spend. I have a goal to spend about $1,000 a month in marketing across all of the channels, your budget may be higher or lower than that. In this number I include the cost of buying training programs or getting coaching on how to do some specific kind of marketing.
Here are a few top level ideas for different budgets:
$0-$500 A Month Marketing Budget
If you are working with a very small (or non-existent) budget, you are going to have to put in some sweat time. Most of the marketing that is done on the internet can be done for very limited resources so that is going to be our go-to marketing spot for you! Some things that you can do with a limited budget include:
Blogging
Social media
Guest article writing
Networking
Making videos
Attending local industry events
Learning SEO
Writing Ebooks
for a comprehensive list of free marketing ideas check out our 100FreeMarketingIdeas.com
$500-$1,000 A Month Marketing Budget
If you have a little more money and want to outsource some of your marketing tasks, you can definitely find help. A decent amount of online exposure can be had for around $500/month. Conversely if you like doing marketing, you could take those funds and buy marketing training, using your money to increase your knowledge and expertise. Some things that you can do with this budget include:
Paid ads on Google or Facebook (LinkedIn has a minimum of $500 so we wouldn't recommend putting all your eggs in one basket)
Sending postcards or direct mail
Start a podcast
Buying marketing training
Traveling to industry events
Paid ads in local papers or magazines
Flyers or brochures
Having videos professionally done
for a comprehensive overview of free and paid options, check out our ebook, 100 Marketing Ideas: Our Top Marketing Tips For The Web, Social, Video and More
$1,000+
Now you are in the "get a professional or in house person to do your marketing" range. If you are spending more than a few hundred dollars a month on paid advertising it is well worth your money to pay for someone who is knowledgable in that area to manage it for you. Additionally, you should be outsourcing your social media or blogging (you can still write the content but have them post and SEO them professionally).
What Are Your Assets
While budget is definitely a consideration when figuring out your marketing plan, more-so is taking a look at what your assets are. I like to write which includes books, blog posts, and articles for local magazines. I also don't mind making videos if I can do screen captures instead of them being with me in them. When you are getting your marketing plan together, it is vital that you play to your (or your team's) strengths and weaknesses. If you set a goal to make 7 videos a week and hate doing them, it will not work out as planned!
Here are some character traits and what you could do with those talents!
Great at building relationships – focus on Facebook, in person networking and your email newsletter (you can love up on your people!)
A total ham and show-off – become a speaker, make videos with you in them, start a podcast, attend industry events where you can make key connections
Methodical and precise – LinkedIn would be a great place to make industry connections, do how-to videos without you in them, schedule your social media precisely
The key to an effective marketing campaign is playing to your strengths, even if you are outsourcing parts of it. For example, we do social media marketing for clients, but it works most effectively for the people who are willing to make videos which we then turn into blog posts, sharing on social media and spreading across the internet. Several of our clients have said they would like to make videos but that is just not in their wheelhouse so they never got done.
Setting Targets
You need to know what your goal is for all this marketing. A mistake that I see frequently is that a business owner will say that they want "a sale" from their marketing. Now this is great if they have an ecommerce site and are direct selling on the internet. But even for those people, sales often come after a number of different exposures to the product or service.
For example, I wrote this blog post which will have a data collection link so that people can sign up to learn more about my marketing plan template product once it is developed (right now I am just trying to rank for my main keyword, "marketing plan" in anticipation of completing that product). I will probably start with something free and then work my way up to a higher priced item.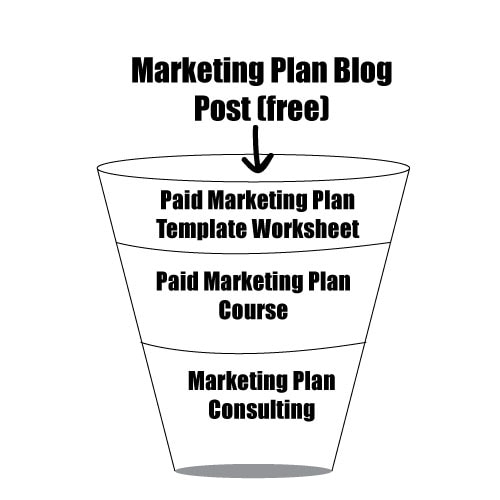 This process is called a sales funnel and you should have one too! To the right is what I am doing with mine.
As you can see, I don't just jump into selling a several thousand dollar consulting program. There are steps along the way that work someone from the top (this blog post) to the bottom, charging progressively higher prices along the way. Rarely will someone do a search, find you on the internet or social and call to say sign me up (although it does happen from time to time). Instead they will do a search, see you have great information and then be looking for the next step in the process. Some next steps could be:
Make an inquiry phone call
Send in an internet lead or quote request
Signup for your email newsletter
Request a one-on-one meeting
Sign up for a lower priced course or offering
All of these results are part of the sales process. Of the people who sign up for my newsletter, a percentage will buy a marketing plan template. Some of the people who buy a marketing plan template will want to learn more in an online class. Some of them will figure out that they would rather have some help-help and call me for a consultation.
Activities based
Now, marketing is a sexy past time when done at high levels. Getting all dolled up for a photo shoot or buying the latest video camera are fun and festive. Going to networking or speaking at an event is a rush. But now comes the hard part.
None of those marketing efforts work without having a plan for each. For networking your plan could be to add them to your database, send a video email to say high, follow that up with a phone call and then send a personal note. Each an every person that you meet should be run through that process.
You should have a plan for every bit of your marketing process. Doing social? You should know how often you posting to each site each day, when you are going to check your messages, how many people you are going to follow and more. For bloggers you should have an editorial calendar and a rock solid plan for what content you are going to be writing and then what you are going to do to share that content socially, numerous times over the following weeks and months.
To do: Make a plan for each day of the week listing the marketing tasks you have to do each day!
Marketing Plan Accountability and Ridiculous Goals
So, now you know what to do. You have an idea of what you are selling, some thoughts about what your marketing plans are going to be and an activities based plan for what you are going to do every day.
Failure is not an option. First off, don't give yourself permission to fail. Laid out the way we do, it is easy to see that taking 20-60 minutes a day to do your marketing efforts is extremely possible and profitable. But that old saying is true, what is easy to do is also easy not to do. It is easy to think, "I am busy so I will just skip following today" or "so I missed a blog post this week, that is not the end of the world". That kind of "slipping" will lead to your marketing being a lackluster, half assed effort that is just annoying, not effective. Don't do that.
Ridiculous Goals. Right now I am on a quest to do a video (or two) every day of the week until the end of the year. That will mean that I have well over 100 additional videos (some of which are included in blog posts and some that are shared on social). The thought of making 100 videos is overwhelming, but if you just think of making one video a day, that effort seems easy and do-able. Set huge goals for yourself but break them down into daily tasks that are doable.
Thank you so much for reading about how to create a kick ass, take no prisoners marketing plan! If you would like to find out more about our products or services give me a call today (727) 415-9165