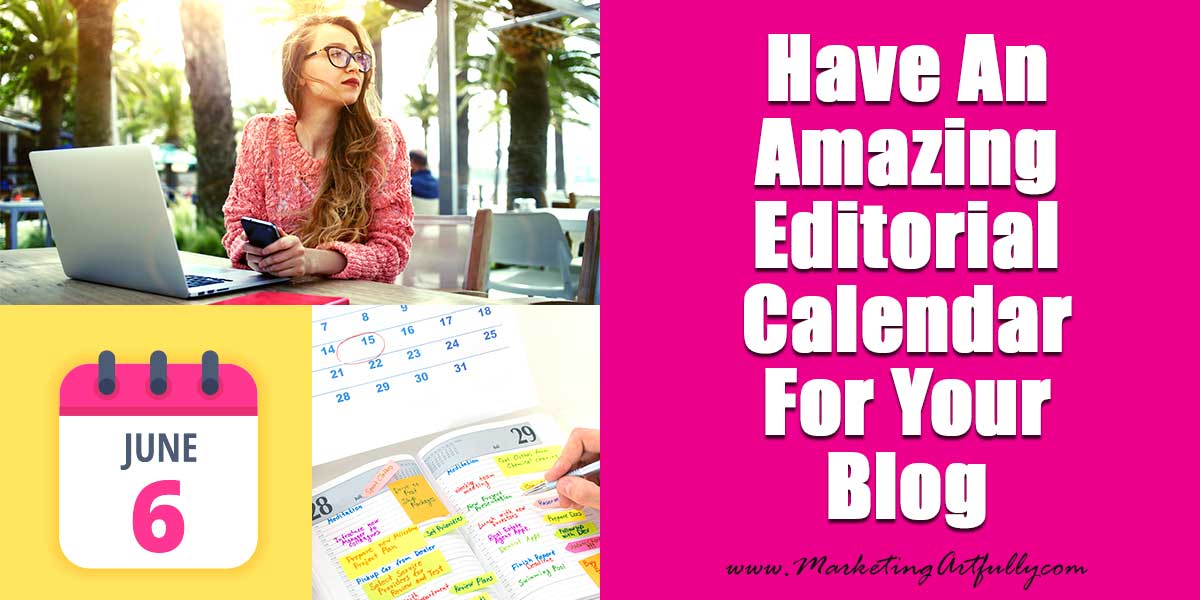 If you have been blogging for any length of time you know that one of the things that we all struggle with is either too many posts you want to write or writers block where you sit down to type something and seize up without a smart thought in your head.
When you have an amazing editorial calendar for your blog this will not happen to you!
Instead you will be able to sit down and plan out your upcoming month, focusing on your big goals rather than just posting stuff randomly.
Note: If you are a beginning blogger, please don't get too hung up on this, just produce content! This is more for after you have an established blog and want to take it to the next level.
Monthly Editorial Calendars
The best way to get a good look at your exact plan for your blog posts is to see a high level view of what is going on. I find that planning out a month at a time is great for being deliberate and strategic about your writing.
For example, I am doing a series of posts about blog planning this month. For this series I will be talking abut editorial calendars, brainstorming, tracking stats, keywords and writing a series. The wicked cool thing about having that monthly calendar handy is that I can just look down and see that every Thursday in March I have a post about that topic. No searching for something to write about, no fumbling around, just butt in seat writing about a topic that will help my business!
This way I can set them up as drafts in my blog and type out notes as I think of them. That way when I sit down to write there is already something there to get me going!

What Is Your Goal
As bloggers I think we sometimes get so into the writing aspect that we forget to consider what the goal for our posts are. Some goals that you might have:
Targeting and taking over a popular keyword which will bring additional traffic to your site
Selling something… I am writing these posts so that I can sell more blogging planners to a super targeted audience of people who are already interested in blogging
Building authority in a topic…if you are a speaker and want to be known for a certain niche, blogging is a great way to attract the attention of people looking for those kinds of things
Maintaining your rankings for a great keyword… sometimes it is worth writing a post to support another post that ranks well in the search engines (for example, my 100 Great Email Subject Lines post could be supported with an internal link from a new post on my site titled "Writing Great Subject Lines" or "How To Craft A Killer Subject Line")
What Goes On Your Editorial Calendar?
There are all kind of things you can include on your editorial calendar like:
Post Title
Series Title
Author
Draft Date
Publish Date
Edited
Keywords
Photos Done
Call To Action (CTA) / Selling
How Often Will You Be Posting?
If you are only going to be posting once a week, I wouldn't worry so much about an editorial calendar as I would increasing your production. I KNOW, they say you don't have to write as often anymore, but having new and fresh content for Google to index and so you have new things to share on your social medias is never a bad idea.
I generally tell people who are starting to blog that two posts a week is a great start. For my blogs I post twice a week on my niche sites (PaperlyPeople and GlamorouslyVintage) and then post 3 times a week on this one (my main site).
Now, that is not every month. Last month was a little lean for me since I was super busy and didn't have a good plan for what I was doing. Now that I am focusing on blogging again I will be sticking to that schedule for the rest of this month and then evaluating my results based on increased traffic or if I get new keywords that I am ranking for.
5 Types of Editorial Calendars
Having tried everything to keep my blogging organized and efficient, I believe I can speak expertly about what did or did not work for me. You may be totally different and that is okay. Try one type that feels right and if that doesn't work try something else. Don't get discouraged if you are not immediately in love with your system…it does take a while to get in a groove.
A written editorial calendar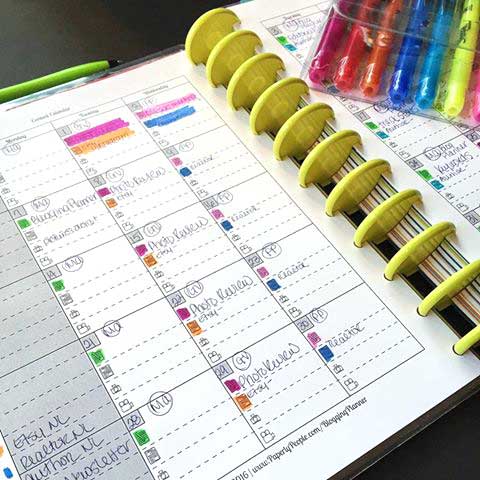 This is the one that I use! I am totally in love with how I can see all of the posts that I have coming up and there is a big area for writing. Another nice thing is that it is in my planner that I carry around so when inspiration strikes I can put the blog post title into the next available slot.
As I said before, I write three posts a week for this site so I could potentially burn my people out if I did my blogging planner posts all at once so I am splitting them up over the next month by doing them every Thursday and having other content the other days. So it looks a bit like this:
Monday – Realtor Marketing Post
Thursday – Blogging Planner Post
Sunday – Author Marketing Post
Monday – Time Management Post
Thursday – Blogging Planner Post
Sunday – Entrepreneur Marketing Post
By splitting the posts up this way I still get a lot of time to do my series and promote my planner that I have for sale, but I am not overwhelming my audience with planner, planner, planner.

An Excel editorial calendar
I have never used this kind of Excel editorial calendar but I see the value of it. This gal seems to be super on it so I thought I would share her info!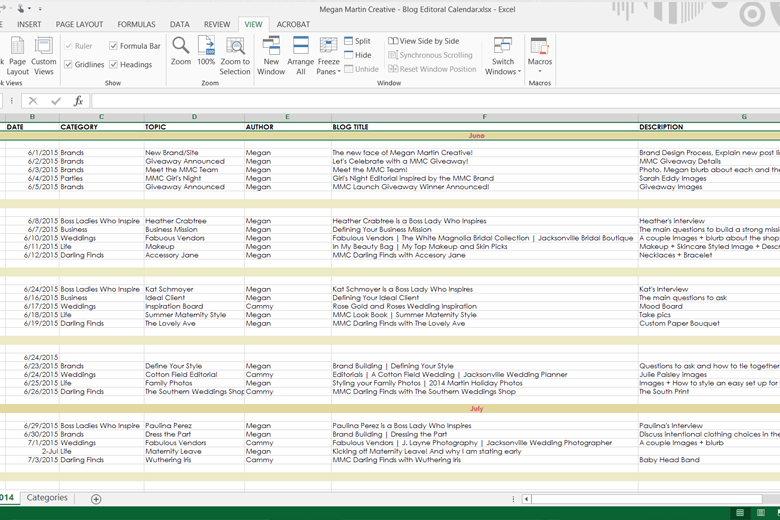 photo credit meganmartin.net
What I love about it…
It would be easier to change than writing all your posts out
It does seem to be able to follow and if you made it a Google spreadsheet you could share it with your team
What I don't like is..
It is on the computer and I am a paper kind of gal
It would be too easy to move things around for me and then all of sudden I am a hot mess again!
Trello for your editorial calendar
My assistant (the Amazing Shell) uses Trello to manage our client blog posts. Functionally what happens is that she makes "cards" that flow like this:
Articles needed
Sent to writer
Finished
Reviewed sent to client
Received from client
Posted to blog
Extras
In this way she is able to track were any given article is status-wise at any given time. My goods and bads are the same as for an excel sheet…I like having my stuff to lug around with me on paper but if you are a computer nerd, then this might be the perfect thing for you. Oh and it is free!
Check out Trello here!
A Scrivener editorial calendar

If you are a writer of books, you might have heard of Scrivener, it is a really great software for organizing books and not surprisingly it is also amazing for things that you have to do which might move around a lot.
For example, when I am setting up email campaigns I will have a list of the emails that I want to do and then have folders that say "draft, in process, done, posted". You could definitely do this with your blog posts as you moved them through a process of brainstorming, drafting, polishing and publishing!
This is my workflow for my forms and courses that I make. I just keep them in working until they are done-done and then move them around.
I have struggled for years using Word and cutting and pasting. If you are doing that, it might be worth giving Scrivener a peek instead. It really is glorious for books or product development and marketing.
Check out Scrivener here! (affiliate link)
Plugins inside of wordpress for your editorial calendar
Okay, I get the concept of these and there are some that seem like they would be great if you had a huge team of people who had to draft, edit and approve different aspects of a post.
From what I can tell, being a single author blog, they would be really an overkill for what I am using it for! I don't have editorial staff, it is just me banging out posts, spell checking and taking a final read edit.
That said, if you are very persnickety and want to make sure to have a second set of eyes on everything, this might be just the solution for you!
Blog Editorial Planner Wrapup
Well that took longer than I thought it would, never really realized how many good options there are for doing your blog planning! My suggestion to you is to try the one that feels the best to you for a month and then see if it actaully worked. Did you do your blog posts and were they super targeted to the goals you were trying to accomplish? If not, then maybe take a run at something else.
I have tried all of these myself (except an Excel spreadsheet) and none but the written one really inspired me to be a better blogger. This is definitely something that is worth figuring out so you can be a better blogger too!
(Visited 173 times, 1 visits today)