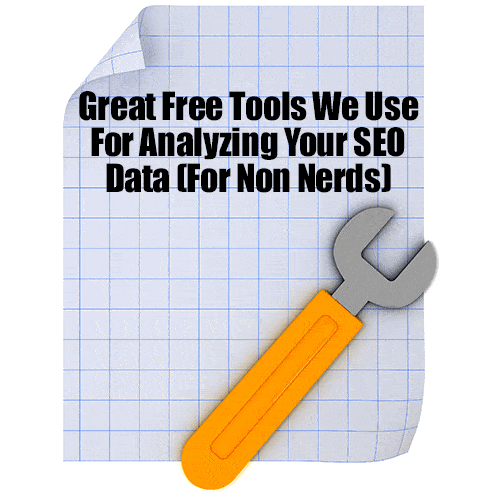 Sometimes knowing how your SEO (search engine optimization) or keyword targeted marketing is working is hard.
In the old days (like 2001) it was easy, all that was available were paid services that you had to use to check which keywords people had used to find your website. There were also significantly fewer site and it still mattered if you ranked on Yahoo…fun that this might be coming back around again, but that is a post for another day.
Then came along Google Analytics and like crack I was hooked! I love looking over my reports and checking what is working and what is not…until…dum dum dum…I noticed some weird data when I compared my reported great keywords and content compared to what was actually happening on my website.
Google Analytics and Keywords
I read a great article about this this week, Post-PRISM, Google Confirms Quietly Moving To Make All Searches Secure, Except For Ad Clicks which basically means that you will never get info from google on the keyword page of analytics.
So is that the worst thing that ever happened…um no…stinky but as of right now I mostly don't know anyways! Here is a screenshot of my Google Analytics Keyword Report for the "keywords not provided" part…

Hmmm…out of about 8,000 searches 6,000 were not provided. So my marketing besty and I sat down the other day and set out to figure out what that means. Here is the data for my top 10 search terms according to the google analytics report…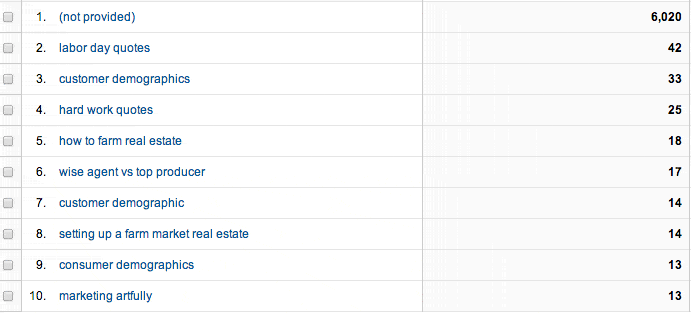 Now I am not math-y but this was a best case scenario for me! If 6,000 of 8,000 keywords were not shown, I could extrapolate that the numbers should work out to be about a fourth of the amounts were listed and then I could just times 4…right? So if there were 25 showing and I was only seeing 1/4 of the results, the actual number should be 100…YAY! Then we worked the numbers compared to what was actually going on and there was very little correlation between the two!

This can be a little hard to see so let me list them:
Follow along with me here…if my keywords were ACTUALLY just 4 times more likely to have been the right numbers it would have looked like this…
Labor Day Quotes – 168
Customer Demographics – 132
Hard Work Quotes – 75
How To Farm Real Estate – 54
Wise Agent Versus Top Producer – 51
Which looks NOTHING like I got over 3,000 hits to my one email marketing post. In fact, there are only two keywords even related to that post in the top 50 keywords for my whole website!
So what does that mean for my keyword research…
First off, I am the kind of gal that does A LOT stuff and is happy when some of it works. What this tells me is that I need to make sure to continue my social media marketing efforts and consider dipping a toe back into paid search so I can get some data from Google.
Secondly, I have to use tools that will help me see what is going on. I have two favorites that I have been using for a while I can recommend. Both are WordPress plugins.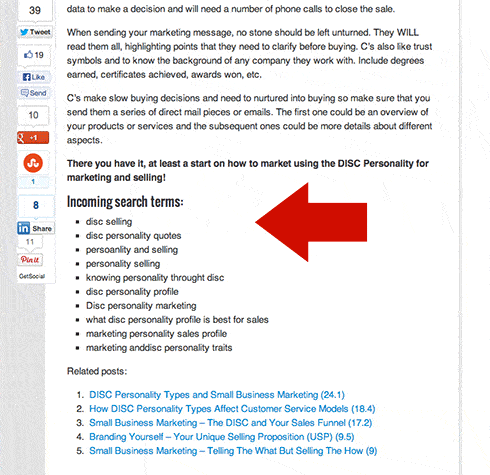 SEO Search Term Tagging is BRILLIANT
Functionally what it does is take each post and let you know the keywords that were used recently to find that post and puts them at the bottom. I have found some really great keywords to write ADDITIONAL articles about from the keywords at the bottom of my best posts.
Now, I think that this is supposed to be there so that you can get SEO help…not sure it does that, I use it for keyword research!!!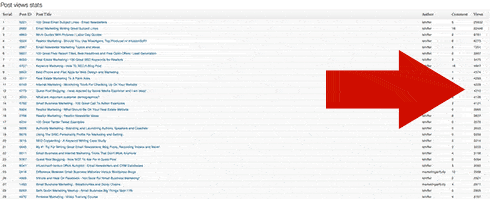 This one gives you a cumulative running total of the posts that have been visited the most on your website. I find it is much easier to pop in here when I am blogging and take a peek than it is to pull up my Analytics.
And DANG, just found out I have a widget that I can list my popular posts…cool!!! (see it pays to write blog posts!)
(Visited 39 times, 1 visits today)