I was searching the internet looking for examples of great display ads examples and couldn't find much using a google search. With that in mind, I thought that I would compile some of my favorites with why I like them.
The reason I was looking for ads was not necessarily for making "ads" ads, it was more to see what attracted me and would make me want to find out more design wise. The actual use for these ads was to use them as a design template for the new Facebook timelines and getting people excited to visit a timeline page or app. With that in mind, I am also going to post the Facebook Timeline Buttons for apps later this week that we developed for our social media marketing clients (keep your peepers open!)

I like this one for skinnytaste on Pinterest. Because Pinterest is is such a media darling lately and has brand appeal, having the logo prominently displayed with pictures they have pinned made an impact and I would have been happy to click through if that was my cup of tea. display ad courtesy of skinnytaste on pinterest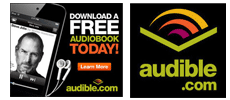 The difference between these two ads is very powerful for me! The left ad is all about "what is in it for them" – a free book and information about Steve Jobs. Additionally, after looking at about a thousand ads for this piece, I like the call to action button so that I know EXACTLY what to do! display ad courtesy of audible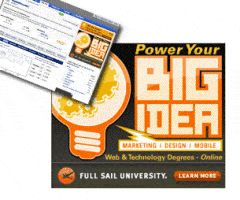 This one is VERY interesting to me personally. I included a screenshot of the website where I found it and it literally jumped off the page at me. I have a feeling that this is because I am a graphics artist and the design elements were very powerful. Just one more thing to keep in mind…who is your audience? display ad courtesy of full sail university
Here are some additional display ads that I thought were either great calls to action or were visually appealing!
want more display ad examples? check out our display ad board on Pinterest