So yesterday I talked about "getting to the top of google" and touched on how google has different results for different people (that is called google universal search). Today we are going to take a visual peek at what that looks like in real world small business marketing searching and how utilizing social media and especially Google+ makes a huge difference!
Small Business Marketing, Google+ and Universal Search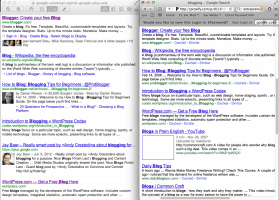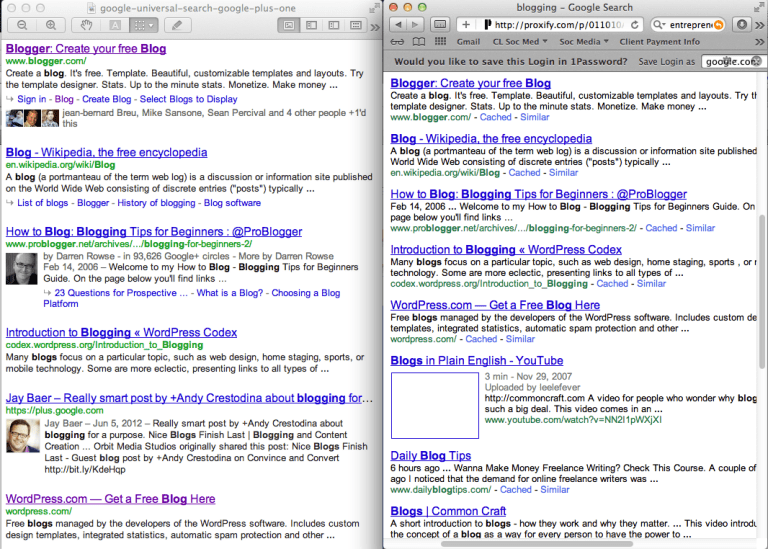 As a social media marketing company, we get our peeps on the Google+ and circle related people for them. BUT what does that mean in the real world? If I listened to the rumors, Google+ doesn't have very many people using it and it isn't as fun as Facebook for the average user, right?
In the picture, searching with Tara Jacobsen (me) logged into google, I get ALL kinds of people results. I get to see how many of my friends have plused one the blogger link, I have a picture of that nice Darren Rowse from Problogger, whose blog I read and who I have circled on Google+. Along those lines, Jay Baer is also in my circles, and there is his happy little face, big as life. The other search was done with proxify.com which anonymizes the search and takes out preferences and friend links. There you can see some are the same links, but no Jay, AND it added a video result (not sure why the video icon didn't load, but I promise it worked!).


But maybe that is just me, right? Nope! This is another result from one of our realtor client's account. Deb Ward, Clearwater Realtor Extraordinaire, is friends with Stacy Hansen, so when we did a search for ENTREPRENEUR MARKETING using her account, up jumped the result!
So whether you believe in Google+ plus as a social platform or not, I am totally ON BOARD as a way to increase search engine rankings for our peeps!