Google Plus is going to be a great tool for small biz owners and entrepreneurs, once it gets a little bigger! So you should wait right? WRONG! There is SUCH a first responder advantage to getting in there (especially business owners who are NOT social media nuts like I am!)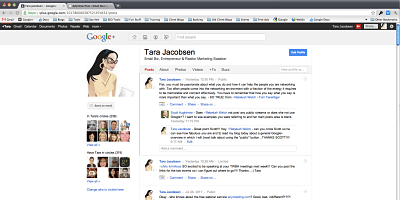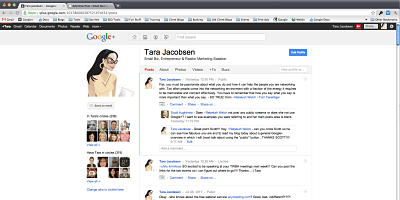 Circle me on G+! http://gplus.to/taradactyl
Basically, if you get in there early, everyone else can find you. If you come to the party late, you have to go find everyone.
For me, this is a no-brainer so, Step 1 get into google plus (if you need an invite, send me a message with your email address, preferably a gmail address, and if you seem like a real person I will send you an invite).
Setting Up Your Google Plus Account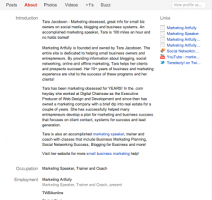 This one is dead easy! Make sure to fill out all of the bits INCLUDING links to your other social media profiles, blogs, websites, etc. I would make sure that the first paragraph is stunning and that your blurb expresses who you are (sometimes that is all someone will know about you before deciding to put you into a circle!)
As with any social media site, this should be about you and what you can do for THEM! Make sure your bio tells them that you will be posting FABULOUS content about your industry and you are excited to be doing that.
Making Circle Friends
Circles are the strongest piece of the puzzle for me. They allow you to segregate your lists into pieces (I have circles for Denver Friends and Denver Realtors – I would put Denver Realtors into the little circle AND into the big general circle). There has been A LOT of talk about why having too many circles is bad, but I am convinced that this is my sweet spot. In this example, if I was doing a general marketing class in Denver I would post it to my Denver Friends circle – if it was a Realtor Marketing class, I would just post it to my Denver Realtors.

BIG TIP about circles! If you don't include the "Public" circle when you are posting things, it will look like you are not active SOOOO….make sure you use Public, Your Circles AND Extended Circles so that everyone you know, the public and people who circle your circles can see your posts.
Google Plus Overview For Small Business Owners
Here's the skinny, if you are a small business owner or entrepreneur using social media marketing, I would love to see you spend a couple of minutes diving into Google Plus today! If nothing else, post a couple of things, set up your profile and add your clients (who are on already) to your circles!