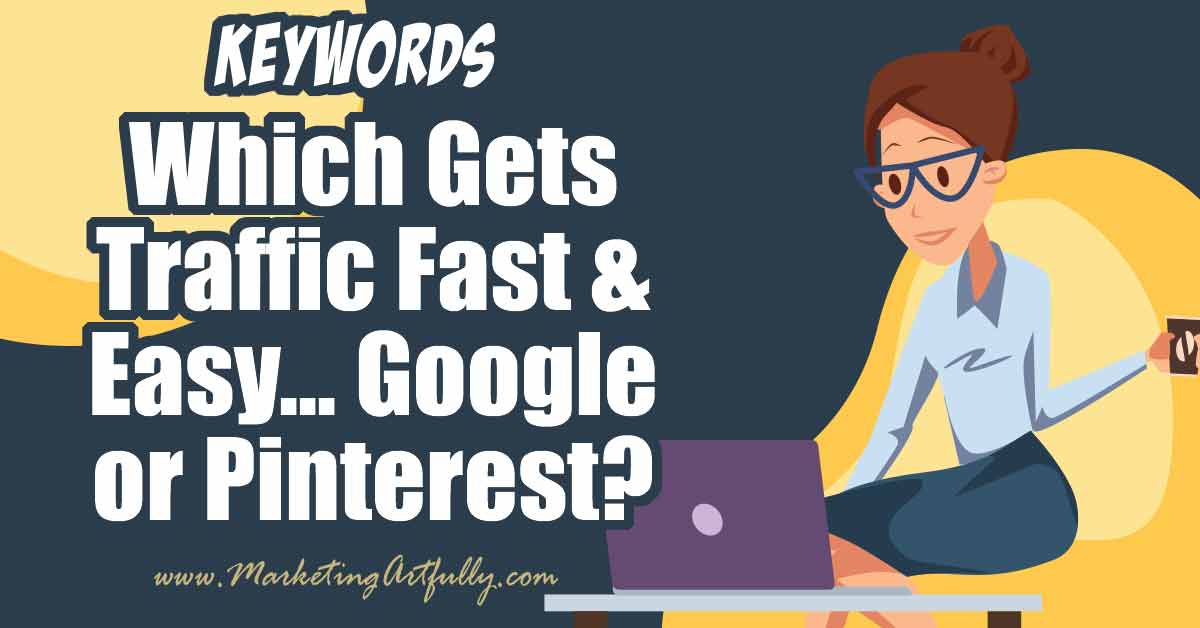 As a blogger, it can be frustrating trying to get traffic… should you go long and slow or short and fast? Does Google work better or should you focus on Pinterest? Here are my best tips and ideas for how to get more traffic to your website!
I am a little weird, but in a cool way! I have two blogs that I work on consistently, one big old one that is for business (this one), and a new blog that is about caregiving, essential oils and decoupage (I KNOW, weird!)
But the cool think about is that I get to see how the two different sites are alike AND different!
Marketing Artfully… 10 years old, great domain authority, 50% desktop, best days Monday-Thursday, very niche (blogging, real estate, etsy)
Artsy Fartsy Life… new-ish, low domain authority, 90% mobile and tablet, best day Sunday, very broad with larger audiences (my best posts are Alzheimers caregiver posts)
So to look at some practical stats… there are only 1.3 Million Realtors in the US and there are over 11 Million people caring for Alzheimers or Dementia loved ones. Almost 10X more possible people searching for my content AND many are women so they are more likely to use Pinterest (that is a clue right there!)
Today we are going to focus on three different posts, one about customer demographics, one about real estate marketing and one about getting your dementia parent to take a shower. These blog posts led very different lives but all are the most successful posts on my sites!
please note :: I often recommend resources, some I receive an affiliate commission for at no additional cost to you, these all help to keep this site free for you!
Getting Google Views
Okay, let's call a spade a spade, sometimes trying to get Google to notice your blog post can feel like watching paint dry! This one about customer demographics was first published December 15, 2013 and did NOTHING for THREE AND HALF YEARS!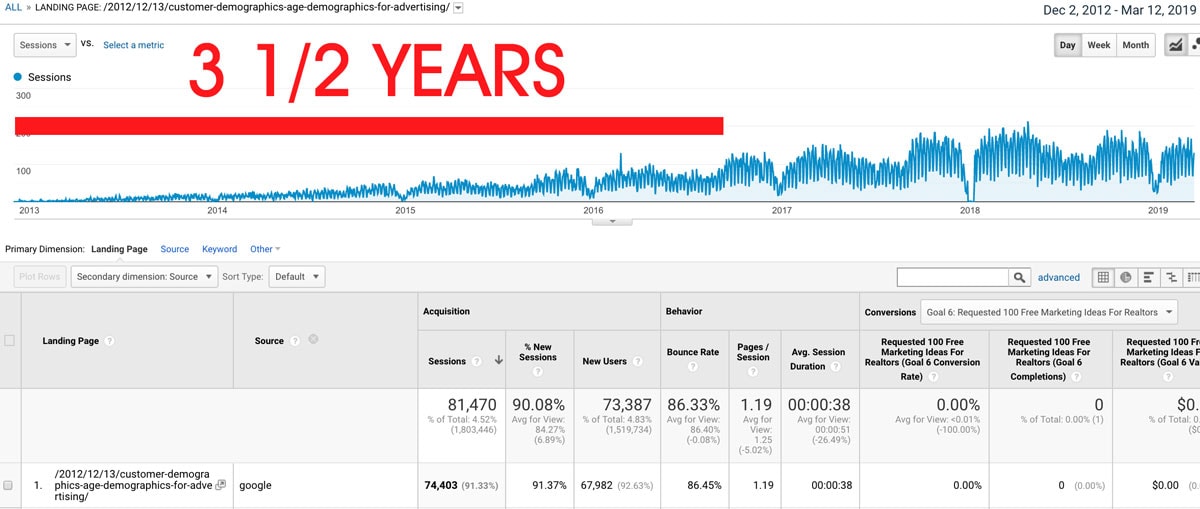 Now it is consistently one of my top posts on my website! So what happened? Why did it get "popular" after 3 years?
I did a bunch of things over the years that helped it grow…
Added more statistics
Updated it every year so that the statistics were fresh
Made new pictures to share on social media
Wrote more posts that were about that same topic and linked back to it
Got more and more incoming links to that post as people found it
And most importantly, I made sure that it was SEO'd correctly. When I originally published it I wasn't as good at doing SEO (search engine optimization). more about this later!
By making sure my page is SEO'd right I now rank for 420 keywords for just this one blog post!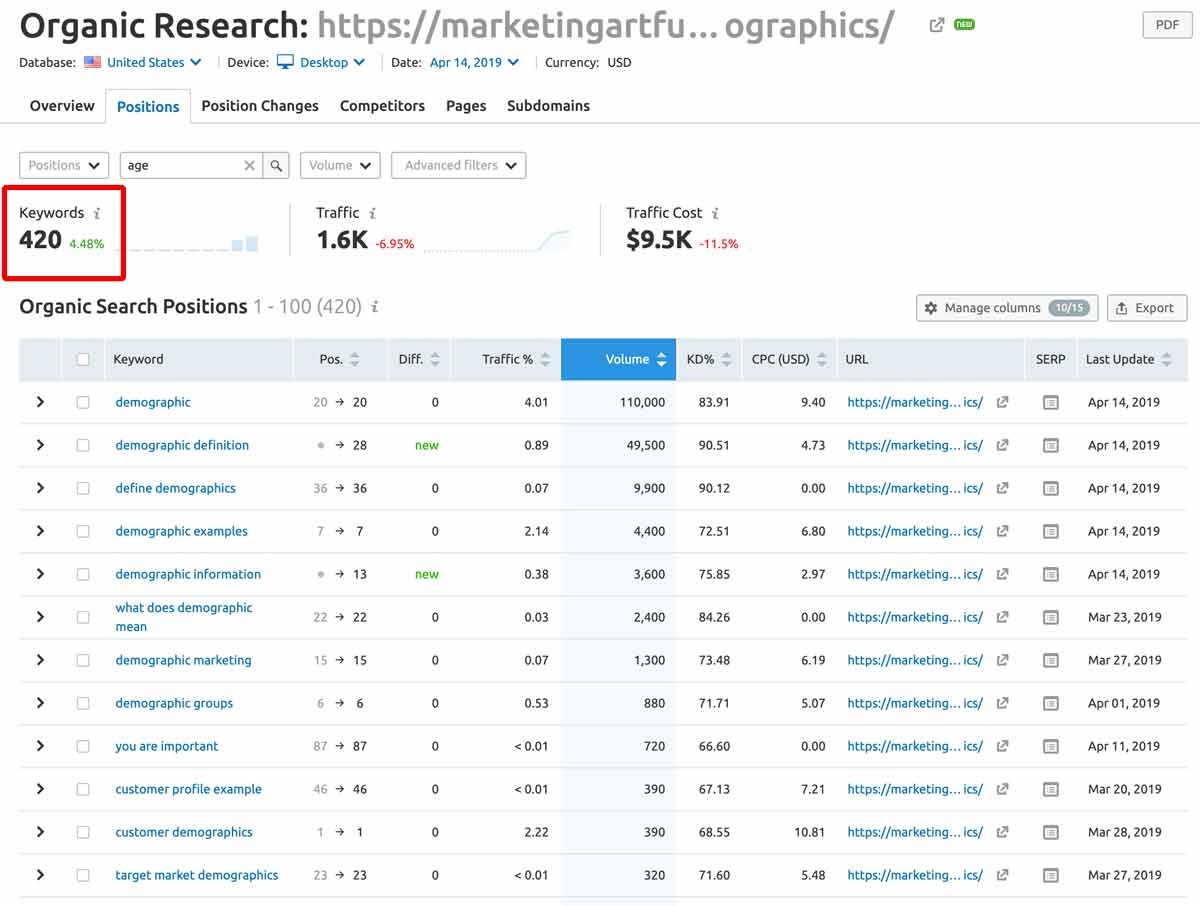 I use SEM Rush to pull this data (it is expensive but I love it!)
Both Google and Pinterest Traffic
Now, don't get me wrong, if there are not as many competition websites then you can rank more quickly and easily! This is one of my real estate posts that is doing very well!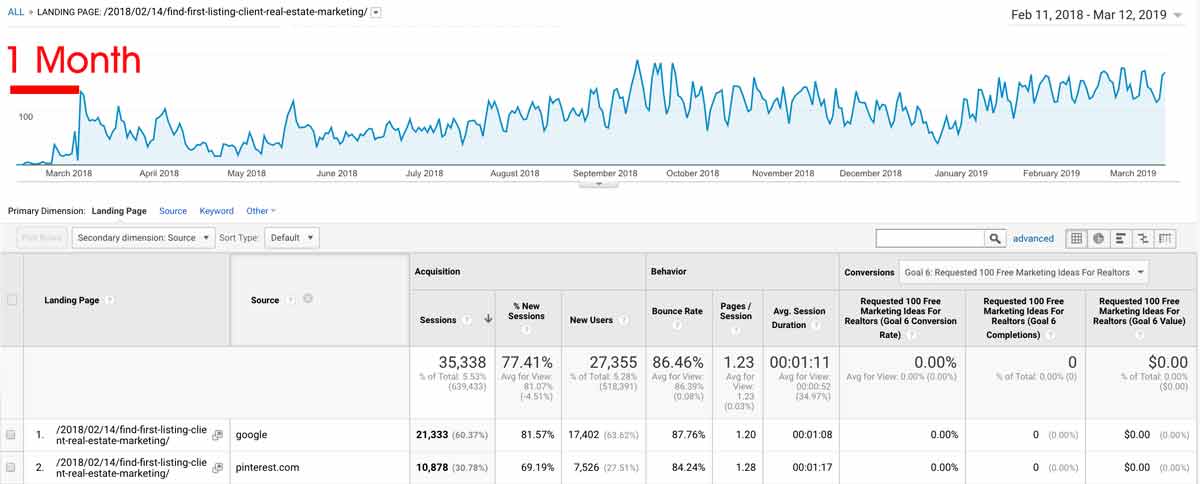 Why did this one take off so fast?
I have domain authority in real estate
I knew how to SEO it the right way
It is much less competitive a keyword than the first one was
I am getting both Google and Pinterest traffic (YAY!)
Pinterest Only Traffic
I had done Pinterest for years and never really got a lot of traffic from my business posts. Then I started publishing content on my little site to help Alzheimers caregivers (my Mother In Law moved in with us!)
I also took a class that helped me to use my mad SEO skills to rank on Pinterest too!
This post was only live for about a month before it took off like a rocket on Pinterest…

Things I did to make this happen:
I have 3 different pins for this post, all SEO'd on Pinterest different ways
I made great graphics for this post to attract all different kinds of people
I shared it to Tailwind tribes (I get about 6,000 views a month from tribes!)
The things you have to do to make a post more popular on Pinterest is MUCH less onerous than doing Google SEO IF your post is something that is "sharable" on Pinterest!
Many bloggers don't understand that you can SEO pins for Pinterest search in much the same way that you can SEO blog posts for Google. Doing a bit of work on your Pinterest pin title and description can make a HUGE difference in how many views and shares you get on Pinterest.
Adventures In SEO Case Study
If you liked this post, you are going to LOVE this course by Lena, of What Mommy Does. She is super excitable about doing SEO and is a great teacher who shares her wealth of knowledge with the rest of us!

I have been doing SEO for years now and am pretty okay at it! But Pinterest was a bit of a mystery to me. I had no idea what to do other than copy and paste my blog post title and description over and then sit and wonder why all the other people were getting great Pinterest traffic and I was sitting there, wah, wah, wah. So when Lena said she was going to do a Pinterest course combined with SEO, I was like … "here, take my money!"
Starting with the first few lessons I realized that this was going to be different! Instead of fluff and nonsense, it was facts and strategy. Right off the bat we were learning to "think like Pinterest" and see WHY those other pins were doing great and I was not getting any of that sweet, sweet Pinterest traffic. She showed us how to look at keywords in a way that just made sense in the context of Pinterest using some really unique tools and methods.
We started working on our Pinterest in March/April and beginning in May I started tracking my Pinterest traffic. So May 1, until October 22 I had over 25 THOUSAND hits from Pinterest! WHAT?!?!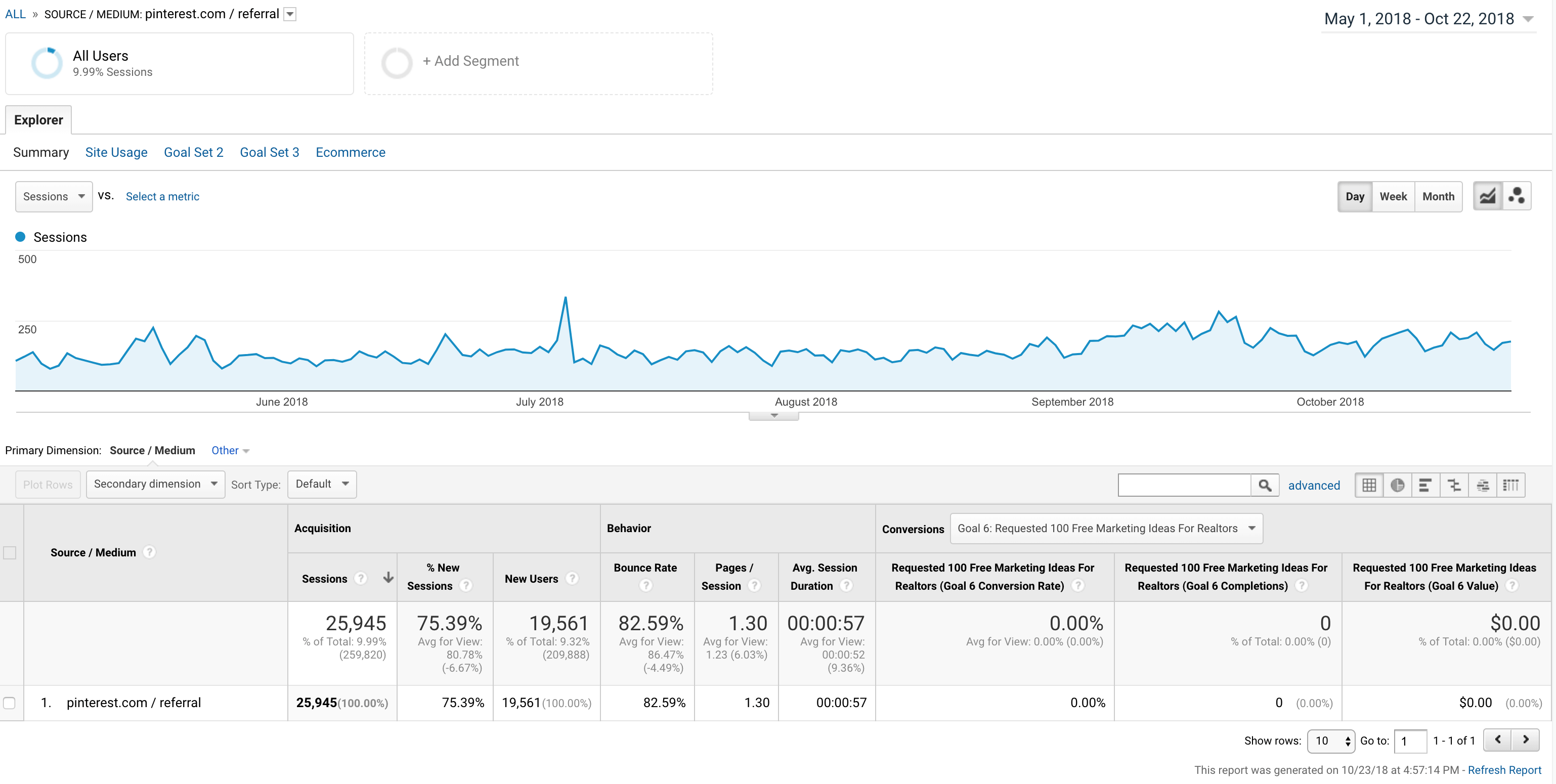 And what you don't know is that summertime is wasteland for my site! My business peeps are out playing around and not worrying about marketing. So as soon as people started coming back into their business, there goes my Pinterest going up.
But what really blew my mind was how much Lena's teaching helped my content creation. When you take the course, you will be looking back and thinking, "how can I get more traffic to my old posts". But using her system for a while, you will start looking ahead and find things to write about that will automatically be super sharable on Pinterest!
And all of this would be super exciting but it is even more mind blowing because I am targeting super niche traffic. For example, on of the posts that I did "Lena's way" is now my second most popular post on my whole site. So it is Real Estate > Real Estate Marketing > Just Listings Agents > Just New Listing Agents. That is a super tiny group of people who are looking for that content, but between Google seeing the SEO and Pinterest sending gobs of traffic over to it, I am a winner winner chicken dinner!
As you can see, the traffic is pretty well split between Google and Pinterest…

…. which NEVER happens on my site! Thanks to Lena for the amazing course!