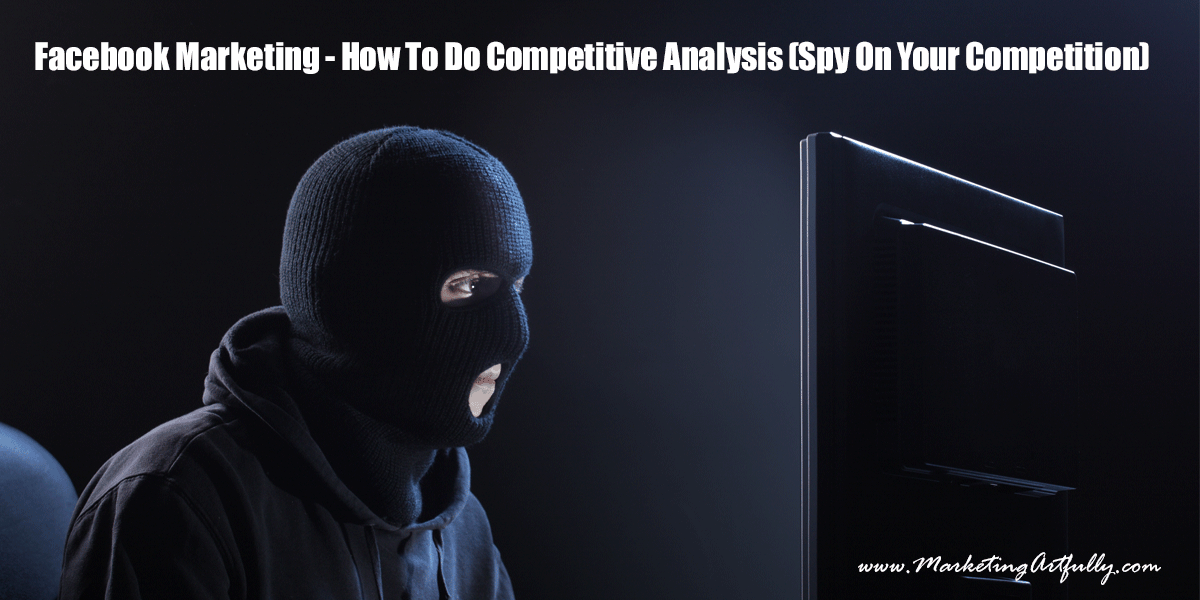 Just yesterday it happened again, someone said that they wanted to know who my competition was and I froze like a popsicle.
Who IS my competition?
Today we are going to take a look at ways that we can find out who our actual competition is on Facebook using competitive analysis.
Finding Your Competitors On Facebook
Okay, I admit, I really don't love Facebook. It is a necessary evil in my life, but I don't put the time into it that I should do for my business pages (which is what we are going to use as our Facebook competitors).
Step 1 – Search Bar

You are going to start by finding out which pages are liked by people who like your page. This will take into account geographic preferences, content preferences and really show you who is your Facebook competition.
At the top (while you are in your "person" account) you will want to type in the following search:
pages liked by people who like Marketing Artfully (YOUR PAGE NAME WOULD GO THERE)
In my case this resulted in the following top 10 pages:
Small Business Chamber – This is a local business owner who does live networking. The interesting thing about this page is that they are focused on startups and I getting more interest from startups because of my marketing workbook.
The Colorado Connector – It totally makes sense that this is a "competitor" page. Rebekah, my marketing besty, owns this. Now, she has gone in a different direction so it is not as active as it was, but still makes sense!
Heinlein Group – Heinlein Publishing Services – Hmmm interesting. I am targeting authors with things like the Ebook Nerds Facebook and Twitter accounts but have not launched an official products for them yet. I have to think that this bodes well for the direction that I am heading!
Mike O'Neil – Mike lived here in Denver for years and still has a really strong following. That said, he only posts about 1X per month so I don't see him as current competition.
A-Dre Productions – Interesting. Not sure why they would like this event planning company and mine. They are Denver local but are 25-34 age which is not my demographic at all.
DTC / Greenwood Village Chamber of Commerce – LOVE that a reputable organization like DTC Chamber is my "competition". We share the same age demographic and location so this one makes a lot of sense. That said, they don't have any more interactions on Facebook than I do.
Andrea Constantine – Andrea is a local woman who speaks and coaches. It does appear that she has abandoned her page as there has been nothing posted in 3 months.
Erin Ashlee Rose – The ties are getting even weaker. She is Denver/California but appears to be a young up and coming actress. Not hitting my demographic at all.
Kudo Community – Abandoned in 2013
National Association of Realtors – Well now it gets funny. Some of my "peeps" are definitely Realtors so this does make sense. That said, they get as many new likes per week as I have total so how does that help except to find things that they post which are popular that I can share too.
Pro Tip >> See The video for how to put your competition to work for finding great content to post.
Facebook Recommended Competition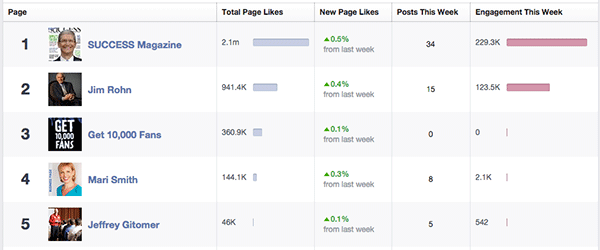 Success Magazine – Now we are getting into stupid big numbers compared to my little page. They have 2 MILLION likes and get as high as 38K likes on a post. But wait, there is something weird here! Their biggest city is in the Philippines which probably means that they are buying likes and that they are paying to sponsor posts to get those numbers. That said, we can still check out what gets the most engagement at those levels and emulate some of what they do.
Jim Rohn – Mr. Rohn is deceased and it seems that the page is nothing but 5 text based quotes and then a pitch for an official product. I have to think that this was grown organically as the main city is Los Angeles. It seems that the love, admiration and good will that Mr. Rohn built in his lifetime continues today.
Get 10,000 Fans – Not sure what is going on here. They have over 300,000 likes and haven't posted in over two weeks. Maybe because Facebook changed the newsfeed algorithm they are shutting down? Oh well.
Mari Smith – Okey doke, just want to say from the outset that I LOVE Mari Smith, she is a class act. That said, she is a pure social media marketer and I am not. She is also a "Facebook Queen" so I would hope that she would have high numbers. With all of that, her success on Facebook does seem attainable if you were to put in the time and energy. She is a speaker and drives everyone to Facebook instead of her website. She is charming and polite and answers people. Definitely someone to watch and emulate. (She doesn't seem to be paying for her likes, her main city is Los Angeles!)
Jeffrey Gitomer – Last but not least is Gitomer. He is a speaker and has spent decades building a following by speaking all of the country. He has embraced social media and is really involved in his social channels. I am pleased to see that he is not buying as his best city is Chicago.
Observations About My Competition
First off, it seems that quotes are far and away the best producing content on any of the pages. Quotes with pictures seem to be #1 and then quotes without pictures are #2. It is really worthwhile to spend some time figuring out what your competition is posting so that you can see what is best to share for maximum effect. This is different for each industry…for example, one of our hospitality clients has pictures of their hotels and awards that they have won as the top successful competitive posts.
I made a little spreadsheet to do this which tracked:
Page Name
Page Owner
#Likes
Talking Abouts
New Likes
Location
Age
Best Post #1
#Likes and Shares
Best Post #2
#Likes and Shares
Link to the page

Seeing all the data in one place really let some of the obvious points jump out at me!
Keep your peepers open next week for the next part of this series, Twitter Marketing – How To Do Competitive Analysis (Spy On Your Competition)