Facebook is not made for business, rats! I KNOW, it is to talk with your peeps, share photos of your puppies and generally schmooze. BUT many of us have found it is a great lead generating source and there are bits that can be great for business if done correctly. Here are my most recent notices and what they may mean for small business marketing.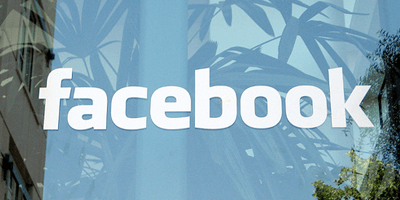 Facebook For Business – Making Your Business A Person
One of the biggest no-no's I see on Facebook that small business owners name their profile their business name. Not only does this violate the terms of service BUT it also confuses the public when we then launch them a real business page. Stop doing this!
There are a couple of real-life reasons that it does not make sense to do your business as a person:
If you have a person, you have friends. These are people that you can invite to your events easily and use the "suggest to friends" feature within Facebook. You can also "update fans of your page" when you have an event. To give you an example, I have 751 "likes" on Marketing Artfully, of which 280 of those people are my friends (more on the fuzzy math of friends and likes later). My events are local so I have my friends separated into lists of Tampa friends and Denver friends and invite the correct people appropriately. The fans of my page are automatically filtered by Facebook and so are easy to invite geographically desirable potential attendees.
You can only have 5,000 friends, you can have unlimited "likes". This is not always a factor to small business owners who use smaller, more industry targeted numbers BUT it is a factor.
You are not supposed to SELL on your profile. If you make your business a person, the amount of sales talky-talk that you can do before you are banned is GREATLY decreased! I have one friend who has had to redo her person three times because they banned her so often for selling on her profile!
Weird Random Facebook Changes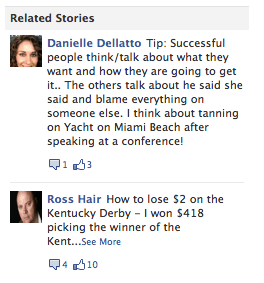 Okay, today this fun little box popped up on the right of my PROFILE and said "related stories" when I was posting about one of my speaking events. Not sure I really think that they were related, but barring that, this could mean that if we post things on the profile that are a little more geographically targeted (I said "denver friends") and a little beefier, that Facebook could pull our content out and post is as something that others could like right from their walls. This DID NOT seem to "sponsored" meaning a paid FB ad. As far as I can tell, this DOES NOT happen on the business pages.
All of your friends updates DO NOT show on your wall. I am sad! Facebook has decided that my husband is not important and that I should not see his posts. He is definitely someone I want to know about, but not visible to me unless I type his name in the top and specifically check what he has been talking about. I HAVE set my settings to show ALL friends and pages but no Johnny J. I have also noticed that I do not get notifications when everyone interacts with me, just some of the people (I have friends that have mentioned this too). If you want to see more than just what Facebook thinks is important, make sure you click the "most recent" tab instead of using the "top news" and know that you still might not be seeing everything.
Changes To The Facebook Groups
New Media PR Consultant, Rebekah Welch, the Colorado Connector gave me some great pointers about the changes to Facebook Groups. We do not aggressively use the groups so I fall back to her expertise in this matter!
As the "old" groups are archived and we are, "upgraded" to the new format, there are some SIGNIFICANT changes that are going to affect how people connect. One being that groups are now limited to ONLY 250 members. (A serious hit …for group owners with 300, 500, 1,500 – like us!) Another being that fb will remove ALL of the members of the old group – and group owners will have to get (250) of their old members to migrate to the new page. Invites also will be affected – group owners will only be able to directly communicate with invitees until the list reaches 4,999. At 5,000 you lose the ability to update your invitees.

While pages are great for being indexed on browsers (groups are not), all updates you share with your "fans" or "like" – ers are essentially sent to what equates to a spam folder in the message area. Most people don't realize it's there, so they never look at it. THIS is one reason why some folks have slower conversion results with a fan page as opposed to a group page where messages go directly to the FB inbox. SO, while pages allow you to have unlimited followers, you can't exactly interact with them effectively.
Being a SEO junkie, I was never a fan of groups and now have even more reason to not love them. I also do not like that the organizer has the ability to add me all willy-nilly to groups randomly without my prior permission and that most business owners do not take the time to interact with their groups. Hosting a group is a big time commitment and if you are not going to be in there interacting EVERY day, it is mostly a wasted effort. I have to say, that this is the one area that LinkedIn trumps Facebook. If you are going to make a commitment to starting a group, the messaging capabilities and interactions are much more robust on LinkedIn than on FB.
How They Are Counting "Likes" To Your Fan Page
On this one, I am as lost as the rest of you. In the past, the number of "likes" to your page seemed to be separate from the number of friends that you had who liked your page. ALL of our clients have had the numbers of "likes" as reported by FB drop dramatically in the last month and I am thinking that this is because they have changed their "fuzzy math", NOT because hundreds of people have just decided to unlike at the same time. Additionally, I have not seen that there is a reporting function for Business Pages that like your page. We LOVE the new interactions that pages can have with each other and utilize that effectively for driving new Likers, BUT I do not see a way to know how many pages like your page (although you can see how many pages your page likes). Whew, that makes sense to me but not sure that it translates well to writing!
If anyone has more information about these numbers, please feel free to leave a comment!!!
photo courtesty of http://www.flickr.com/photos/pshab/498122926/
(Visited 16 times, 1 visits today)