Facebook commenting, it can be stressful if you don't know what you are doing. It can also make people mad if you do it wrong. So what should you do? Give up social media marketing altogether? Nope! I thought it would be helpful to tell you EXACTLY what to say or do to stay out of hot water!
The first thing we have to start with is what you are trying to accomplish by commenting, liking or sharing. Social NETWORKING is just like meeting a person in real life.
If you were at a mixer and someone came up to you and showed you their product spouting off all of its great attributes before you even introduced yourself, that would be creepy, right? What about if you did know them a little bit and were talking about the local football team and they stopped, grabbed their bag and pulled out a brochure and said, "our product is just like football, buy it now", still doesn't feel good. Or worse, they come over to your house (post on your wall) and spray paint a marketing message about their product on your front door…gasp!
How about this instead, what if you see them at networking a time or two (like you do online), wave (like), talk a couple of times (make comments) and they start to notice you are all about your industry. Passionate about helping people and posting great content. They comment on some of your posts and then direct message you (send a private email) asking about your products or services. It happens every day!
So lets start from the easiest to the the most advanced. At each step of the way I will tell you what it is, how to do it and what it looks like on the other end!
Commenting on someone else's post publicly

So when you are commenting on someone else's post, you can do three things:
you can "like" it – which simply shows the poster that you liked what they posted or
you can "comment" – and leave a message
you can "share" it – so you can share it to your timeline (profile) or you can share it to someone elses profile
Liking A Post

Liking a post is a great way to dip your toe in, add to the conversation or possibly grow your friends.
Social media marketing opportunities: as you can see, if you are are one of the ones that shows up as "liking" it, you may get someone to click through and ask you to be a friend. What you WILL do is let the poster know you care about what they posted!

Commenting On A Post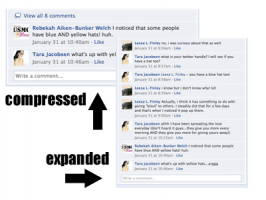 So now you are ready to move onto commenting and ZAP, you seize up, not knowing what to say. Commenting will mean that OTHER people will see what you are saying. SERIOUSLY, you cannot go wrong if you leave a genuine comment about something you have read, seen or watched.
A post comment will show up on THEIR timeline, but not yours very often (it might say something like, tara commented on joe blows post)
Social marketing opportunities: you can build relationships by leaving a shorter, more basic comment or possibly add new friends who see how insightful you are because of your comments!
Examples of basic comments (okay, here is a HUGE list of comments I pulled from the facebook, some are mine, some are my friends, modify them to suit your life/industry)
I was curious about that as well!
Yikes!
It's totally awesome!
Aw what a great way to start my day!!
ditto!
Great seeing you today!!
that sounds amazing!
Miss You!
love the new profile pic!!:)
makes for a good weekend!
HappYness
More advanced comments
LOL..exactly…I don't read the instructions…they are made to confuse you. I count the pieces and then throw the instructions out..
I agree with Suzie…time for a visit to Colorado!!
I have heard, more than once, that Marilyn was a size 12! YAY!
This will be a great event! Go and have some fun!
He did a lot, must have believed what he said.
Good photo to put with your 'Beware of Dog' sign…looks very convincing!
One of the Best books I ever read was "Failing Forward" by John Maxwell. States the same thing:)
Social media marketing opportunities: this is a way to join the conversation and share something a little more about yourself. Could be that someone who read John Maxwell's book would like the fellow who posted that comment because they share a mentor. This is a way to build relationships with people who have posted something and which you respond to.
Really heartfelt and pertinent to the conversation
Well said love! And thank god I'm not guilty of any of these…. I think social media etiquette is helpful to know. But sadly many of us don't…yet. Just more areas to be conscious– I'll practice"receiving" what I post to see how it feels on the other end before hitting send. Thanks darlin! (this comment promted this post – thanks Andye Murphy, Rock and Roll Shaman!)
AWWW! This poor baby! So happy someone stepped in and saved her! What is WRONG with people?
It IS going to be a great time. Good friend and publicist extraordinaire Joe Blow will also be there!
OH MY GOSH!!! Thank you SOOOO much for this wonderful testimonial!!!
AGREED! Honestly the only reason I have used a phone book in the last 10 years is a.) as a booster seat for kids, and b.) as kindling to start a fire. When I had my brick and mortar salon I spent TONS of money on having a listing + ad for YEARS – not ONE client came from that.
Thanks for the article! I also read the article that was mentioned in it, What is Considered Link Exchange… great info! Thanks again! You are always so relevant Joe!
Social media marketing opportunities: these are more in depth comments that reveal more about you or share how much you like the post. I do not think it is EVER relevant to respond to someone else's post with a link for them to buy your stuff. I do not even think it is okay to respond with a, "I wrote this post and since you talked about this topic you should read it" comment. People are posting things to start a conversation or share their opinion or show something that is important to them, not opening the door for you to sell something. Tread lightly here!
Sharing Something On YOUR Wall
If you find something SO good that you want to share it with your friends, you can share it to your wall. Because you are posting on your own timeline, it is a free for all! You can comment on it however you wish, and you get extra credit if you use the @ sign to acknowledge the original poster (so I put @Deborah Ward and it made a hyperlink to her profile).
Social media marketing opportunities: sharing something someone else posted is a GREAT way to gain social capital. This shows that you liked them and their "stuff" enough to share it with your peeps. I share a lot of charity pleas, daddy's who want people to vote for their kids things and inspirational things. Sharing instead of just copying and posting shows that you recognize where it came from first, as Martha says, a very good thing!
Sharing (or Posting) To Someone Else's Wall
DANGER WILL ROBINSON, DANGER! Posting something on someone else's wall should be done judiciously! This is like going over to their house and sticking a sign in their yard without their permission. This is so important that I had to make a video to show the ins and outs of sharing to somoeone's wall.
Social media marketing opportunities: there are NO social media marketing opportunities for sharing on someone else's wall. That is their world and you should only post things that you think will add to their lives.
Direct Messaging
This is a little different than commenting, but I think it needs to be addressed. Being able to send whatever you want to another person and no one else will see it is a powerful action. Two things to remember about this:
They are not sitting on the Facebook, waiting for you to send them a marketing message
They can copy and paste it to anywhere they like so it is not actually private
Direct messaging is not for selling. It is still for growing relationships and starting a conversation. So you could say, "thanks for the great post today, could I share it with my team". This will open up the door to them asking, a team of who or they will say "sure"! They might ask about your business and what you do.
SOCIAL MEDIA MARKETING
Now you are thinking, all this commenting crap is great, but when do I get to sell?
On YOUR TIMELINE, you can sell infrequently on your own wall (you will see I post about getting ready for classes – people then Direct Message me and ask me about them or mark in the comments that they want to know more which opens the door to my posting a link). BONUS – if you want to REALLY get good social media karma, ask about something to prime the pump for your friends! They will love you for it!
In commenting and direct messaging, you NEVER get to sell unless they ask first! I HATE that they changed it from social networking to social media. This opened up the doors to people thinking that they could do marketing and sales on the Facebook, and just don't think that is the case. NOTE – You can sell on your business page, but that is a post for another day!
So I hope this helps…did not intend it to be a 1,500+ word post BUT this is such an important subject I thought it deserved the time!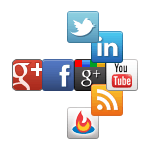 Okay, most small biz owners are overwhelmed, disgusted or confused by social media. What is it, why do they need it and how should they fit it into their already busy schedule?
We work with small biz owners to help implement a social media marketing plan that will work for their company! Find out more about our social media marketing services or call today to talk with real live human being! 727-415-9165