Facebook Business Pages have come a long way and having a custom page is starting to be as important as having a website or blog! Custom business page design can be hard or easy depending on your level of technical ability. Here are a couple of different ways to make a custom page from easy to hard!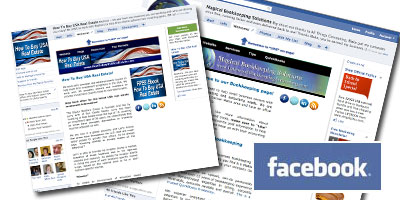 There are all kinds of little bits and pieces of a custom facebook page that add up to a great look and feel.
To start, let's talk about why a custom facebook page is so important. As you know, facebook is closed system that is not indexed by Google (one of the reason I like Twitter so much, but that is for another post). Two places on Facebook ARE indexed by Google though, custom landing pages made using the FBML application and Notes. Notes are a great way to make a quicky, keyword rich post that will rank well for a little while. Custom pages have the ability to contain much more information and perform multiple functions.
Facebook Business Page Picture
We are going to start by looking at a Facebook Business Page Picture. There do not seem to be any limits on how big these can be and you can use a thumbnail picker to decide which bits represent your page when you are posting or commenting. Generally we make clients pictures 180 pixels wide by 500 pixels tall. This leaves plenty of room to put a picture, logo, contact information and even a stock photo if we like.
As with everything else about your page, it is super important to have clear branding and to make sure that there is cohesive feel between your picture and your other websites and offline materials. This is a SUPER easy way to make your page look more important, even if you never touch a bit of FBML code.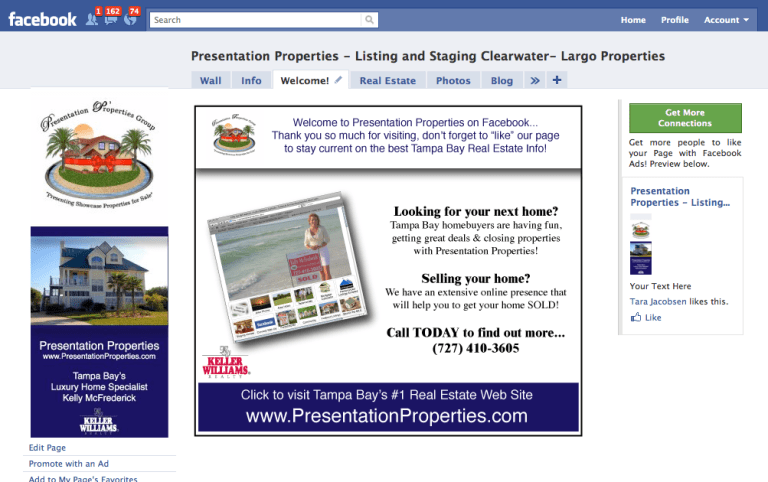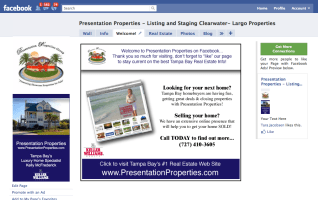 Facebook Custom Page Using A JPG
The next easiest way to make a Facebook custom page is to create one image that you can use as a the entire page. You will need to access the FBML application within Facebook and then write a little bit of code to show the picture. If you do not know how to use FTP to upload a picture, you can always store it on Flickr.
The easiest way to make a picture like this is to use a software like Photoshop or Illustrator, BUT if you do not have access to those, I have it on good authority you can use something like PowerPoint and then just Export it as a .jpg file. This picture should be no wider than 520 pixels and can pretty much be as long as you like. Remember that your load time will be affected by how big the file is so make sure to "save for web" which will make it 72dpi (dots per inch).
The drawback to using a picture instead of FBML code is that there is not much for Google to index, which leads me to…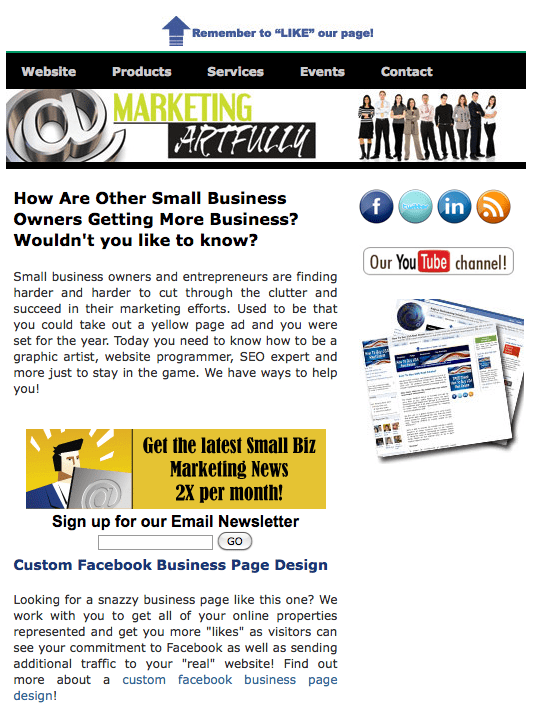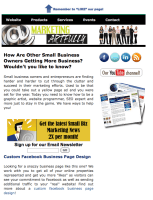 Facebook Custom HTML Pages
This is my favorite type of custom Facebook pages and is the one that we use for clients and the Marketing Artfully page. There are a number of great parts to it including:
A message to "like" the page at the very top which encourages participation
Actual navigation links which we use to send people to our "real" website
Links to our social media sites like Facebook, LinkedIn and Twitter
A newsletter signup form so that people can be added to our database
LOTS of great text for Google to index
Now building one of these pages is not for the faint at heart. There is CSS, FBML and HTML involved which make it a little difficult for the average bear (I had my in-house programmer make this one!) I would recommend buying one of the templates out there or else having a web design company handle it for you (hint hint). If you do have a bit of HTML knowledge and want to do it yourself, do a Google search for free business page templates. I found a couple out there that were okay BUT they didn't have all the bells and whistles I wanted for Marketing Artfully or our peeps.
Well there you have it. Easy-peasy to hard core programming. I am not a huge jump on the bandwagon kind of gal BUT I can see these pages serving us for at least a year so decided to bite the bullet and get them going! If you would like to see the examples in action, click on the pictures. If you would like to see a couple more check out How To Buy USA Real Estate and Magical Bookkeeping Solutions!
(Visited 17 times, 1 visits today)