The clutter in today's email inboxes means that more often than not, not only are they not reading your email newsletters, but they aren't even OPENING your message. So how can you up the chances that someone will be willing to invest their hard earned time to look at your message?
These are my favorite posts to write and I do them about once a year because styles and times change! Here I go…some ways to make your email marketing efforts shine!
Email Subject Line – Tagliney Thing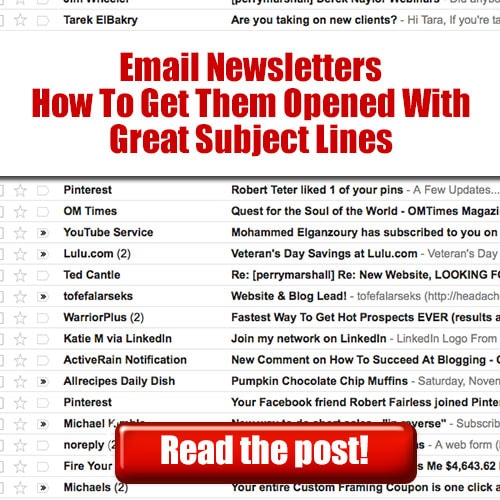 Okay, what we are talking about here is the EXTRA words that come after the actual subject line (ie – Your entire Custom Framing Coupon is one click away! Custom frames make great gifts. Save 60% off – the part AFTER the actual subject line).
This is a great place to put a call to action or add additional marketing copy. Leaving it as the default, "please do not reply to this message" or "if you have trouble reading this" is a tremendous waste of marketing real estate and can mean the difference between your email getting opened or deleted immediately!
Email Subject Lines – About Them Not You
As I see it, there are only two ways to make your email newsletter about them. One is to offer discounts and coupons that they can use to benefit their lives. I am not so hot on discounting goods or services, so this is not my favorite way.
My favorite way is to use a segmented list so that I know the messages I send out are going to enrich their lives!
What the heck does that mean? I make a point to know if my readers like real estate marketing or entrepreneur marketing. I check and see if their small business is direct sales or an independent owner. One of my predictions is that in two to three years, everyone will have sorted themselves out into categories and industries that matter to them and marketers will be able to target messages with meaning to them. The way these lists grow is by making sure you take cues from your customers and note them in a database
Email Subject Lines – NOT Repetitive And Gimmicky
One of my favorite affilate marketers sends out her blog feed about once a week. It ALWAYS says the same thing, her name and the name of her newsletter. Now, I am pretty busy like the rest of you so if it happens to be a day that I am a little light on work, I will pop it open and see what kind of surprise is waiting (her stuff is always KICK ASS). BUT, if I am busy, it floats down the email unopens into obscurity. If she would just let me know a little bit about what is inside, there is a good chance I would open it much more often.
The first time I got the email from Referral Key with the email subject line, Are you taking new customers?, I thought, hummmm maybe a referral from a friend. Now I know though, it is just the way they tell me someone has followed me on their social media service. Gotta say, it makes me cranky. They are NOT sending me a lead, they are just notifying me of something that is happening in their system, feels a little bait and switch.
Wanna to find out more about Email Subject Lines and Email Newsletters? I am getting ready to post a killer one about actual great and not so great subject line examples….make sure to sign up for my free Rebels, Real Estate Agent, Writer and Etsy Seller newsletter to make sure you get them delivered right to your inbox!