Email newsletters and messages are supposed to be going the way of the dinosaurs, but we have found lately that with more and more people dropping out of the marketplace, our message is actually being read and received even more than ever! Last month, we did a Marketing and Media Monsters (our niche based marketing site) taping on Email Newsletters and marketing ideas. Here is the answer to one of our viewer questions, how long should email newsletters or messages be?
Some of the things to note from this video….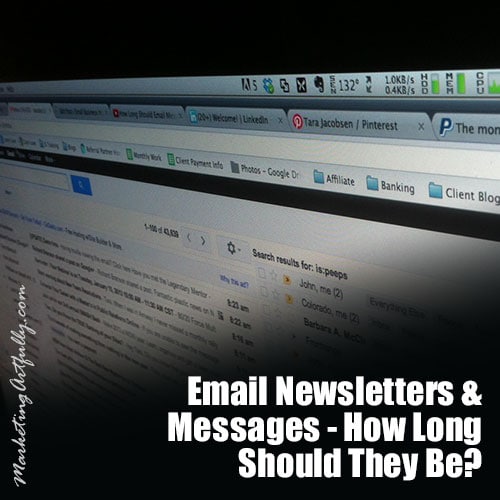 If you are going to write LONG emails or blog posts, you have to earn the right. They SHOULD be 300 words, with longish ones going 500-700 words. While I can write really long ones, it took a couple of years to grow a readership (you guys!) who would want to have that kind of detailed marketing information available.
Emails should not be complex. Cover one topic per email and do not have all different kinds of options or actions that you want your reader to take. Having too many different ideas in one email dilutes the whole thing!
Emails should not be too detailed, when creating an email blast, it should be short, sweet and to the point! People do not have the time or attention span to read long emails. If you need to provide further information, give them a link to go to your blog post to get more information. Great idea to drive people to your blog or website.
Add some humor to keep people interested!
It is fine to include HTML or text based ads in your emails as long as the content you provide is amazing! You are not sending emails to be nice, you need to them to DO something such as visiting your blog, liking you on Facebook or narrowing themselves down on your list.
BEFORE you hit send, is it relevant to your list and are you providing value added content EVERY TIME? You can ruin all of your built up store of good will with just one badly timed email or one entirely self serving message.
Email marketing and newsletters are not dead, BAD email marketing and newsletters are dead! Every message has to be interesting and informative for your readers.