Here are all my best tips and ideas for how to write a great email subject line AND why it is the most important part of your email!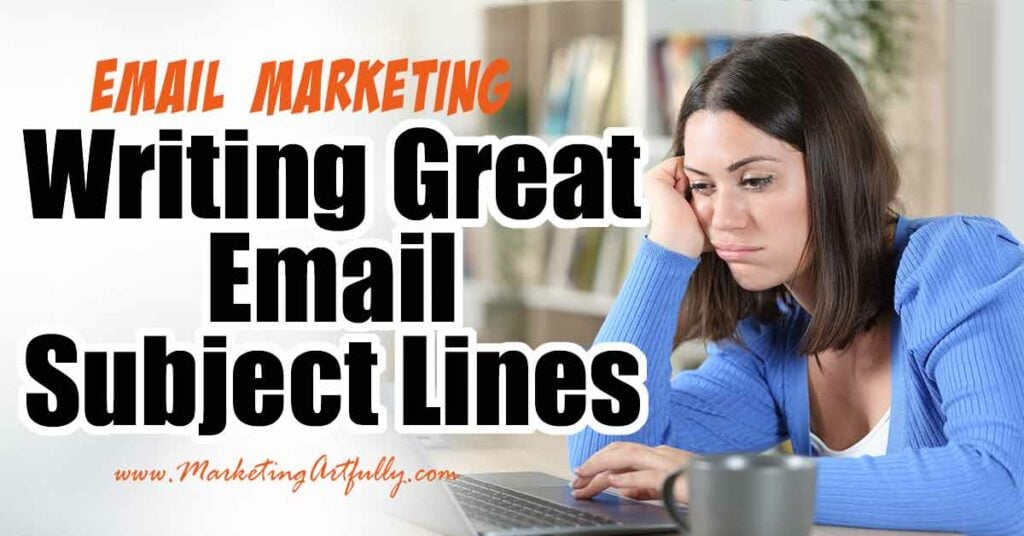 This post contains affiliate links. If you purchase anything, I earn a small commission at no extra charge to you. Check out my policies here.
As an email marketing gal with an over 50% open rate, I am here to tell you that while your content is important, it doesn't matter if no one opens your email!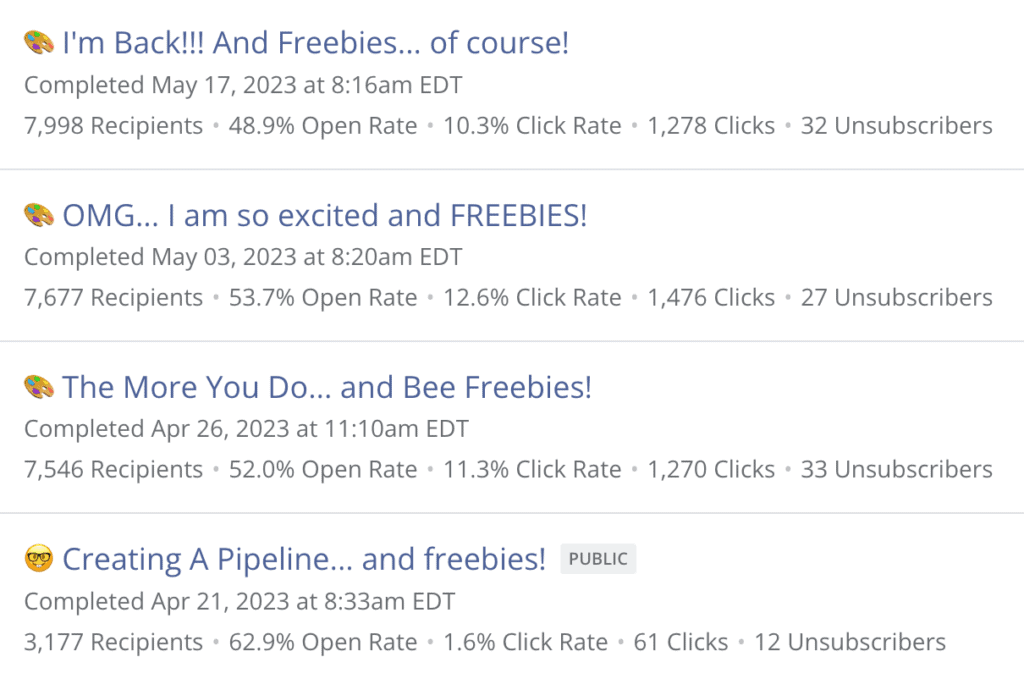 Email marketing seems like a breeze. Everyone tells you to just grow a list, send out emails to it and watch checks start rolling in. Well, writing great email headlines or subject lines will add to your success.
The industry standard for email open rates is somewhere in the range of 15-20% meaning that less than 85% of the people who receive your message may actually open it.
This is a little disingenuous as there are email systems which allow you to see the message without ever actually "opening" it and also programs which show as an open without the user having actually read it. But let's start there.
So what do all those number mean for your company's email marketing campaigns. Having more people open your messages means that you have more of an opportunity to engage them, sell your products or services or just let them know you are thinking of them.
BUT, you will never get that opportunity if they never open up your message.
Your subject line is HUGE in email marketing.
It is what is going to intrigue your reader enough to open your message and read what you have written.
You would read a personal email message from a friend who said big news, but would you read one from your phone company that said big news?
I would assume that they are talking about big news for them, not so much for me. WIFM (whats in it for me) is what every email reader thinks when considering whether or not to spend their precious time opening your marketing email.
Additional Resource: 100 Free Email Subject Line Examples (includes all different types of subject lines)
Email Marketing Subject Line Case Study
I was talking with a client the other day and she said that she was GREAT at sending follow-up emails to people who had visited her trade show booth and requested a free product sample, but that she didn't have a great response rate.
REALLY? They met her in person, gave her their email address, SAID they wanted a free product sample and then would not even hit reply with their mailing address. HUM. I was confused until she told me her subject line, "Trade show follow up". DOH!
Picture that potential client sitting at home or at work, going through the hundreds of emails they get a day and seeing trade show follow up. I would assume that someone was trying to sell me something or that I would be getting a "nice to meet you" kind of thing which I do not have time for!
Now picture that same person sitting there and an email comes in saying "How to get your complimentary green cleaning product" or "Here is your free cleaning product sample". There is a lot more in it for them that way!
One note, having free in your headline may cause some of the spam filters to block your email so use it judiciously! I have trained my people to like freebies so they open it AND my deliverability is not affected.
Good and Bad Email Subject Lines Examples
Here are some poor subject lines pulled right from my email inbox. There is NO way that I would ever open them in the mass of emails I get in a day.
Your daily dose from DSN news – this one comes every day and I generally NEVER read it. I do not know specifically what it is about today and have no compulsion to read it. Many emails come like this, it is easier for the sender but I have to think that their open rates would increase if they told me a little about what I would be reading.
One in a lifetime (open now) – this is WAY over the top! I would not open this as the claim is too ambiguous.
Discovering the keys to social media marketing – Too fluffy, would rather see 5 ways to increase your Pinterest followers.
Urgent, Last Chance, Heads Up or any other "tickler" subject lines with no indication of what it is about – If the sender can't spend the time to tell me a little bit about why I should be so motivated I am not going to waste my energy.
Affiliate marketing "launch" emails – I get a ton of emails from internet marketers and I can always tell when they are launching a new product, my email box fills up with duplicate subject lines. If you are going to do affiliate marketing, PLEASE cut and paste the subject line and then do a twist to make me open yours instead of the 30 others I get in a day!
Here are some GOOD subject line examples from people who I read frequently. Most of them are marketing related so translate them into your industry!
Tara Did You Get This Free Google Tool? – it has my name (not all that necessary but some people like that) AND it talks about a free tool. Additionally this guy sends out great content that I always enjoy reading.
Great tools for business marketing – I obviously have a tool thing, but I like to know what is out there that can help grow my business without creating a false sense of urgency.
Proven way to higher summer sales – Relevant time wise AND says they have empirical data to back it up, what is not to like?
Extended this weekend Free Shipping At… – If it is a product or company that I buy from, free shipping always hooks me and they get bonus points for the timeline call to action.
Networking Lead Gen Tips & Tricks – this is my last headline which had a great open rate, click through rate and I generated sales with it! It works because I send great content AND have a focus on marketing so they know there will not be cooking tips or extra "fluff" in there.
I use Convertkit for my newsletters because of the reporting, ease of use and how it works with so many other things!
Writing A Great Email Subject Line Wrapup
Hopefully this post has gotten you thinking about what a good email subject line might look like!
I spend very little time now thinking about a good subject line because I have a great email list who looks forward to getting my weekly emails, but when I started I spent a bunch of time thinking about what would make someone interested enough to open my messages!
If you have any more questions about writing catchy email subject lines, email me at [email protected] and I will send you in the right direction!