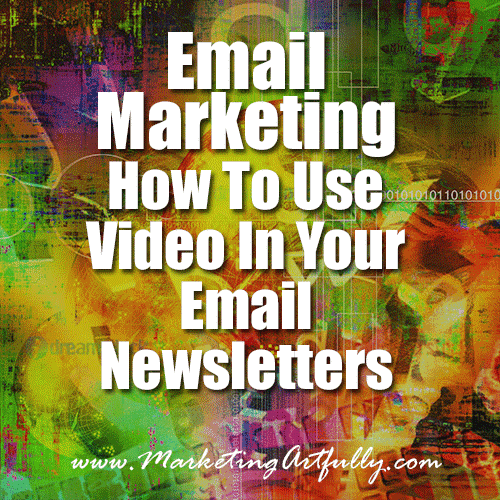 Okay, I have a confession! I call them email newsletters because many of my small business peeps think of them as email newsletters, but they are actually little individual marketing pieces that head out into the universe and drive traffic PLUS make you more money if you do them right!
So, email marketing is dead right? No one wants your emails anymore and the best way to market is using that new fangled social media stuff…ummmm nope. In fact, I have to say that the MOST requested service we have at our social media marketing company is email marketing (including having a web signup form, some autoresponders and a rocking monthly newletter). Yep that is right, email marketing.
So why video in your email newsletters and exactly HOW does that drive traffic and sales?
First let's start with the video. You need to make some videos that are going to slot into your email messages like:
One on one followup – Thanks for the meeting, look forward to working with you
Networking followup – Nice to meet you, love your business
Sales message – This is "What we do" (more about this below)
Training – Showing what to do NOT how to do something in your business, if you show them what to do and it is hard, they may hire you
Products – Demo your product (I bought a cleaning stick from one of our clients because I saw her video of how it takes stains off of whiteboards!)
Unpack your products – If you have a retail store, show all the new things you just got in
So now you have your gears turning about what you could send…why send it in an email? Well, imagine this…you want to learn more about our social media marketing services and send in a request for quote. I send you out a 5 page document that details how many times we will post, how wonderful our company is and standard boilerplate info that you need to "fluff up" your sales pages. What if instead I sent you a video like this embedded in an email?
I used Screencast-o-matic.com to record that, uploaded it to YouTube so it would be available to share, and then added it to a follow series of autoresponders (also called a drip campaign) for when someone requests a quote for services.
I published it publicly on YouTube so that I can get even more leads, but YouTube does have the option of only letting people you choose see it so it could be semi private and not on your video channel but only going out in your emails.
As a customer, you are WAY more likely to watch a 5 minute video about our services than you are to 1.) get my email message with the attachments, 2.) save those to your desktop, 3.) open them and read through five pages of information.
There are additional followup emails that walk you through the process of discover to purchase…all on autopilot!
Video Email Newsletters
Let's just talk about email newsletters now! Say you have a list of people who like to get your email newsletters and read them monthly. Having a video in there will make them like you more, can help sell your products, PLUS give them great information.
Your customers are busy. They may not have time to read a whole long email, but if they watch your video and like the content, they are much more likely to read through the whole thing.
We use Infusionsoft for our email marketing because they have a handy dandy video embedder gizmo (that is the technical term for "I don't have to know how to make a video show up, it just does!) PLUS they help with getting our campaigns setup and are a very stable and secure platform. There are other ones out there like Mail Chimp which can do some of these things if you are not ready to dive head first into internet and email newsletter marketing.
Some suggestions for next steps:
1. Make at least one video – if you haven't made any start there, if you are pro make a new one just to use in an email marketing campaign
2. Need help with email marketing? – check out our Best Darn Email Marketing Course EVER
3. Get started with some kind of email marketing database like Infusionsoft or Mail Chimp
Start today while you still have excited ideas in your mind for how to take your email newsletters to the next level!