"What Ecommerce solution for small business marketing should I use?" is a question I get a lot! Ecommerce is your shopping cart or how you take payments for products online and can be a HUGE hassle to figure out. Here are some of the different ways you can accept payments.
First off, you need to know what you are selling and how much functionality you need. AND you need to know that I am not a shopping cart expert. I have used them myself in my business and have talked with many of my clients about what they used and liked or didn't like. All comments are my opinions and are for beginning research. Please contact each company if you have any questions!
Ecommerce for Small Business Marketing – Onesey Twoosies
I am selling individual products like ebooks or consulting calls so I do not NEED a robust shopping cart solution. I choose instead to have a solution that is integrated into my database and autoresponder program (I use Office AutoPilot). The down side to AOP is there are not snazzy upsells like, "if you liked this product, you might also want to buy this product". Could be I am losing some sales, but as most of my business comes from monthly billing or large project customers, it is not really a problem for me. Also, it is not the easiest program to set up BUT the customer service is magnificent AND the system is great once you know what you are doing!
Note: Integrated systems (your email and shopping cart in one) are not generally a good answer if you are going to do a lot of online sales. Shopping cart companies, like 1ShoppingCart.com, are great at accepting payments but not so good at email marketing. Email companies like Aweber or Constant Contact are good for email but not selling stuff. If you need to have a big shopping cart solution, keep them separate.
Another way you could dip a toe in the water and sell individual products is to use PayPal! I LOVE seeing that someone will allow me to pay with PayPal since some of my clients pay me this way and it winds up having a lot of "play money" stuck in there! (I KNOW, I could get it out, but it is my training, fun fund!) PayPal is great for starting out, checking to make sure there is a market for your products and is relatively easy for a novice to use.
IF you are selling LOTS of products online and want the functionality of a real store, you are going to have to look at a full blown shopping cart solution!
Ecommerce for Small Business Marketing – Online Shopping Carts
Next let's look at a shopping cart option like 1ShoppingCart.com. Since I talk to a A LOT of small biz peeps, the one thing that I don't think they understand is 1ShoppingCart.com is a like the hub of a wheel, it works great but doesn't make your site move forward. With this site you need to have a "go to" company to get your money processed (we use Authorize.net which works on 1ShoppingCart and Office AutoPilot). Also, you will not get a full blown solution, just HTML code that you can then use to BUILD a sales page on your website. 1ShoppingCart IS great at what it does and is an industry standard for online marketers. They have an affiliate program built in and are good if you have some technical experience to build your site from scratch.
In the past, if you wanted to have an ecommerce site your options were limited to Yahoo Stores, and well, Yahoo Stores. The pricing was high and you kind of had to take what you could get. NOW, there are tons of neat and different options for you to choose from…here are two ways I would go if I selling products!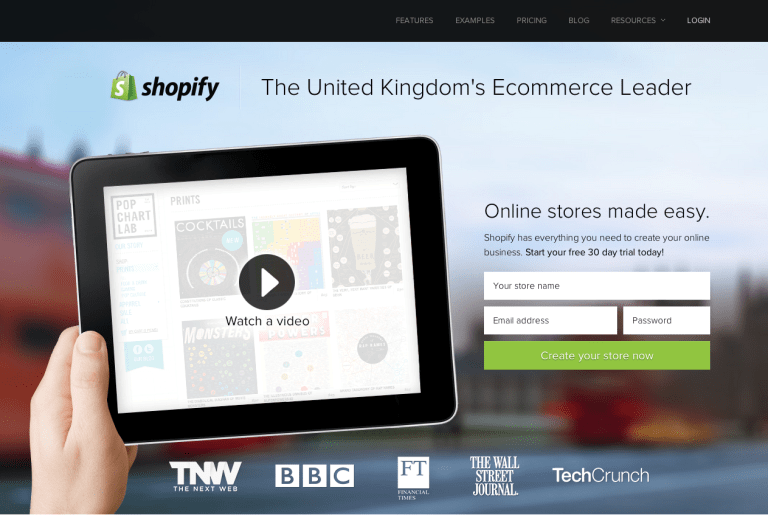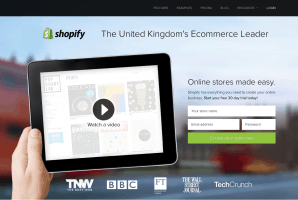 Shopify – Shopping Cart Software
Okay, I haven't used this one myself, but have dug around in the site and they have some great features that my small biz peeps need but they don't know it yet! First off the price per month is great ($29-59 for most of you!). Second off, they build you the whole site, so no having to take code and build out your own site. They also seem to have an eye on making sure that the search engines are able to index your site and get your products in the Google. It looks like they allow you to take payments with PayPal right off the bat and they work with Authorize.net too!
Again, I think what surprises most small biz peeps who are thinking about having a shopping cart is that with some of the companies there are no sales pages. They use PayPal or 1ShoppingCart and think that there is going to be a site with their "stuff" on there. Just not so.
Note: If you DO need a big shopping cart solution, PLEASE buy something off the shelf that has lots of customers and will be supported. Having someone make you a custom solution means that you are beholden to them for as long as you have your site! Now, I DO think it is worth-while to hire someone to DEPLOY a big solution for you if you are going to be setting up a store. You may need a graphic designer or photographer or just an admin person to make sure all your products are loaded correctly.
Online Shopping Carts – Etsy
Now, if you are selling something that is a good fit for Etsy (handmade, hand crafted or gifty-ish), I would say that it would be worthwhile to set up an Etsy store. The main reason for this is that they already have an audience there who are searching for things to buy and so you are smack dab in the path of people who might want to buy a homemade gift. No building a site!
Ecommerce for Blogs
Okay, you KNOW I am a blog kind of gal. I think that the RSS functionality of posting and the Search Engine Optimization are key to having a great online presence. What you may be surprised to know is that I DON'T think blogs are great for Ecommerce websites with lots of products (if you are a onesey-twosey kind of kid, keep the blog!!!) Even with plugins, I am not sure I love the security levels and they take A LOT of work to implement and get going. I have had a couple of clients work with companies to set up Ecommerce plugins and they have not been easy or thrilled with the results.
Disclaimer
I started with this and I am going to finish with this…these are just my perceptions of having an Ecommerce store and how SMALL business people should handle setting one up. If you are a big business with a tech department or you are going to be doing millions of online sales a year, this is not the post for you. As a company, we do not do ANY online store setup or maintenance and so I am always watching to see what we could do internally or what is available out there on the market to refer my peeps to. If you are an Ecommerce company and want to leave a thoughtful comment, please feel free to do so (I monitor them all). If you are just going to send me a hateful comment saying how wrong I am, please know that I delete those without a second thought…:)
this post contains affiliate or compensated recommendations, that having been said, I do not recommend anything that I have not researched or used and feel that would work for my clients! also, my disclaimers are generally ridiculously long due to not wanting to rank for silly disclosure terms or mess up my SEO for Ecommerce for Small Business Marketing Shopping Cart Software. i thank you for reading and if you do have a question about any of these that is SHORT, please post it in the comment section or on my Ask A Marketing Question page
(Visited 14 times, 1 visits today)