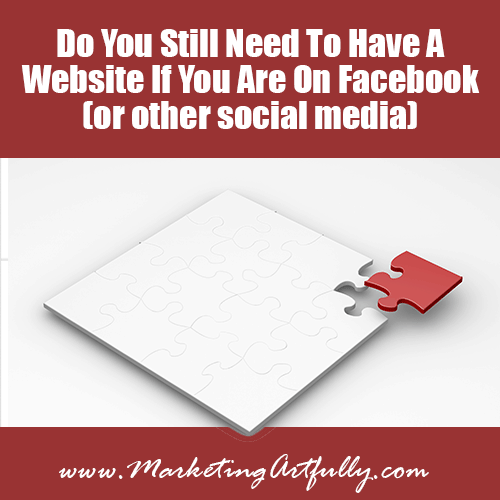 I am not sure why business people are so hesitant to have a website. Maybe it is the HUGE blank page syndrome or a perceived time commitment. Maybe they are afraid of the technical aspects of it after hearing all the hoopla about WordPress versus a "website-website". Maybe they have outdated ideas of how much a website costs (ours are around $750 to build and the hosting and domain name are around $100 a year – check out Website and Blog Design).
That said, having your own little corner of the internet to act as your "HUB" is vital to your business. Well, now I have gone and said it, YES you still need a website even if you are on Facebook or other social media!
Top 5 Reasons You HAVE To Have A Website
1. You own it!
I KNOW, you keep hearing this and it is starting sound like ho-haw. What is the big deal? You "own" your Facebook or Twitter page right? Um, nope! Facebook owns your Facebook page and can take it down anytime they feel you have violated their terms of service which are long and easy to stumble on. Say you see your biggest competitor offering a free consult if a viewer posts a picture of them using their product…great idea! You hustle over to YOUR Facebook page and do something like that…and…dum, dum, dum…Facebook disables your page and you can't get it back!
But your competitor is doing it. Facebook doesn't always mete out punishment fairly. There have been times our clients have had their accounts shut down for days or weeks, not because of anything they have done but because a plugin worked wrong or because someone complained or because it was Tuesday. Staking your business on a platform that you do not own is crazy.
2. Not everyone is on Facebook
Because everyone is just getting into social media, it is the bright shiney object and it can feel like the new Mecca! Everyone is there and making scads of money so why shouldn't you too? You are getting hundreds, if not thousands, of emails telling you how to make money using Facebook and you are starting to feel like you can just plant a stake there and have all of your other marketing woes go away.
It used to be easy to market, get your yellow page ad and call it a day. Now you hear you have to have a website, a blog, a Facebook page, be on Twitter, check out Pinterest and start making videos. Who has time for all of that? Getting a Facebook page and calling it a day is starting to sound like a brilliant idea!
I am sorry to tell you, everyone is NOT on Facebook. Even those who are may not be in a buying mode, probably they are cruising pictures of puppies and kitties and talking to their "real" friends, not a business owner trying to sell them something!
Oh, and not everyone likes Facebook, some people (like me) like Twitter better and spend my time there. Some like Pinterest or cruise YouTube movies all day! Sticking to YOUR favorite social network can really limit your access to potential customer.
3. Facebook changes the rules, A LOT
We all hear about the Privacy changes Facebook makes, but did you know that they change the rules on business owners MORE than they change the rules on Privacy? Here are just a few things that I can think of off the top of my head…
Started as Facebook "fan pages" then switched to "business pages"
Had little widgets that you could customize your pages with to drive business – gone
You could set your page to a "landing page" that marketed your business – gone
You can put contact info on your banner, then you can't and now you can again, sorta
Free range on contests and giveaways – now you have to use an app
Put ANYTHING on a page with static HTML – gone
Moved your "real business" stuff to three tiny buttons at the top…in theory great…when was the last time you clicked one?
I could go on and on but I think you get the picture. Setting up your page perfectly today could mean that you are doing it all wrong TOMORROW!
4. Edge rank means very few people see your "stuff"
Here is one of my least favorite parts of Facebook, both as a marketer and a consumer. Even if you set your Facebook to show you everything from a page or a person, Facebook decides what is "worthy enough" to show you. With analytics you can see that most people do not see most of what you post. Right now videos are doing great, links not so much. Pictures are meh, and just words are better.
So say you work your fanny off and get 1,000 likes (like I have). Oftentimes the things we post reach 13 or 16 people out of 1,000. SERIOUSLY? That is such not a good use of my time. That said, in this day and age you HAVE to have a Facebook page and be posting actively. Just the cost of doing business!
5. People like people not pages
I talk about this A LOT and people always seem to be amazed at my brilliance…hah! People don't really like talking to companies. They are genetically predisposed to liking other people not brands. As you cannot have your brand as a person (it violates the terms of service), and you are limited to 5,000 on your person, if you are considering trying to get THOUSANDS of views, hits or sales from Facebook you have to have a page. Having a page limits what you can do also, you cannot invite your "likers" to your events, only your friends. That is just one of the examples of the kerfuffly-ness that is Facebook.
Okay, here it is, we talked A LOT about Facebook and why it is NOT the platform to build your whole empire on, but why should you have a website?
1. It is your HUB where you send your traffic and do data capture
2. You own and control it
3. You can change it at will with very few limitations
4. YOU control what happens there (have a contest, post your contact info) it is your world!
Hopefully this helps clear things up! Now get out there and get yourself a ROCK STAR website or blog today…:)