I am a honest to goodness marketer, in the trenches every day and working hard to do the best for our professional clients. But every now and then I think about putting a black hat on and seeing if any of these social media marketing tricks actually work!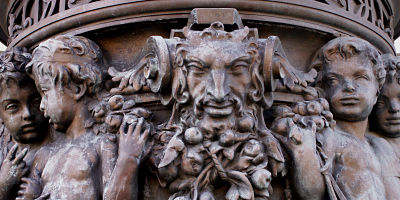 Disclaimer: These are actually "black hat" techniques, and I DO NOT recommend you do any of these things if you are a professional business person growing an internet empire. Just nice to look at some bad social media marketing tricks from time to time so you know what NOT to do! Black hat means that spammers do them, with no regard for "burning accounts" which is why we do not recommend them for business people.
Frequently I get emails from readers or someone who has seen me speak with a great new idea that they learned in a class. Some are WONDERFUL (keep them coming) and some are downright guaranteed to get you banned from whatever social media platform you are using at the time!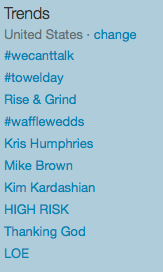 Twitter Trending Hashtags
If you have spent any time at all on Twitter, you have probably noticed that there are trends that show up on the bottom right hand side. These are the ten or so topics that people are talking about the most on Twitter currently. They change frequently and you can find out what is happening in different areas of the world based on those words. Hashtags are user generated keywords that start with the pound sign (#) so for today, the term #towelday is trending which is a reference to the author of Hitchhiker's Guide to the Galaxy, an obscure book loved by a small-ish group of rabid fans.
So if you were black hatty, what would you do? Send out a tweet that looked something like this:
All you #towelday fans, get your bed and bath supplies at http://spammersareus.com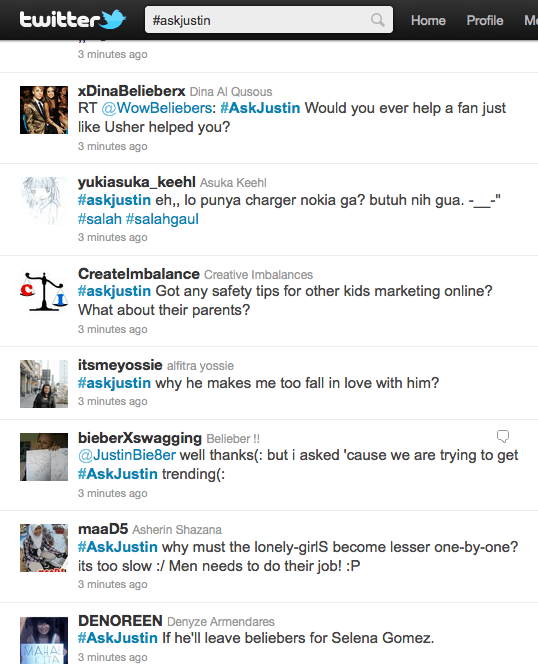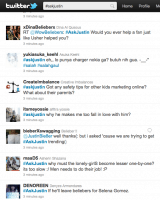 Basically, you are hijacking everyone's joy at a book reference and trying to game it for personal gain. Which leads me to this joker! This morning #askjustin (as in the Beiber boy) was trending. Young girls world wide were asking why Justin wouldn't love, talk, follow them. In the midst of all this Bieber fever was a tweet that read:
Got any tips for other kids marketing online? What about their parents?
So what was that person trying to accomplish? They were trying to push into a conversation that really was not about them but that was trending highly for that day. I checked and they commented on the #towelday hashtag also. At the end of the day, who would they get to follow them and would those people actually be interested in what they had to say when it was all garbage? (note: their twitter account has 97 followers at this time so I have to say that I think this tactic is a FAIL)
Twitter @ Tricks
On twitter you can talk directly to someone by using the @ symbol right before their user name (so to talk to me you would say @Taradactyl). These posts will show up on that person's feed and the thought is that someone who likes that person will see the post and then follow your name and you will get a new follower or two.
This happens A LOT to a fellow that I follow @garyvee who writes about social media. Gary Vaynerchuk is a best selling author with a huge following (880,000 plus today). People will post something that has NOTHING to do with him but add the @garyvee hashtag, hoping that he or his following will notice them. Lame!
Fake Facebook Likes
This is an ongoing battle for us! We want to get as many "likes" for our clients business pages as we can BUT we want them to be real people so the numbers tend to be lower than we would like. That having been said, having a thousand "Fake Likes" doesn't seem to be a benefit to real business.
So what are fake likes? When a marketing company offers to get you 5,000 fans to your page, most (if not all) of the ones that they generate are feople (fake people) that they have set up accounts for. These feople are nothing more than a free email address with a photo and accomplish nothing other than helping them to sell more fake like programs. Feople have no friends, they are not going to share your information, they are not going to comment or build a community around your page. Stupid Feople.
Posting A Link To Your Business Page When You Make A New Friend
This is a biggie right now! Say you ask someone to be your friend on Facebook and they say yes, nice! Then you go to their wall and say "hi" thanks for being my friend, you are still on the side of the good guys. Then say you post a link to your Facebook Fan page with a paragraph about why it is so great – DOH, just stepped over the line to icky and could get a "spam comment" which could lead to your account being disabled.
Posting on someone's wall without their permission is VERY invasive. That is where they post things that THEY like, it is not a marketing platform for YOUR business. We take these off of our clients walls as soon as they arrive and generally might unfriend that person.
Note: The "rules" are a little different for pages, oftentimes you can post a link to your page on another business page if you see that this is acceptable to them and you are not a direct competitor!
To me, this one is just common sense. If you owned a roofing company, you would not go stick a sign in the yard of a new friend advertising your roofing company without their permission. They would feel REALLY weird if you did that without asking, same thing on the social media!
Tagging On Facebook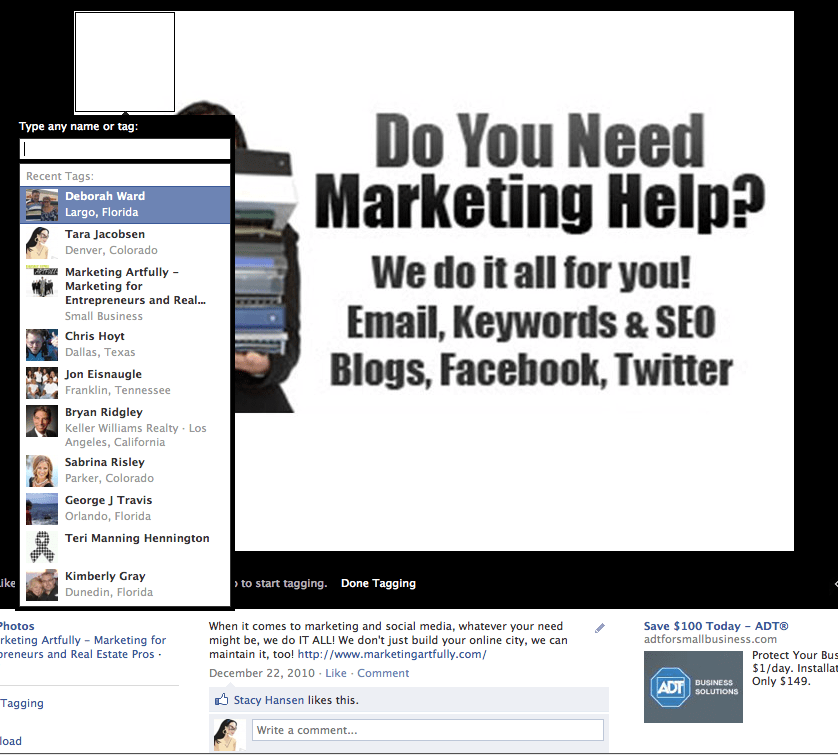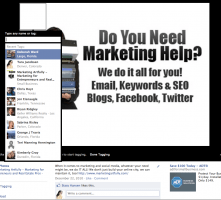 I am hoping this fad has come and gone, but it was HOT, HOT, HOT for a while! The plan was to post a picture with a link to the product that you were selling and then "tag" someone with a lot of friends in the photo when you don't even know them!
So in this example, I have a picture from my website posted in my Facebook Photos for my Small Business Marketing Facebook page. I then say "tag this photo" and add someone to it that has NO connection, they are not in it, they are not sponsoring my product, nothing. The hope is that this will show up on their wall and someone will see it and either like my page or buy my product – REALLY?!?!?! This goes back to the creepy, doing things that don't feel right to sell your product. I KNOW the spammers were getting banned right and left for doing this, but their goal is to get in and get out, not build a business.
My take on all these bad social media marketing tricks is that providing great content and information, over time will win for small business owners! It is truly the old turtle and the hare, slow and steady wins the race.
(Visited 36 times, 1 visits today)