Your DISC personality type affects what your customer service models are and how we can use them to our advantage. When it comes to customer service for our small businesses though, oftentimes we throw that information out the window and forget it!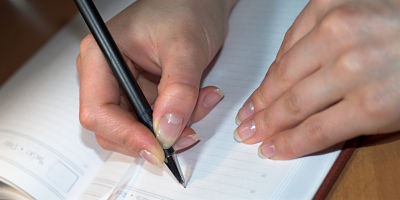 In a brief synopsis of the DISC personality types, "D" stands for driver, direct and determined, "I" stands for intuitive, inspiring and interacting, "S" stands for stable, steady and supportive and "C" stands for cautious, compliant and careful. Find out more about DISC personality types and small business marketing.
It is always important to me that my small business marketing customers and ongoing clients are happy. That is the easy part, this wish. To make great customers service a GOAL we need to put some milestones and metrics behind it. If great customer service is a goal for your company, you need to look at your CUSTOMERS not at YOUR COMPANY to make it happen. And how does this match the DISC?
Customer Service Done By Personality Types
High "D" business owners are very direct and to the point, frequently solving problems or delegating, but not following up to make sure that their customer is happy. They tend to focus on the task of fixing something after the fact rather than finding out what caused the problem in the first place. High "D" business owners need to be especially aware that everyone does not think that just doing their work is enough, they must keep their customers in the loop throughout the entire process.
High "I" small business owners tend to have the best intentions about doing great work, only fixing problems after the fact. That having been said, they tend to lack the focus required to make sure that the entire project is done and putting systems in place so that their customers know what has been completed. They should be aware that their clients are often disappointed when promised work or solutions are not forthcoming.
High "S" small business owners will set their customer service plans up, making sure that everyone is going to be happy with their product or service. A High "S" is probably the best person in your organization to delegate to handle customer service. Their caring attitude and genuinely want to help get things done right or fix problems will shine throughout their work with your customers.
High "C" are generally the opposite of High "D" business owners; they have ALL the systems and forms in place to document milestones and resolve problems. Watch out though, as their process can tend to be overwhelming for the other personality types to encounter. "C's" will often have a process by which customer service requests, complaints or queries are implemented and processed. If they are not careful, the system can become so rigid as to not allow for human error or for changes that might benefit their clients in the long run.
Customer Service Received By Personality Types
The High "C" process of customer service can be VERY hard for "D's" to comprehend. The thought of filling out forms or navigating to the right department through complicated phone systems is onerous to this aggressive bunch. You might want to consider having a "Press 0 to get an operator" or a human who can walk through the process of your forms for them, rather than having them get even more upset on the way to your customer service help. A human voice on the other end of the line will make your "I's" and "S's" happier also.
As stated, high "I" clients will also want to talk to a person. Sending an email, text or just leaving a message will not make the "I" feel like you have done the best job for them, even if you got everything handled in a timely manner. Additionally, by not speaking to them directly, you leave a door open for this situation to be ongoing and for them to feel left out in the cold. Sending them links to FAQ sections and self-help videos will not make "I" happy with the your company.
High "S" clients are not looking for amazing solutions or fanfare. They just want to work with someone who REALLY does handle their account or problem when they say they will. There is very little screaming and yelling with an "S", BUT you can lose their faith in you if you do not follow through on promises that you make. High "S's" do not want to change companies or vendors so a little bit of customer service will go a long way!
High "C" clients need A LOT of documentation before, during and after the fact. They will be happiest when they get a detailed account of the work that is completed and if there are problems, a list of proposed solutions. You CAN use email, FAQs, knowledge bases and other non-human types of services for a "C", as many times they can solve the problem themselves. If there are problems, they are going to want to know what went wrong and what steps you are taking so that it will not happen again in the future.
In Conclusion
As a small business owner, knowing your (and your client's) personality type can help you to avoid costly Customer Service mistakes. DO NOT assume that your customers want to be treated the way that you want to be treated! Having systems in place for notifying them of your progress or issues that cover ALL the personality types is vital for retaining customers. This is definitely not a one size fits all area of your business. Be sure that if you do not possess the correct skills, you hire someone who does!