Doing a search on customer demographics seemed so easy. I just wanted to know, "where do customers come from in 2011". I was thinking of things like the internet, email, referrals, advertising, etc.
After spending a couple of hours researching this, I found that there is A LOT of data out there that DOES NOT cover what I wanted to know overall but I did find a Neilson Study that shows this information for women (I am POSITIVE that a least a little of this concerns men too!)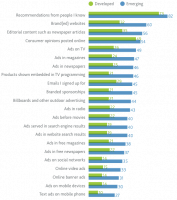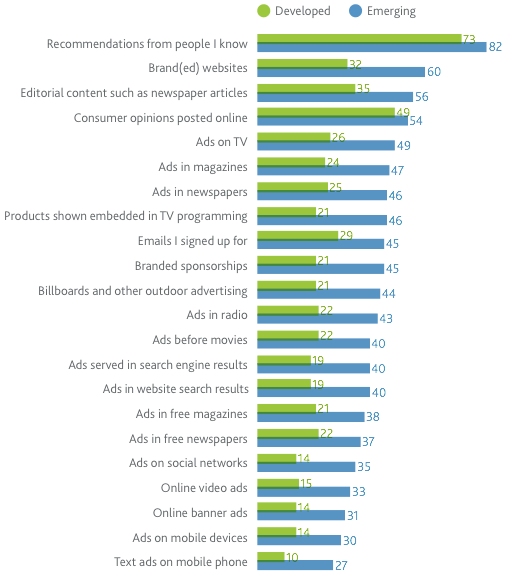 Customer Trust In 2011
While we cannot know if the women polled actually PURCHASED something, we are able to see that their trust level in sources is a key factor to determining if they would be WILLING to buy. Some of the bits that I thought were interesting to my small business marketing peeps are:
"Across 22 forms of advertising "recommendations from people you know" is by far the most trustworthy advertising source for women surveyed in developed (73%) and emerging (82%) countries, followed by branded websites (60%, emerging countries) and consumer online opinions (49%, developed countries)."
"The next generation of female consumers will shop and use media differently, from men and generations before them," said Whiting. "Consequently, companies marketing to women and working to capture women's attention must rely on informed insights rather than assumptions about how they do business with this influential consumer."
"Women tell Nielsen they feel empowered to reach their goals and get what they want, but at the same time, this level of empowerment results in added stress," said Whiting. "Companies marketing to women should consider highlighting ways their products can ease stress and provide convenience."
This data was compiled for industry and not our smaller markets, but there is a TON of info that we can take out of this for our small business marketing planning!
Referral marketing still is KEY for selling. We will be exploring this in an upcoming post but numbers don't lie and we can see that they trust referrals from people they know.
Branded websites was number two! I DID NOT see this one coming. What this means that with a strong, professional web presence, you will be able to add those customers as leads!(we prefer blogs for their functionality and the fact that they LOOK like websites)
Emails I signed up for garnered about a third as much trust as referrals and almost as much trust as websites. This is powerful for us to know, as many small biz marketers (like me) tend to not want to send too much out. What you need to remember is, if you are not educating your email list, someone else will be!
The difference in the blue and green lines is whether the respondent lived in a developed country like the United States or an emerging country. As you can see, if you are targeting US buyers, you will need to overcome their jaded response to ALL kinds of marketing that is not referral based.
If you would like to read the whole report, you can download the Women of Tomorrow Study by clicking the link to go to Nielson!
Keep your peepers open for additional marketing ideas about this topic by signing up for our Marketing Blog Posts via email!