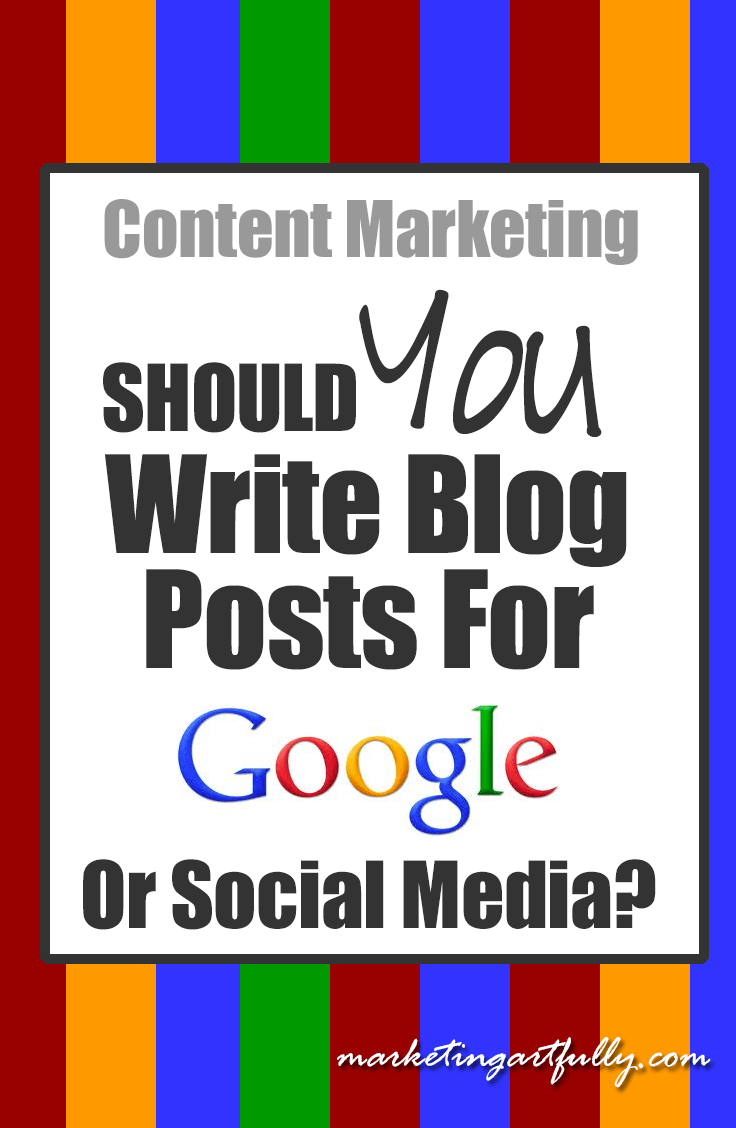 The question of whether to write for Google or social has been banging around in my head a lot lately when thinking about content marketing. The happy, friendly answer of course is that you can write great content that does BOTH…big smiley face. But I am not really sure it is possible to do Google and social well.
This question came to mind a couple of different ways:
First: I did a really neat search on Similar Web for this blog, Marketingartfully.com. They had some good "stuff" that was presented in a pretty manner but what came glaring out at me was that 75% of all of my visitors come from Google search traffic.

Now that amounts to a fair bit of traffic so YAY! But my numbers from Social were deplorable…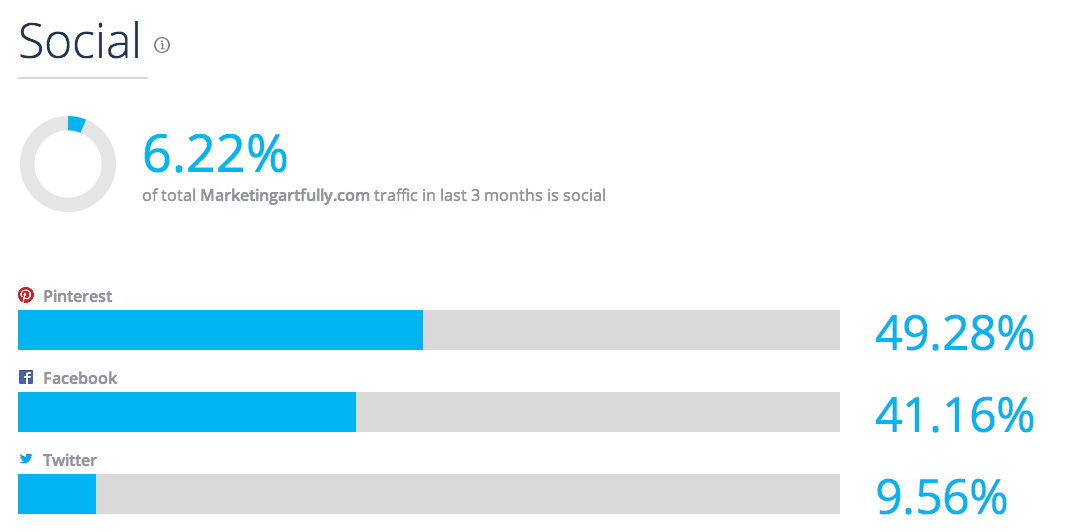 and that is with me and my business partner sharing these posts on our HUGE social networks. So I started thinking…what the hell is going on here?!?!?!
Second: We set up a fair amount of blogs for our clients and they always want to get to the first page of Google for words like "Tampa Real Estate" or "Best Restaurant Denver".
In the first case, they would have to build a giant site, garner a ton of real backlinks and take a relatively long time to get there. There are already other sites who have done that work for years and there is no way to jump to the front of the line.
The other kind of client is thinking about ranking well for a search term that doesn't come up all that often in search. Currently Google is showing NO traffic for the keyword "best restaurant denver". Now, that doesn't mean there is no traffic at all, just not consistent traffic. Mostly when I want to find a great restaurant I will check Yelp first (they have a real scoring system, not just who is best at SEO) or ask my friends on Google+ or Facebook.
Lastly: My biz partner and I have talked for years about how we get traffic to our respective websites. She always used PLR (Private Label Rights) or duplicate content which is not Google-cool. She is a much better social media marketer than I am, sharing and building interesting networks of real people (I talk about marketing all the time so my real friends tend to try to be supportive but sometimes roll their eyes a lot!).
Long story short, in today's world there is no one "right" way to do it and there are things that crossover, but I am a staking a claim – your one little blog post can't be great for search and social at the same time! You have to pick a side!!!
Let's start at the top – Headline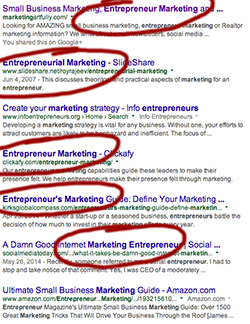 Google likes factually correct headlines with words to match search. As you can see here, all the results for the search "entrepreneur marketing" have those exact words somewhere in the title. Now I have heard like everyone else that Google killed SEO and now it understands words so you can just write about any old thing and it will figure out you mean "entrepreneur marketing", but a couple of minutes on the search engine will show you these kinds of results for your industry!
Social. That is all well and good but knowing that most people who are going to find and share your post to social media will not take the time to rewrite your headline to make it more interesting does not bode well for our factually correct headline words. I like the fact that Vala added a personal endorsement on his post, but none of those headlines would really jump out at me in a buzzfeed kind of way. You can see that there are many hashtags (#entrepreneur) and @mentions but are those enough to counteract the bland dryness of the good for Google headlines?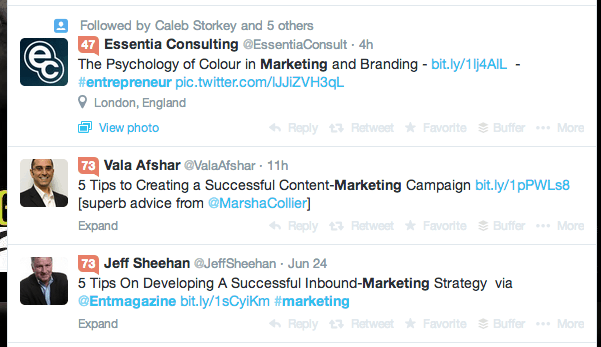 Buzzfeed-style sharable headlines are more along the lines of scandal, intrigue or mystery…

Now, maybe I could write scandalous marketing headlines that would be intriguing AND search friendly, but would serious business people who are actually looking for marketing help really respond to that? I don't really think so.
– – – A break for blatant social media link baiting – – –
Click To Tweet >>
SCANDALOUS Blog Post Reveals The Secret Behind The #SocialMedia versus #Google Controversy [JK] http://ctt.ec/sf3dq+
– – – Now back to our regularly scheduled programming – – –
Next comes content
Google generally adds up all the content in the blog post and figures out if what you say you are talking about in your headline is what you are actually talking about in your post. They also check to see if the user "bounces" meaning that they see the search result, click the link to the post and then come right back to check another search out.
While it is true that you could do a super fun headline like "Funny Realtor Postcards that will make you laugh so hard you pee your pants", at the end of the day it is up to your content to support that title. The funny realtor postcards blog post is actually about how to have cute headlines for your print marketing, but I am not sure they are THAT funny.
I can only assume that someone seeing that title in social would expect pictures of postcards and not be thinking about reading a 1,000 word blog post on how to do direct mail marketing.
Pictures matter
There are at least 5 different sizes of pictures that you need to satisfy social. (Facebook, Twitter, LinkedIn, Pinterest and Google+). Pinterest likes a really tall photo that spans a couple of rows of listings (like the one at the top of this post!) and Google Plus likes a really wide post that they will make huge in the feeds like this.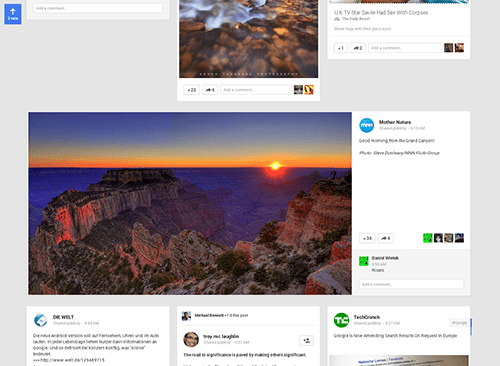 If you are primarily considering sharing your picture to social, you want to give enough information in the picture that someone could get the idea of what you are talking about just by looking at it THEN you want to make sure the words on the picture match the content of the blog post.
If you are just writing a blog and not sharing it socially, then any old picture will work (or you could even skip the photo entirely). This is good enough to give you an idea that we are talking about social media and that is about all we are trying to accomplish.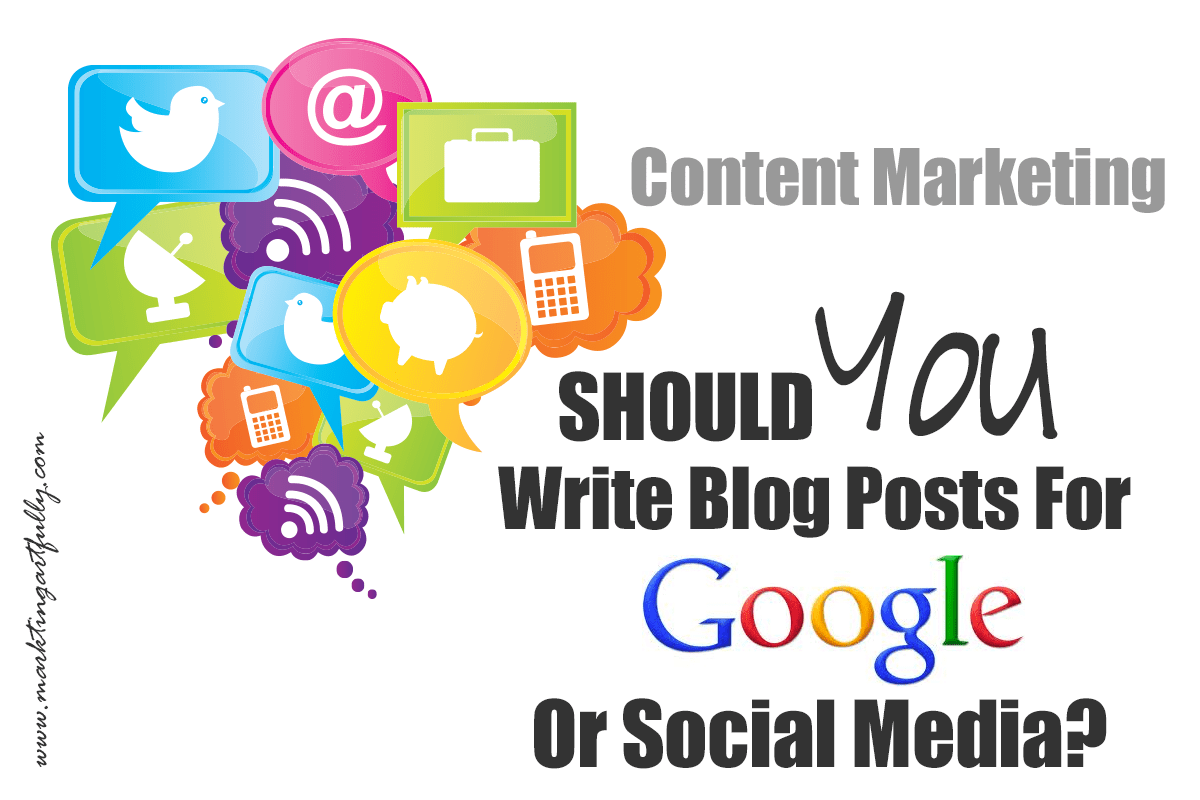 This one though is great for sharing. It is 1200X800 so it will be big enough to show up well if shared on the social sites and anyone seeing it will know that it is about social and that it is a blog post about content marketing.
That is just the tip of the iceburg about pictures for social (it is such a big topic we wrote a whole book about it!)
Can you do both?
I really do try to make my blog posts Google friendly, fore-going social stuff. That said, it is pretty easy to make the graphics "social friendly" too. At the end of the day I am much more concerned with making Google happy than making social happy which shows up in my deplorable social numbers!
Do you try to do social or Google in your content marketing? Please leave a comment below to let me know!!
Buy The Book!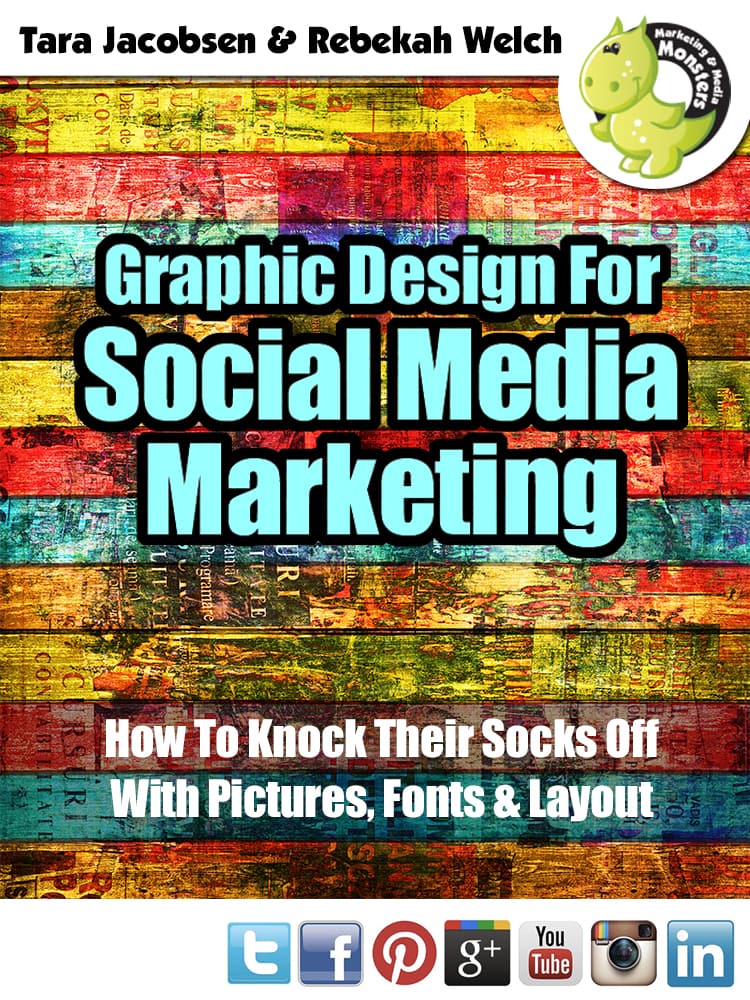 Graphic Design for Social Media Marketing
If you are checking this book out, you have probably figured out that pictures and good design matter to marketing, that your marketing efforts are becoming more and more image based, and that you HAVE to get with the program and start doing better, prettier, more compelling pictures in order to keep up.
The cool thing is that with just a few "tweaks" you can take your graphics from amateur to brilliant and this book will show you exactly how! We talk extensively about how images can capture a mood or evoke a feeling immediately, how to position text on an image to create impact, and generally how to make your marketing marvelous with pictures and graphics.
(Visited 51 times, 1 visits today)