Figuring out how to go about marketing your business and making more money is not always easy. Business owners know what they know, but often have no idea of how to craft a marketing plan that will be effective and not horrifically hard to implement.
Today we are going to be looking at an Event Marketing case study, where a small business owner melds her goals and dreams with cold hard marketing tactics that will work to make her more money!
I have been working with Donna for quite some time now and she is like lots of entrepreneurs, moving forward, sideways and back as she is figuring out what her fabulous life and business look like. Today we were looking at what she is currently doing and what she would like to do going forward to determine the best marketing plan for her business.
What Donna Likes To Do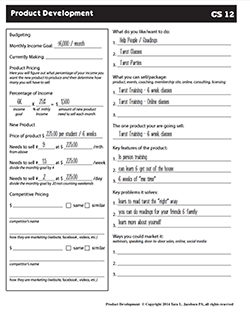 1. The first step is to figure out what you like to do! Donna likes helping people, giving readings (tarot), clearing houses, teaching tarot classes and working at parties.
How To :: One way to figure what you like to do is to ask yourself, if you could only do one thing, all day, every day, for the rest of your life, what would it be? No matter what your industry is, in each there are parts that you are going to find that you like more than others. For example I like speaking, but I can't travel as much as I used to because we adopted 3 kids. This opens the door for speaking locally as well as doing webinars or a podcast for marketing.
2. The next step is to figure out a practical amount of each of product that she will be selling (time-wise and income-wise) to achieve her level of income required. We used the Product Development Sheet from the Marketing Strategy Workbook to figure out that Donna would like this to be 1/4 of her income so she would have to sell 1.5 per week or 9 month. Selling 1.5 a week is not so hard to accomplish!
Who Would Buy What She Is Selling
The next thing we looked at for Donna's marketing plan was to figure out the perfect customer for her 6 week in person training course. By knowing that the person who would be attending was a woman, 35-45, named Miranda, we could start putting things together about her that will help us figure out how to sell the course.
Miranda:
She has school aged kids, but they are not babies
She drives a station wagon and lives in suburbia
She works because she needs money for her family (she is an admin assistant)
She gardens and likes to decorate her house
Her worldview is that this class will "let her do something for herself" and she can "get together with like-minded people"
She wants to be part of the "club" that knows about Tarot
She loves the TV show Supernatural, her kids, her husband, the NY Medium and buying crystals
She hopes that this class will be fun, she will learn something and that it will help answer some of her questions
She worries that everyone will think she is flaky for taking it
find out more about doing a Perfect Customer Profile or creating your perfect avatar

Marketing Plan
Now that we "know" so much about our perfect customer, we can start crafting a marketing plan that will allow us to target women like Miranda.
Website. We did some competitive SEO research and found that, while there are 491,000 competing sites for tarot classes denver, there are only 8 listings for the exact search "tarot classes denver" and only one lone meetup from years ago for "tarot classes westminster". This gives Donna a really great chance to rank on Google for some really good keywords that would bring in students.
Locations. She is going to check with a friend who has a conference room in a metaphysical center to see if she can use her location. Because there is already an established group of people who go there, she might be able to pick up some new students via flyers or referrals.
Local sites. Donna has a number of different local events sites to list the classes:
Meetup
Local event sites
Yelp
Regional paper (sending a press release)
Videos. Donna is going to make at least 3 videos inviting people to her event. This way she can rotate them and also get the value of the keywords on YouTube. Don't forget, upload videos directly when posting them to Facebook.
Graphics. Donna will be using Canva.com to make graphics for the event. She will be sharing these to:
Facebook using a posting schedule on Hootsuite (she will also be posting pictures of happy people from her last classes)
Twitter, remembering to use her Twitter #denver and #westminster hashtags
Google+ using targeted keywords like "Tarot Classes Denver" and "Tarot Classes Westminster"
Pinterest – posting pictures with link on a "Tarot Classes Denver" board
She will not be using LinkedIn for this campaign as it is not a great fit!
Want More? Get The Workbook!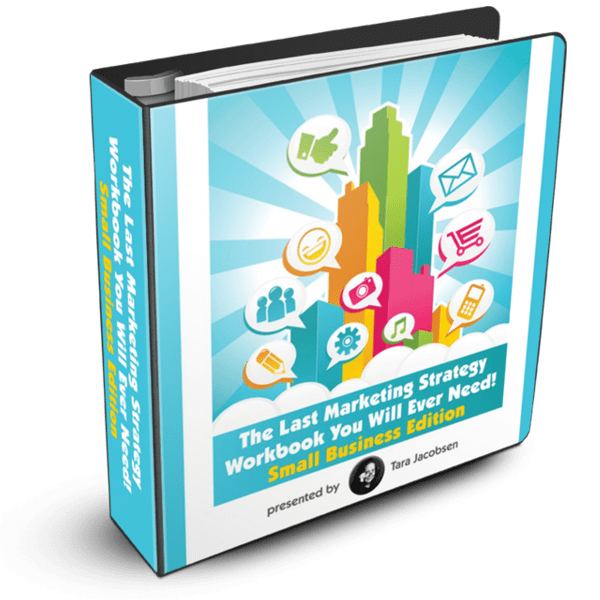 Every month the members of the Marketing Strategy Guide club get a great Case Study like this, a newsletter and even a marketing plan! The best part? You buy it once and get everything else for free forever!