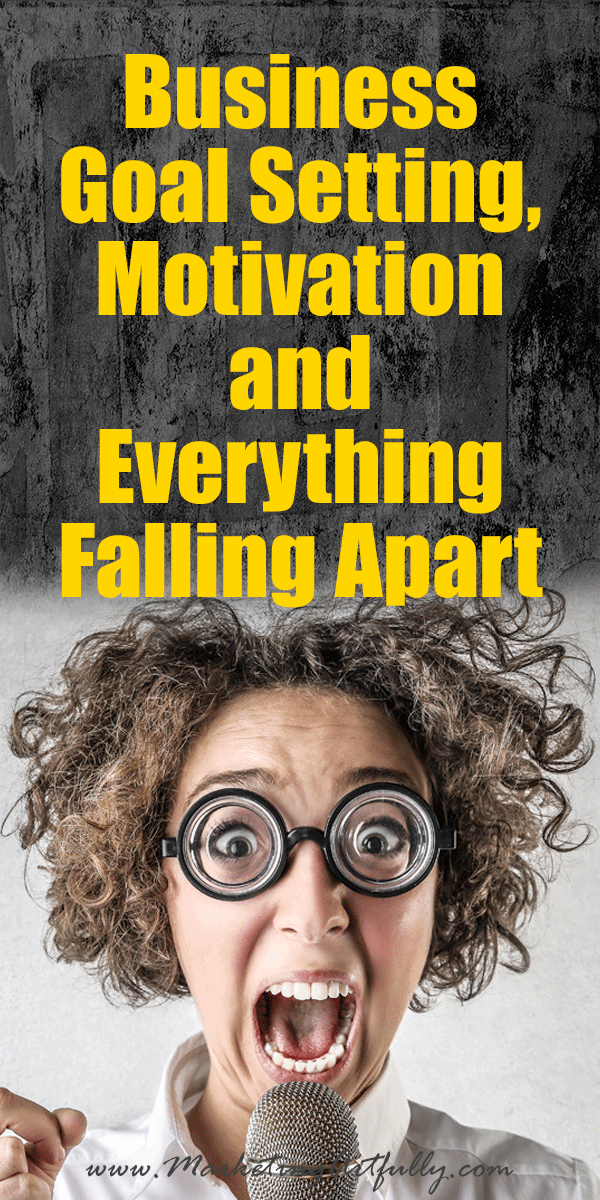 Today's post is a little different… instead of talking about what we could do as marketers, I wanted to share a little bit about what I am doing and how it is making me a better business person, Mom and money maker.
The Back Story
So I have been in business for myself for a long time. About 15 years ago my dream job with the perfect boss got sold to another company and I was on the streets. My future husband at the time was okay with me starting my own business and so I set out to do SEO and make websites. That was mildly successful, then I contracted to a manufacturing company, had a couple of jobs over the years when times were tight and we needed stupid things like insurance and say a steady income.
A dip into real estate told me that I was good at it but definitely did not love the day-to-day problems that come with being a Realtor so I went back to my first love, marketing and we have been together ever since.
Now, over the years I have tried lots of different business models, services, products and other things to make money and have been 6 figures successful, but with a lot of work and lots of expenses. But that was okay. It was just Johnny and I and I could spend a weekend working if I wanted to!
Enter the kids! We were fortunate to adopt three kids and boy did everything get turned upside down! Instead of all the time in the world, now I had to guard every second religiously. I started some amazing and fun things that I couldn't keep up because they took time away from what I had to focus on right now, family and getting it all together.
Flailing Around
So I coach a lot of entrepreneurs and none of them will be surprised to learn that from time it is easy to get off track, running down too many roads or not being crystal clear about what will work so you are doing a bunch of "stuff" and getting nowhere.
That is how I have felt for a little while. I have been doing four or five different things okay-ish but with no real strong center and goal. I have "tried" some things and seen some results but have definitely dabbled around without a clear goal.
Then I had a opportunity present itself. I could spend some time with a person who would be able to really help move my business forward, but what the hell would I tell him I do? Would I sit there with the list of all my little bits and be just frozen? Hell no! I needed to get a business strategy in place…:)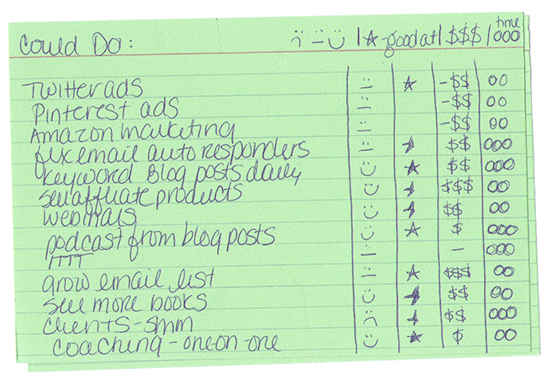 So I drank my own Koolaid. I had an offsite meeting with myself and sat down to write all the things that I could or was currently doing. I measured 4 metrics…
Smiley, straight or sad. Did doing that work make me happy (smiley face), not bother me or neutral (straight face) or sad (frowny face). Now I had done this with tasks before and I am pretty good with what I like to do and what I am good at, but this was deeper. It went more to the heart of what I wanted to do with my next five years or so.
Stars. The next thing I did was to assign stars to the tasks and see which things I felt innately good at doing. This was between no stars (meaning I suck at it), one half a star (meaning I can do it but it is not an innate skill) and a whole star (I am great at it!).
Money. Next came whether doing something would cost money or make money. Now some of the things will cost money to ultimately make money like doing Pinterest marketing, but for this little bit I just wanted to know if it was a good money maker or not.
Time. Last, and maybe most important to me, was time. Would it take a lot of time or a little to time to implement the idea, product or sales channel.
Now doing this process was not fun. I had to take my own personal biases for what I thought I liked to do and set them aside and try to be sure to focus only on my actual feelings and interest in things. Seeing them all together helped too. If something was not a happy face, made little money and took time to figure out, well that got put WAY back on the list of things that I had to worry about.
Based on this list and the things that I like to do, I have come up with my Three Squares of focus (that is from my coaching program, it just means the three business things that I am going to focus on)…
Social Media Clients – I have clients currently and love them, but I will not be prospecting for any new ones.
Selling Affiliate Products – I have done this in the past in dribs and drabs but will now have it as a focus.
One-On-One Coaching – Now this isn't the most money around, but it is good for me time-wise and it is a total "I like it" and "I am good at it" kind of thing.
Bah ha! I am good right? I can just head off into the sunset and start working…..NOPE!
Now I have to break down the things that I will do to support that in another round of happy, sad, etc. These would include things like making videos, writing blog posts, etc. that I can do to support my two main areas of focus.
Once I have that done, I can schedule my time to make those things a priority and jettison all the rest.
Why This Makes Me So Happy
So as we draw to a close, I just want to let you know why this warms the cockles of my heart. First off, I have the ability to control my work time. The things I chose can be scheduled around when I CAN work rather than when I have to work. I can do a blog post at 5AM if the house is quiet and do posting for my clients mid-morning when I am not as on it.
I can also control my income more because instead of gathering up all the little crumbs and bits, I can focus on doing things that feed into the sales funnels for just those two areas of my business.
I can plan tasks. The one thing that scares us entrepreneurs more than anything else is boredom, so fortunately I am not going to be bored. I can create a hierarchy of things to do easily based on how well or how poorly they support my efforts in just those two areas.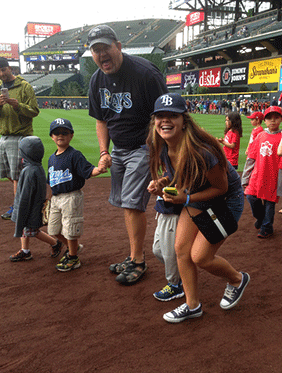 Last but not least, I feel like I can go talk to the knowledgable person without looking like an insane disorganized mess. Honestly, my business wasn't such a mess, it was how I FELT about what I was doing that was the problem. I mostly work with super successful people like myself who are great at doing things and less good at understanding why we do them or channeling energy into the right places to maximize success!
I hope a peek into my world helps you to get a grip on your business strategy! That process of sitting down and taking an inventory is super effective and helpful. Please let me know if you need help, I have a great small business coaching program that will help walk you through some these kinds of focusing exercises.