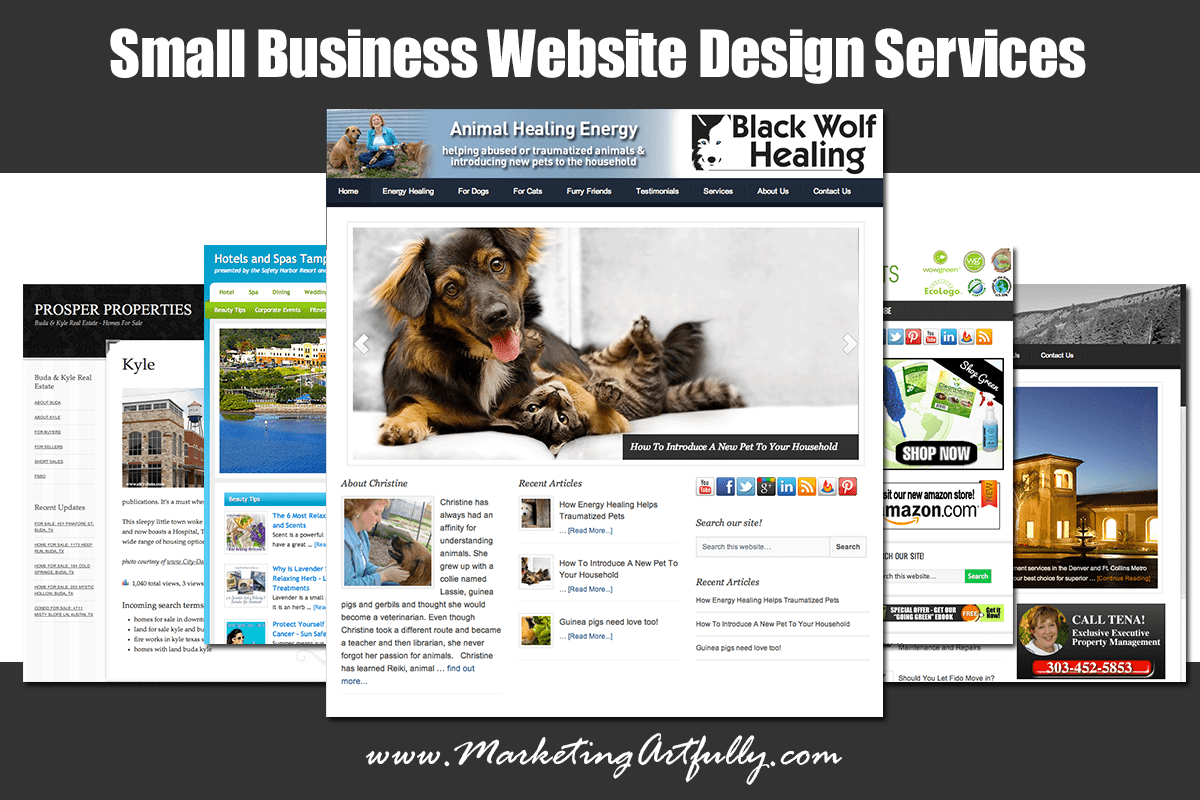 Our small business website design services are for small business owners who know that they need to have a brand new site or who want to update their current website using the latest technology and maximizing their SEO search efforts. These business owners know that some of the more basic sites like Godaddy's site builder and a static Yellow Pages site will not get them the results that they need to be competitive in the current search climate.
Our sites utilize the latest technology available including mobile responsive design and the latest SEO techniques that will not get you kicked out or banned for life from Google.
No outsourcing overseas or mass produced services, we actually set up your site, ensuring that all the plugins and widgets you need are included, write the content in house and do all the SEO research to make sure that you will rank well for your chosen keywords.
SMALL BUSINESS WEBSITE DESIGN SERVICES
We will:
Have a half hour consult to make sure we know exactly what you want
Help You Set-up the Go Daddy hosting account
Help You Register your URL (domain name)
Build the Blog Site in Word Press (with the VERY SEO friendly Genesis Theme)
Draft and Post an About Us Page
Draft and Post a Contact Us Page
Draft and Post two other pages with the content of your choice
Start you off right with Five New Blog Posts
Point your blog to your website (if appropriate)
Add access to Google Analytics to enable you to monitor your traffic
Add Feedburner for email signups
Submit your blog to Google
SEO your blog to rank in the search engines
BONUS – you get free training in how to use your new website so you don't have to call and pay every time you have a tiny change!
All above services will be provided for a charge of $1,250
PORTFOLIO – See Some Of Our Sites In Action!
Small Business Sites:
Black Wolf Healing, Denver, CO
Wally's Way, Cornwall on Hudson, NY
Green Cleaning Products, LLC, Genessee CO
Hotels and Spas, Clearwater, FL
Contractors Secret Weapon – Contractor Marketing Podcast
Realtor Sites
Living Luxury Atlanta – Erika Page, Atlanta, GA
John Dietz – The Dietz Team, Palm Harbor, FL
Come To Clearwater – Deborah Ward and Associates, Clearwater, FL
How To Buy USA Real Estate, Bradenton, FL
Denver Realty and Rentals, Denver CO
If you would like more info on this service please give us a call today (727) 415-9165
Just need SEO Services for your current site? Check out SEO Marketing Services For Google
4X Blog posting services including writing, SEO and pictures $300 a month.
8X Blog posting services including writing, SEO and pictures $550 a month.
(Visited 1 times, 1 visits today)