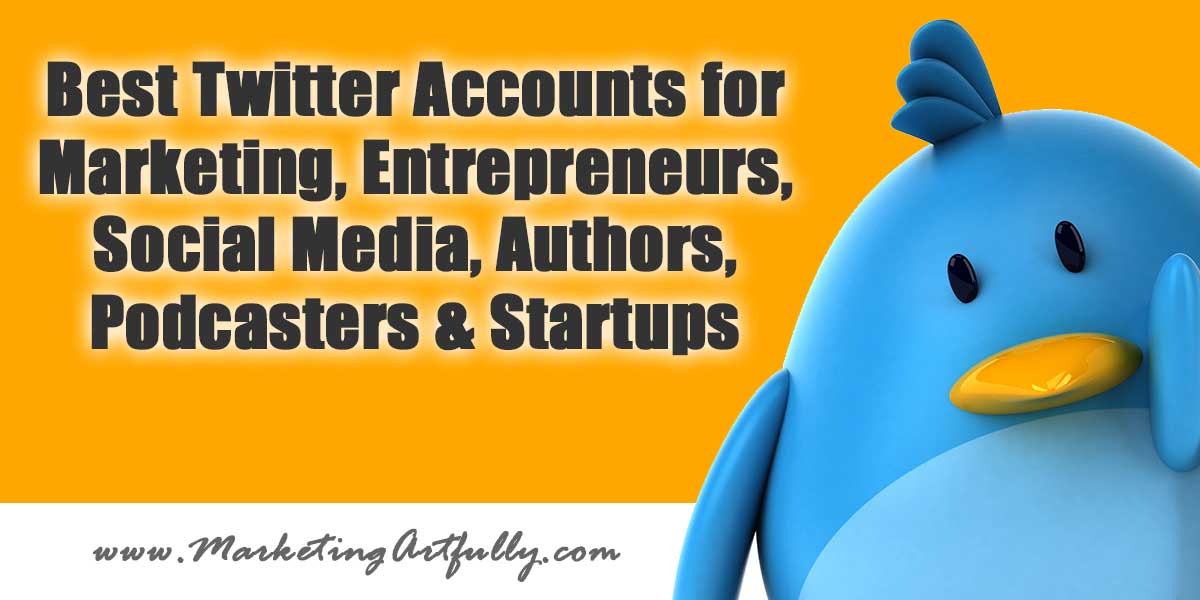 This is my own list of the top Twitter accounts that I follow. There are some pretty stringent criteria that I use to include someone including:
Is it the person-person who monitors or answers
Do they share great stuff
Are they really using Twitter or is their feed full of just Facebook reposts
Now you might be asking me why I would have such a list and there is are a couple of really good reasons.
IMFs – First off, I like being able to easily sort through people on Twitter so I make lists like my IMF list. These are the people who I think are particularly interesting and I want to keep up with what they are sharing and help them get greater reach by retweeting their stuff!
Twitter Ads – The next reason for the lists is that I like to do a bit of Twitter Ads marketing and oftentimes the way to get the best results is to use the "following a certain user" feature. I can tell you that for me, a really good one to include in my list is Mr. 2Morrowknight who has a really big account and who seems to really be involved in working it!
I like these guys and gals. – Last but not least, I really do like being connected and seeing what these hip cats are up to! They all bring a little bit different perspective and I find that I learn something new from what they post!
PS – If I included your #Twitter handle on the list and you would like to be excused, please just email me and let me know tara (at) marketingartfully.com. If you are going to leave a spammy comment hoping that I include your handle on the list, don't bother. I have basically abandoned the comments section because it is so icky a place to try and slog through!
Marketing
@2morrowknight – Keynote Speaker, #GivingTuesday Ambassador | Bestselling Author: The Road to Social Media Success http://bit.ly/SuccessInSocial | http://linkd.in/1tCkBa7
@adage – Ad Age is the leading global source of news, intelligence and conversation for marketing and media communities.
@AndreaVahl – Co-author of Facebook Marketing All-in-One for Dummies. Creator of @GrandmaMaryShow. Improv comedienne and wine drinker.
@buffer – Buffer helps you share to Twitter, Facebook and more. We're a team of 29 spread all across the world. Oh and we're hiring, too! http://jobs.bufferapp.com
@chrisspooner – The guy behind http://Blog.SpoonGraphics.co.uk, I like designing, blogging and making pretty pictures
@ClayCollins – Co-Founder of http://www.LeadPages.net
@CMIContent – Content Marketing Institute, CCO Magazine, Content Marketing World in #Cleveland 9/8-11, 2015! #CMWorld Twitter chats Tues 12pm ET. Tweets by @MoninaW.
@cspenn – VP Marketing Technology @shiftcomm, ninja, Marketing Over Coffee cohost, speaker, Buddhist. More: http://cspenn.com/w Latest book: http://marketingbluebelt.com
@derekhalpern – Investor & Founder of Social Triggers, which reaches more than 400,000 entrepreneurs each month. I'm 99% useless, but that 1% when I'm not, I'm dangerous.
@JohnAguiar – I Help Bloggers, Entrepreneurs To Use Blog Marketing, Twitter Marketing, Social Media. Kidney Transplant Rec – #6 Forbes Top Social Media Power Influencers 2013
@JoePolish – Expert marketer for entrepreneurs and small business owners; Genius behind Piranha Marketing; and Joe has some VERY cool friends.
@justcreative – Graphic Designer, Logo Designer, Web Designer, Blogger, Creative Thinker, Social Media Nut, Freelancer, Link Sharer.
@lilachbullock – Co-Founder of @CommsAxis with @danpurvis. #Digital #marketing, #socialmedia & #content agency. Get in touch today! Proud mum. #Zumba
@MarketingProfs – Head of Content here at 'Profs. I'm waging a war on mediocrity in content. http://www.annhandley.com
@randizuckerberg – Founder @ZuckMedia Agency. Speaker. Investor. Radio Host @SiriusXM. Broadway Actress/Producer. Author @DotComplicated & Dot. Formerly Marketing @Facebook. Mom.
@RebekahRadice – #SocialMedia, Digital Marketing, Author, Keynote Speaker, Co-Founder @Imagine_WOW @eSocialSuccess | Coffee addict, sunshine lover & nuts about my 2 pups!
@SalesWhisperer – Marketing Automation Guru | Sales Trainer | Keynote Speaker | The Sales Podcast | Author | Copywriter | Infusionsoft-HubSpot-Ontraport | http://BestCRMHelp.com
@TARAdactyl – #Marketing Coach, CEO Marketing Artfully, Bestselling Amazon Author & Speaker https://MarketingArtfully.com (this is me!)
@WarrenWhitlock – Forbes Power Influencer, Hacker, Futurist, Radio Host, Author, Speaker, Blogger and Friend
Entrepreneurs
@AliBrown – Entrepreneur, mentor, angel investor (and mom of twins!) helping women around the world step into redefined business leadership
@BarbaraCorcoran – Shark Tank, entrepreneurs, motivation, business, real estate. Today Show, GMA.
@brianclark – Founder: http://copyblogger.com , Host: http://rainmaker.fm , Curator: http://further.net .
@businessinsider – What you need to know.
@chrisbrogan – NYT Bestselling author & leading authority on owning the game you most want to win. Courses: http://OwnerMag.com/store . contact: http://chrisbrogan.com/contact
@garyvee – Family 1st! but after that, Businessman. CEO of @vaynermedia. Host of #AskGaryVee show and a dude who Loves the Hustle, @Winelibrary & the @NYJets
@MarshaCollier – Author 48 books: Social Media Commerce, eBay, Online Customer Service. Forbes Top 10 Influencer, Futurist, GigaOMAnalyst, Founder #CustServ chat #techradio host
@marieforleo – I'm here to help you make a difference & be your happiest, wisest & most loving self. Want to be sure to reach me? Write info at http://marieforleo.com XO.
@mcuban – Cyber Dust ID: blogmaverick
@MichaelHyatt – Author of New York Times bestseller, Platform: Get Noticed in a Noisy World. Founder of Platform University and Best Year Ever.
@michaelport – father, friend, lover, revolutionary, big thinker… and best selling author
@richardbranson – Tie-loathing adventurer, philanthropist & troublemaker, who believes in turning ideas into reality. Otherwise known as Dr Yes at @virgin!
@travisk – Uber CEO. Serial entrepreneur.
Interesting
@BlairReeves – Building at @Demandware. Ex-IBMer. Marketer, PM, developer. Blogger on ecommerce and marketing tech. Also my jam: economics, global development, biscuits.
@craignewmark – customer service rep & founder for craigslist & craigconnects. Media inquiries please email: press@craigconnects.org.
@jonathanfields – Dad, husband, maker, entrepreneur. Fueled by possibility and dark chocolate. Founder of http://www.goodlifeproject.com .
@loic – enjoying every minute.
@pmarca – 'Andreessen is the quintessential guy who is wrong with corporate America…Hard to hear, talks with a squeaky voice that only a dog can understand.'–Carl Icahn
@sgblank – Customer Development & Secret History, Teaching at Stanford, Berkeley and Columbia
Social Media
@AmyPorterfield – I'll show you exactly how to monetize your online marketing efforts and grow your social media fan base, grow your email list and boost your profits.
@debsylee – International Social Media Advisor, Speaker • C-Suite Twitter Mentor • Forbes Global Influencer • HuffPost Blogger • Powered by lipstick, yoga and rugby
@Dede_Watson – ✭ Social Media Strategist, FORBES Top 50 Social Media Power Influencer ✭ Personal Brand Builder #Entertainment #Media @chelseakrost @JNSantaniello
@Don_Crowther – Social media and online marketer, consultant and speaker. Founder and creator of 3XSocial & Social Profit Formula http://3XSocial.com
@equalman – The Tony Robbins of Tech
@jeffbullas – CHIEF EVANGELIST-SHUTTLEROCK Social Media Marketing Strategist & Speaker,Forbes Top 50 Social Media Influencer,Huffington Post Top 100 Business Twitter Accounts
@joelcomm – Author of 9 Books, Keynote Speaker, Corporate & Small Business Consultant, Brand Ambassador, Wannabe Comedian
@kimgarst – Social Selling Pro, Best Selling Author, Keynote Speaker, CEO, @Forbes Top 10 Social Media Influencer, @HuffPostBiz Contributor. Loves God, family & hockey!
@LinkedInQueen – Eve Mayer is CEO of Social Media Delivered. Author of The Social Media Business Equation and Get It Girl Guide to Online Dating. Professional Speaker & Humorist
@lorirtaylor – When it comes to your brand, decaf just won't cut it. Tweets by Team Caffeine. Visit us for more #Blogging #SocialMedia and #Marketing tips.
@loriruff – Chief Brand Evangelist @ALPFANational Advocating Transformative Change ★ Forbes Top 50 Influencer #SocialMediaMarketing ★ #GreatContent #RockTheWorld w/LinkedIn
@MariSmith – Social Media Thought Leader | LOVE Facebook Marketing! | Globe-trotting Speaker | Author | 'Mari like Ferrari' ➤ Meet me in San Diego! http://bit.ly/SMMW15SD
@MelanieDuncan7 – A serial entrepreneuress, and Pinterest marketing expert, I now teach others how to grow their online businesses.
@Mike_Stelzner – Founded Social Media Examiner @smexaminer, host of Social Media Marketing podcast, authored Launch & Writing White Papers. Committed Christian and dad.
@SueBZimmerman – U eat drink & breathe? I launch businesses | Branding Online Media | @CreativeLive Instructor | Hashtag Expert | Creator of Insta-Results
@sacca – Married to @crystale, dad to @CCEleven & @CircaLuna, investor in @Twitter, @Uber, @Instagram, @kickstarter & other startups. Learn more: http://lowercasecapital.com/.
@tedcoine – CMO of https://meddle.it . Co-Author of A World Gone Social. Forbes Top 20 Influencer. Inc Top 100 Leader & Speaker. #leadership
@TedRubin – 'Life is not about waiting for the storm to pass… it's about learning to dance in the rain.' 🙂 http://www.rebelmouse.com/TedRubin
Author Marketing
@alaindebotton – Take a look at: http://www.youtube.com/theschooloflifetv …
@ChuckWendig – Campbell-nominated author of: BLACKBIRDS, UNDER THE EMPYREAN SKY, BLUE BLAZES, more. Writer of film, comics, games. Keeper of terribleminds. NSFW. Likely NSFL.
@dduane – 30+ years in print, 50+ novels, assorted TV/movies, NYT Bestseller List a few times, blah blah blah. Also: #YoungWizards 1983-2016 and beyond.
@DeanWesleySmith – Professional Writer of over 100 Novels
@HarlanCoben – Author. Details at http://HarlanCoben.com . I came up with that website name on my own. I'll wait for the applause to die down.
@hughhowey – Author. Photographer. Reader.
@jamesscottbell – Award winning thriller writer, and #1 bestselling writing coach. The Suspense Never Rests™
@jasonpinter – Founder and Publisher of @PolisBooks. Bestselling writer. Book lover. New Yorker. Email: jpinter (at) polisbooks (dot) com.
@jchutchins – Wordherder. Sometimes for hire. | The 33: http://The33.net | Freelance portfolio: http://bit.ly/jcworks | Novels: http://bit.ly/jc-fiction
@JLichtenberg – SF/Fantasy/Romance/Paranormal writer in HC, MM, Trade, e-Book, Audiobook. Writer, Editor, Reviewer, Screenwriter http://jacquelinelichtenberg.com
@JoeFinder – Dad, husband, NYT bestselling thriller writer, Red Sox fan, Bostonian, Land Rover Defender driver, tomato farmer, owned by Golden Retriever Love Dog
@JoeMoore_writer – #1 Amazon bestselling co-author of THE PHOENIX APOSTLES, THE GRAIL CONSPIRACY, THE LAST SECRET, THE HADES PROJECT, THE 731 LEGACY, THE BLADE and THE SHIELD
@JohnnyBTruant – Speaker & Best Selling Author of over 2 million words (http://is.gd/UuJWsZ ) Host of http://SelfPublishingPodcast.com & http://BetterOffUndeadShow.com
@KristineRusch – award-winning bestselling writer under Rusch, Nelscott, Grayson & a few other names
@neilhimself – will eventually grow up and get a real job. Until then, will keep making things up and writing them down.
@NickThacker – Author of thrillers: http://www.nickthacker.com . Optimize your writing, life, and productivity: http://www.writehacked.com
@Oatmeal – I make comics.
@SeanPlatt – Publisher, entrepreneur, co-author of Write. Publish. Repeat. I write awesome books. People like them. Try one for free: https://sterlingandstone.net/become-a-starter/ …
@Shteyngart – Gary Shteyngart is a book writer.
@thecreativepenn – NY Times & USA Today Bestselling Thriller Author http://www.JFPenn.com . Professional speaker. Entrepreneur. INFJ
@TinaGerow – Multi-published author as both Tina Gerow and Cassie Ryan. Speaker, eBook enthusiast, lover of the written word.
@WarrenAdler – OFFICIAL Warren Adler, world-renowned novelist (The War of the Roses), playwright and digital publishing pioneer.
@wilw – I'm just this guy, you know?
Podcasters
@chrisducker – Author of #1 Bestseller 'Virtual Freedom', Founder of @VStaffFinder. Serial Entrepreneur, Speaker, Blogger & Podcaster!
@gjhickman – In love with mobile marketing & helping others grow their business. Founder Mobile Marketing Engine @mobilemixed
@jaybaer – NY Times best selling author, business strategist, keynote speaker. President of @Convince – A strategy consulting firm.
@johnleedumas – EntrepreneurOnFire: Awarded Best in iTunes: http://EOFire.com/itunes/ Ready to start YOUR Podcast? http://FreePodcastCourse.com
@katiekrimitsos – Founder of the Biz Women Rock Podcast & Community & COO of the Tampa Bay Business Owners. Totally obsessed with all things Business and making global impact!
@LewisHowes – Lifestyle Entrepreneur. Former pro athlete & 2 sport All-American. Write books + dirty salsa dancer. USA National Team Handball athlete.
@PatFlynn – Lead by example. Be honest. Hold nothing back.
@RSPPodcast – I interview top self-published authors to find out how they made it, so you can do the same. Audio podcast every Thursday.
@TheRealSBBM – The home of Australia's #1 #marketing #podcast for #small #business owners. Got a marketing question? Send a voicemail thru my website.
@TimboReid – Marketing speaker & host of Australia's #1 business podcast. Chasing the world's best coffee and Dad joke. What have ya got?
@TimThePaige – Husband and dad. Podcaster at ConversionCast. Conversion Educator at LeadPages. Voice Artist, Bearded guy. Diehard Cuse fan.
Startup
@bfeld – I'm a VC at Foundry Group. I live in Boulder, Colorado, invest in software and Internet companies around the US, run marathons, and read a lot.
@biz – Co-founder of Twitter, Co-founder and CEO of Jelly Industries.
@cdixon – programming, philosophy, history, internet, startups, investing
@ericknopf – Highly caffeinated lover of entrepreneurship & startups. Father, Believer and Co-founder of @Webconnex. My passion is not being bored.
@jamesjoaquin – Co-founder at Obvious Ventures (former CEO @ Xmarks, Xoom, Ofoto)
@joshk – VC. Father. Geek
@mattjackrob – Co-founder of GoCardless. Sharing my experiences of starting a company. Also found at https://medium.com/@mattjackrob
@msuster – 2x entrepreneur. Sold both companies (last to http://salesforce.com ). Now @UpfrontVC looking to invest in passionate entrepreneurs
@sir – Founder/CEO @MakeSpace | First Entrepreneur in Residence @UpfrontVC
Okay, those are my very top recommendations for best Twitter accounts for marketing, entrepreneurs, social media, authors, podcasters and startups. If you have someone I missed and who will enrich my marketing life…PLEASE let me know!