Today we are going talk about the look and feel for the branding of your social media graphics.
This might be sorta long, but I think if you are redoing your site or having a designer working on it, it is worth taking the time to understand all the bits and thoughts that go into redoing your look and feel to make it branded and cohesive across platforms.
Rebranding My Website
So part of this has been a long time coming. I have spent over 8 years tinkering around and trying to figure out a look and feel I would like for my "stuff". I have had the site be predominantly acid green which I use for my logo and promotional items, I have gone "corporate" like the last iteration and everything in between.
What I did differently this time that I think was extremely effective was to start with the colors and pictures that I like in mind and work backward from there. I picked the palette of the really bright pink, blue, yellow and green and then selected photos that we still colorful and lively but didn't compete with the colored dots and other things going on on the page.
If you would like to read more about the website redesign check out my post 4 Things To Focus On When You Are Updating Your WordPress Website
Additionally I made sure to "brand" each area of my website. Because I publish for a variety of different channels (like Realtors, Authors, Entrepreneurs, and Speakers) I had to make sure that each of these genres was easily identifiable when checking out its section of the website.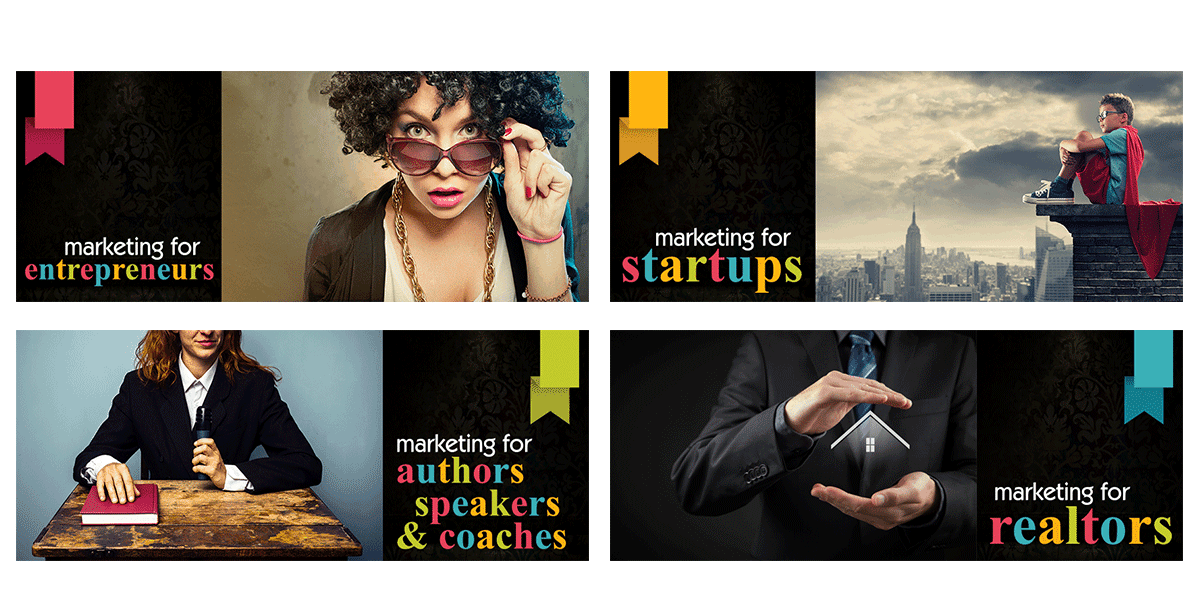 Branding For Social Media
So now we are moving over to social media. I do want there to be a clear correlation between my website and the graphics they see on the social so that when they come over it is very plain that they have reached the right place. Now, this can be much harder when you are managing multiple brands or websites in your company and we will be talking about this in a future post. For now, lets just consider that I have different areas for each of my target markets.
The key to making this work is to have some consistent elements so that people know they are in the right place, but not make it so vanilla that I get bored and want to change everything again in two months (which is always a possibility). Instead I would rather get something set in stone for at least the first six months of the coming year so that I can put a pin in this part of my marketing and do other, funner stuff!
Twitter Social Media Branding
So I am starting with Twitter because it is a little kerfuffly. The banner is really short and wide and cuts off on phones so I need to make sure I know the right dimensions to use.
an amazing post and description of the dynamic properties of the twitter header – click here
Here is my Twitter banner and the overlay from the referenced post to show how it will cut off. Now, I think it does a good job, but short of a plain gray box, there is nothing that will show up perfectly on every device and you will make yourself insane trying to get it to work. This is definitely a case of "good enough is good enough".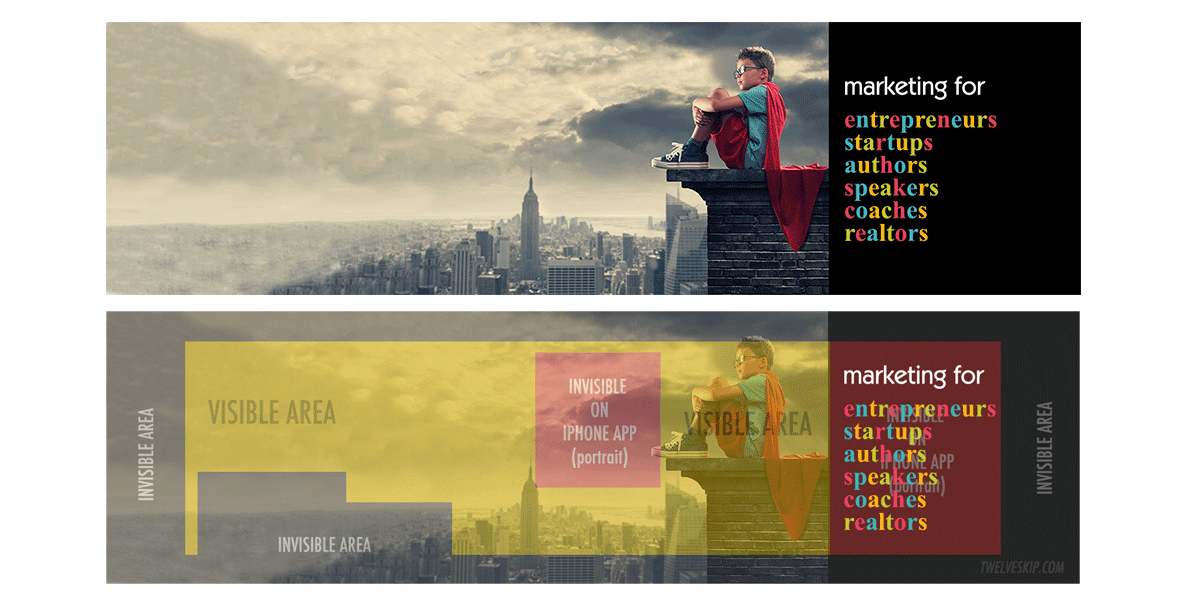 Here are my old banner and my new one.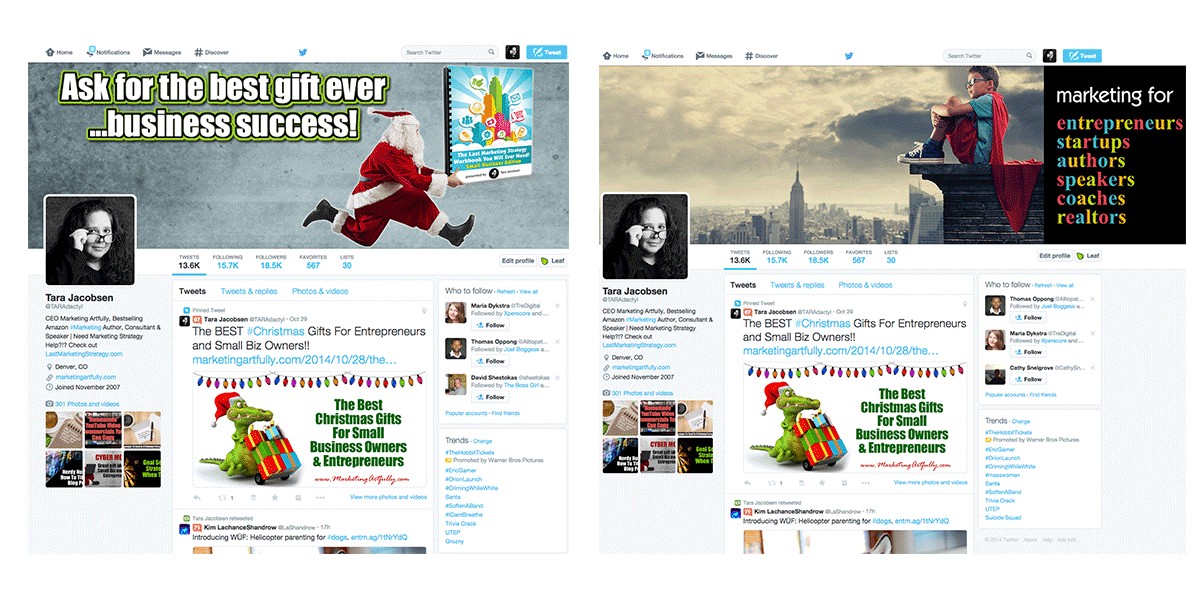 Facebook Social Media Branding
Okay, Facebook is a little different. They have maintained about the same size for a while but they go back and forth on whether you can use calls to actions to get people to do things (and you definitely can't say anything about "liking" your page)
With that in mind you need to make sure that you have a strong call to action offer that they can receive when they "click through" your banner. Here is my new banner and below it the template that I used to make sure there was no overlap on the areas where the avatar and buttons were…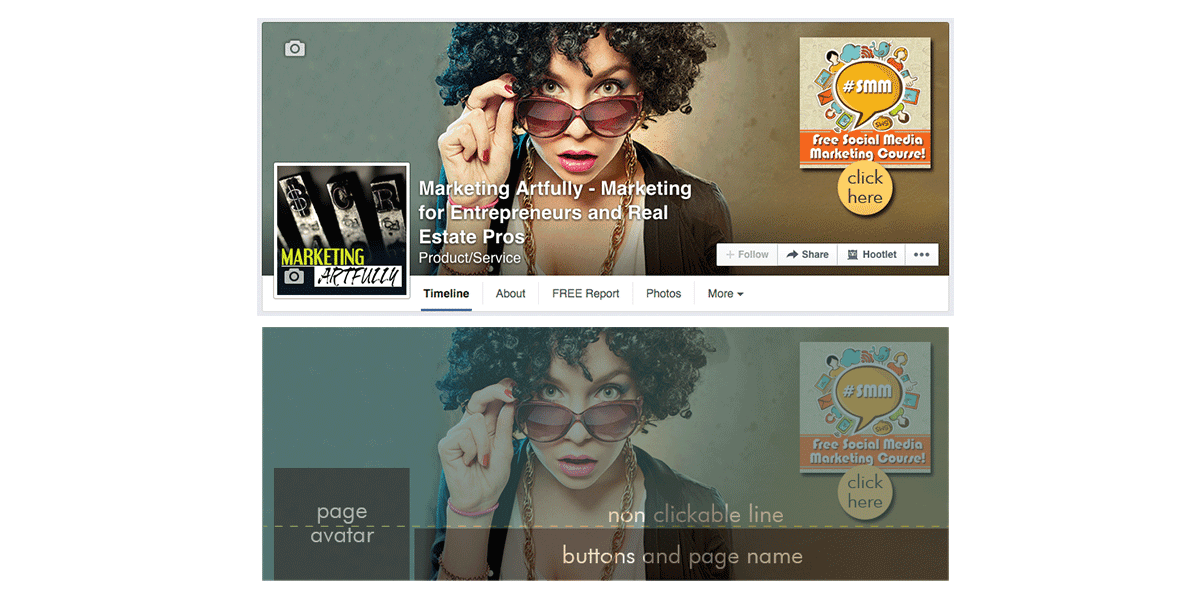 here are some fun post examples about how to make "clickable banners"
Google Plus
Google Plus is a behemoth banner and you can also do the "click here" link on it. One thing to remember is that there is A LOT of real estate to cover and if you try to do too much it can get cluttered.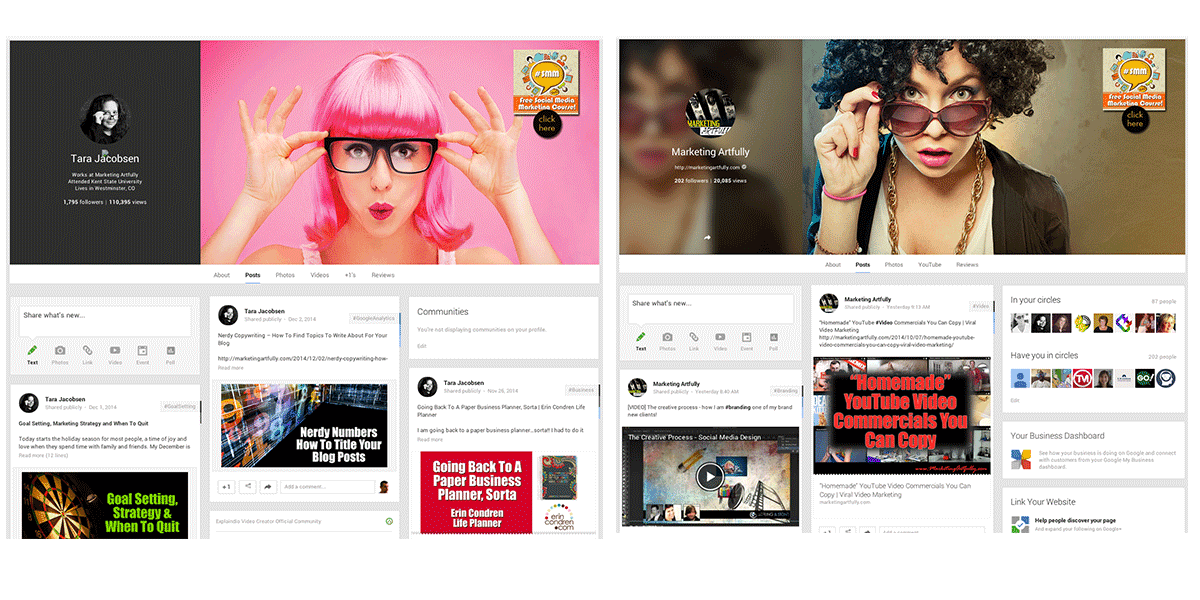 Peg Fitzpatrick is my absolute favorite Google Plus guru…read her take on Google Plus profiles here
LinkedIn Banner
Not as sexy but still important to hit is the LinkedIn Banner. While LinkedIn may never be your favorite network, having all the "bits" filled out will assure that you get more response on your connection requests.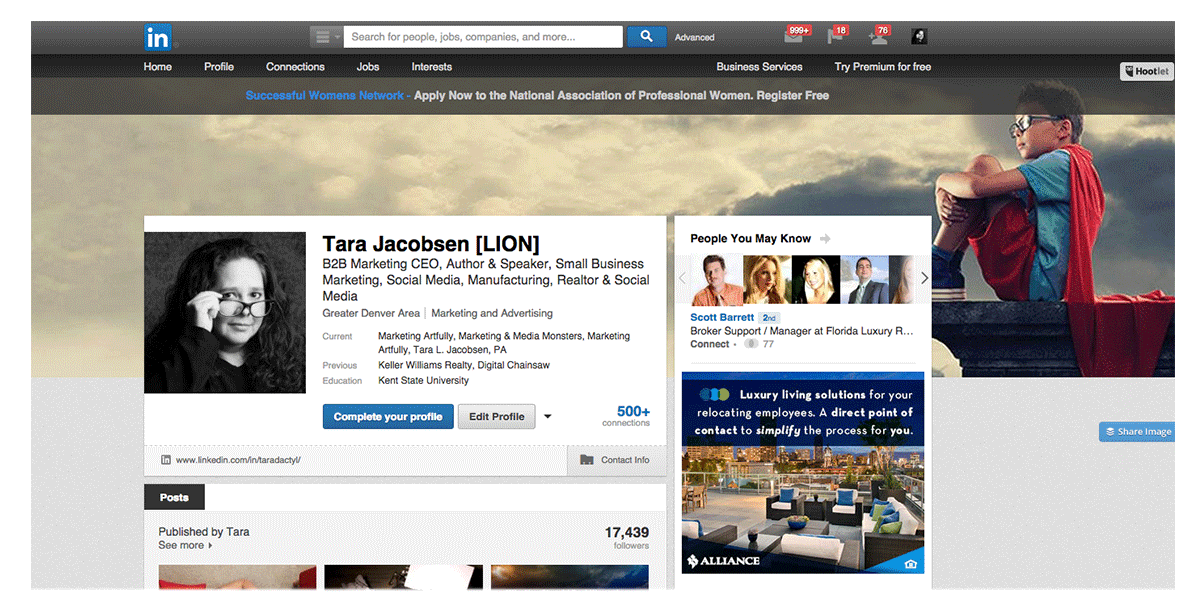 Special Bonus
All of this is well and good because I already have my creative done, but what if you are trying to figure out what to have for your look and feel. Here is a video that I did showing the process of developing creative for a client.
Well hopefully all that helped to see how to have Awesome Branding For Your Social Media Properties! Following are some of my favorite tools for accomplishing all this creative lovelyness.
(Visited 139 times, 1 visits today)