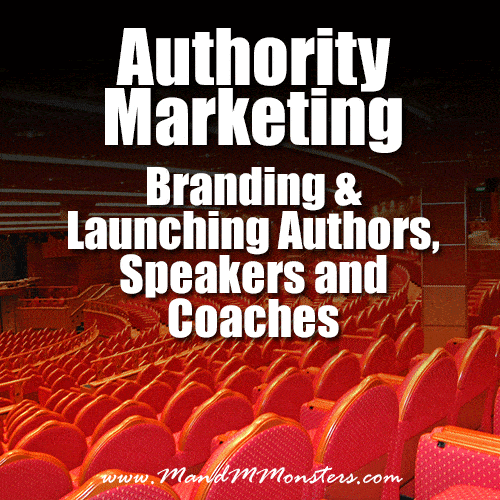 Authority marketing is my absolute favorite kind of marketing. This is where we take a person and help shine a light on their business, brand and products. Sometimes this takes the form of information marketing (like online classes courses or ebooks), but mostly we are working with authors, speakers and coaches trainers to leverage their interesting-ness to grow their networks and database so they can sell their stuff, get rumps in chairs for events and generally get amazing opportunities because of who they are.
So how does one go about conducting Authority Marketing?
Step 1 – A clear message
First off, you need to have a clear sense of your areas of skill and expertise. Many of you may be working with a business or success coach and we LOVE that because it means you have taken the time to plan out your message, developing a clear sense of your strengths and have put together information about your business.
For speakers – while I would love to tell you that you can make a great living by speaking alone, today's world demands that you have a following BEFORE someone will have you in to do a keynote AND that you have a back end of products or services that you can sell as a followup income stream (more about that later).
For coaches – coaches come in all shapes and sizes and may not have to be AS visible to the general public. For coaches the key is to be very high profile for your target audience, whether they be on social media, at trade shows or in other venues where you customers go, which leads us to…
For authors – having a published book (or two) is a powerful driving force and this is your sweet spot. Having put pen to paper and written a volume of work, you know your message and are ready to sell it and yourself to the marketplace.
Step 2 – Knowing EXACTLY who your target customer is
Too often I find that authors, speakers and coaches want to be everything to everyone. They have a message that they think will translate well across a multitude of industries and they want the world to know what they are doing. Hmmmm, that rarely works. There are very few people who are universally loved and hired. It is best to have a group in mind so that you can do a targeted, cross platform campaign to reach decision makers in your chosen field.
For speakers – This one can seem weird to speakers. Say you talk about time management, well that could apply to business as well as consumers like Moms who need to organize their homes. What you need to think about is who has the money to pay for a $5,000 keynote address or $1,000 a day business speaker. It is better to target organizations and channels that have the money and inclination to hire speakers.
For coaches – This is a hard one because it is about positioning and making sure you are giving great guidance for your clients. In my industry (marketing), coaching is less about hand holding them through a new brochure and more about helping them craft a message and develop products. That said, most of them think they need branding help or to do a new media kit. You need to make sure your message is about what they want to buy and then your coaching is filled with that but also what they NEED.
For authors – Now this is where it gets a little trickier for authors. On the internet, oftentimes people are not looking for what your title or genre is, they are looking for help. So you need to talk about and be found for the SYMPTOMS of what ails them. In my world, I talk about writing a good email subject line, and then segue them over to using our email services if they are overwhelmed.
Spreading your message
So now we get down to the meat of it. Authority marketing is about growing big networks, growing your database, creating raving fans and generating sales leads and prospects. So how do you do that? Here are but a few ways that you can start to build your internet city…
A blog – if you are still on the fence about having a blog, as a speaker or coach you have to get off right now. Sending out regular bits of information into the interwebs is the only way to generate the kind of linking potentials that you need to make a dent in the vast amount of data out there. We recommend posting at least twice a week with keyword targeted posts.
Facebook – Some of our speakers and coaches think that they can "do the Facebook" and leave it at that. Mostly that doesn't work for a myriad of reasons, foremost being that Facebook changes the rules frequently and makes it impossible to put together a cohesive and long term strategy. What works today may change tomorrow. That said, as a speaker or coach, you need to be out there as a profile (person) as well as a business page (also of your person, but with the functionalities of having a bigger following).
Twitter – Twitter is my absolute favorite for lead generating speaking events. I have been hired more from Twitter than from anywhere else! That said, it is just a part of my overall online persona and believe me, once they see my 140 character tweet, they then do a search for all my other internet real estate to get details.
Google+ – Oh the apathy that humanity has for poor little Google's network. To the general population, Google looks like it is a loser, to marketers who understand universal search, it is a gold mine for sharing content and generating page one links.
LinkedIn – In some instances LinkedIn can be a valuable tool for generating speaking leads and clients. The blessing and curse of LinkedIn is the time that has to be spent talking one-on-one with people either in messages or groups. The leads you get are great, the reach you achieve can be very small.
YouTube – You must have video. Within a couple of years initial contact with your brand is either going to be through a video or a picture. I joke that if someone finds my blog first I am toast because my 1,500 word articles will drive them away. That is why I have videos that show some of the info and then drive them back here for more information. Now, I have recently started being in the videos more, but if you have a face for radio and want to do videos, it will be okay too!
Pinterest – Darling of the social media world now, Pinterest is great for presenting your pictures, sharing quotes, socializing and is a MUST DO so that you can take advantage of what is still an early adopter advantage. Growing a following on Pinterest is still relatively easy as people are looking to make friends, in a couple of years that will not be the case!
Blog commenting – Attracting the attention of decision makers becomes easier if you are actively commenting on their information. In addition, blog commenting is a great way to generate some traffic to your blog.
Guest posting – If you are going to be an authority, one of the most effective ways is to offer to guest post great content for an already recognized industry leader. You should have a plan in place to contact and follow up with guest posting opportunities.
Minor Sites – Gone are the days when you could have a one site internet empire. It is important to have diversification of your message across multiple internet properties. One that comes to mind in this category is is Seth Godin's Squidoo which does not have the SEO love that it once did, but which is great for promoting books, courses and digital products. Another, for our speakers, is SpeakerWiki where you can post your speaking credentials.
Database – all of this spreading the word is nothing if you don't have a marketing database to capture you leads with. You need one that will allow forms for multiple product sales funnels, some sort of payment processing system, and the ability to send digital deliveries and autoresponders. You need to write followup messages that sell and inform and set up a bi-weekly email newsletter to stay top of mind for your followers.
Authority Marketing Wrap-up
So now you are set to start taking over you social media empire, here are a few final tips:
Don't try to be perfect, just be you. There are going to be a lot of people telling you how many times you have typos or bad videos. There are going to be people who disagree and who are disagreeable. Just maintain your grace and your personality and you will be fine.
Don't try to make it happen all at once. You cannot grow a stable internet city by throwing man-hours at it. You can't buy likes or followers, well you can but now there are tools to see that you did and it makes you look like a schmoe. Google, Facebook and the rest can tell if you are growing slowly and consistently over time or if you have just dumped a ton of content and money in. Starting a new blog, could be a few months before you will get any Google traffic (no matter what those make money online guys say!)
Get help. Seriously, this is a full time job in and of itself. While I am a HUGE proponent of you doing your writing and videos yourself, the day to day following, liking and friending is better done by someone who knows what they are doing. We spend about $10,000 a year in training and attending conferences just to keep up with the latest techniques.

Speaker Marketing Worksheet – Speaker Domination
Whoo whoo! You have decided to start doing speaker marketing and start getting some gigs…Yay you!
Unless you are a super professional speaker for a living, you are probably like me and speaking 4-6 times per month, sometimes in person, sometimes on podcasts and occasionally at big events that you have to travel to. I made this worksheet to keep all of my speaking opportunities in order!