So today we are talking about Twitter and how to use Hashtags and Lists in an advanced way! … don't forget to check out the bonus tips below the video.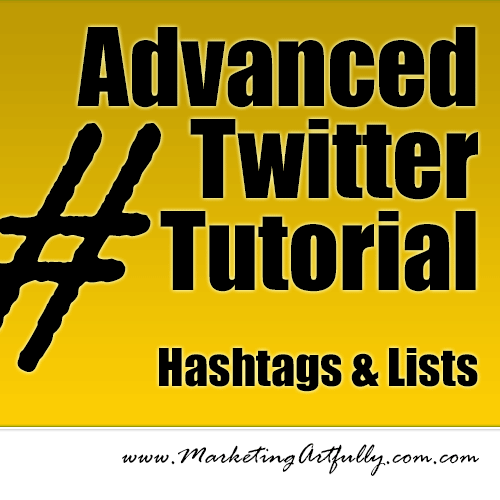 Can you do a video or a blog post that illustrates such things as hashtags and lists – but from the point of view of the "other guy" – in other words, I love all the stuff you do that shows how we should optimize our Twitter accounts by using hashtags, lists, etc… but I would like to see all of that from the perspective of the user that we are doing all of this for. I really can't figure out how people use hashtags and other things to find content that actually interests them or whatever. While I like Twitter the way I use it (and I genuinely do), I can't help thinking that I really still don't get it. I think it would be great to see that, and it would help me to have a better handle on why I do what I do when I use Twitter for my business. I get it on an intellectual level, I think… I understand in theory why I do what I do. I just probably never would have used Twitter if it weren't for my business… and I feel like I'm still missing some of the "why". IDK… just thought it might make a good post – to flip the perspective.
Thanks to Donna Thornton of Onederous Tribe for the great question!
Twitter Hashtags
If you are just starting out, you may not be as familiar with Twitter Hashtags. They are used to categorize a group of posts…in the video we talk about #smm which is actually a way to find all the "social media marketing" posts that people have shared.
There are literally THOUSANDS if not MILLIONS of hashtags. A great way to find them is to use the Hashtag Dictionary or just do a search for your words in the Twitter search and see what everyone else is using.
HASHTAG BONUS – I hear A LOT that you should come up with your own hashtag and get it to trend on Twitter. First off, if you are using one for your business (like I could use #MarketingArtfully) no one else on the face of the earth knows about it and you are going to have to do A LOT of work to get them to notice. Non-generic hashtags are more for places like #homedepot, causes like #KONY2013 or events like #olympics2014. There are MUCH better things that you can spend your marketing time on than trying to get something to trend on Twitter for an hour or so.
HASHTAG BONUS PART DEUX – That said, you can make it really easy to track favorites and shares on your Twitter (and now Facebook) posts by using your own, customized hashtag. Again let's say I used my own hashtag like #mmmonsters (for our Marketing and Media Monsters site) and then be able to search and thank and follow people who have liked and shared my "stuff".
Software Suggestions
In the video I show you a bit of Tweet Adder (which I LOVE for automating and making some of my Twitter tasks easier!) – aff link
Twitter Lists
It is REALLY worth finding out more about the Twitter lists! I especially like following the people who have listed me AND using the lists of others to find people to follow!