As an advanced social media marketing whiz, I often say all chirpy, "it is so easy, it will just take you 5 seconds". Well learning how to post pictures and links to the new Facebook timeline so they look pretty and attract attention REALLY is easy and shouldn't take more than 5 minutes to comprehend and a couple of minutes to do!
Advanced Social Media Marketing – Posting Links and Pictures To Your Timeline
Okay, this is not just a recap of what I talked about in the video, although I do think there are some good points there. When you are taking the time and energy to post to your Facebook Timeline, it can seem like doing ANOTHER step like pulling a picture is just TOO MUCH HASSLE!
So here are some REAL reasons to do it beyond just, it seemed like a good idea: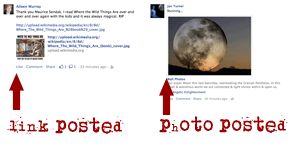 Engagement on pictures is MUCH higher than if you just post a link – as you can see in the picture, just the real estate you get for a photo rather than pulling in a link is amazing.
I timed doing it both ways…way one, finding a link and posting it from a past blog post on my website, 47.1 seconds. Finding a link and posting it from a past blog post, saving the picture and uploading it from my desktop instead of letting Facebook pull it in, 66.0 seconds. This amounts to a difference of 18.9 seconds (you don't have to do the math…I used a calculator!)
So let's say you are slower than I am and it takes you THREE TIMES as long, the minute that it will take to post a picture to your Facebook timeline instead of doing the pull in post can make a huge difference in how often it appears on your friends wall, in addition to how often they notice it and engage in your postings.
Looking for more advanced social media marketing help? Keep your peepers open for our advanced social media marketing training coming soon!
(Visited 24 times, 1 visits today)