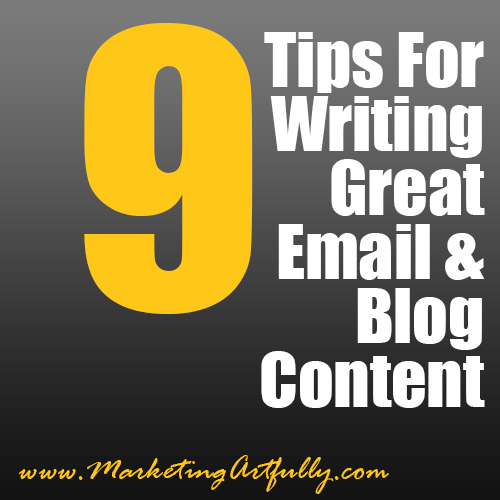 Content is KING…if I hear that one more time I am going to puke. Writing great email and blog content is NOT about churning and burning words on a page but writing great stuff that matters!
Basic Tips For Writing Great Email and Blog Content
These are general, a refresher for those who are in the trenches everyday and should really help those who are just getting started.
Tip #1 – Would You Guest Post It
I am a little weird because I have not guest posted all that often and when I do I get rejected A LOT because they like my writing on my blog but when I am ready to put it on someone else's they would like it to be more, well normal, like their blog. Fair point BUT my writing is my writing and I am not actually capable of changing it (I have tried to check my spelling more, cuss less and generally dumb it down so the content optimizers are happy…doesn't work so screw it!)
That said, you should NEVER post anything on your blog that you would not consider good enough to send to someone else. BELIEVE ME, there have been crappy posts on this blog and I have been horrified to read them later. Good enough is no longer good enough!
Tip #2 – Is your blog post interesting? and do you care?
If you take a peek at my blog I have a nice mix of stuff that I know people want (like this post) and information that is a little out there and probably only interesting me and about three other marketing nerds in the world (my ongoing obsession with Twitter and the mechanics of it comes to mind!)
If you try to write only "link bait" articles and never show your personality or interests, people are going to see through that fast, use your current article to link bait their own social media and then move on. Having a blog with personality will get more email signups, more returning visitors and just generally more bang for your buck.
Tip #3 – Your Emails better be AMAZING
Now for the opposite…email marketing. I can tell you that every post you write will not appeal to everyone BUT when it comes to your email list, you darn well better make sure that something in it appeals to everyone you send it to! There is almost no wiggle room at this point for the content of your emails. Now, your main content can come from your blog BUT if your list is expecting to read about Finance and you start blasting out the latest celebrity news, you will get unsubscribed FAST! Keep your content relevant and AMAZING.
Medium Tips For Writing Great Email and Blog Content
I have spent A LOT of time collecting online headlines for my post 100 Great Free Report Titles, Best Headlines and Free Optin Offers. In addition, I wrote a post about 100 Great Email Subject Lines – Email Newsletters and what I found was shocking (to me at least). I thought these two things would be similar but they couldn't be more different.
Tip #4 – How to title your blog posts so they will read your content
First off, a blog post has to have keywords that someone is going to be searching for! I KNOW, you will read that you can title it anything and your loyal followers are going to love you. I would rather title it something that people are looking for and dazzle them with my brilliance after they find the darn thing…:)
Blog posts are NOT mini sales letters. They are ENTIRELY meant to get someone to your blog to read what you wrote (and sign up for your mailing list). You need to have a great headline with great content that matches the promise of the title.
Having looked at thousands of blog posts titles across myriad industries, I can tell you that the ones that are popular target some part of the human condition…helping you make money, stay young, feel better, make your kids happy, save time, find love, get respect, do something better. The ones that scream, "I am going to give you a huge sales pitch" don't even show up on my subconscious at this point…I just skim over them (more about this later!)
Tip #5 – How to title your emails so your content gets read
Okay, so you have them on your email list and you think, awesome, the factually correct thing worked to get them here, now let's keep that ball rolling. NOPE! For people to see your email content and click your links you have to start with a great subject line that will cut through the inbox clutter AND let them know about your great content inside!
You need teasers of what they will get, PLUS to make sure your title is congruent with the content. In the days when you didn't have to worry about bening labeled as spam or having a ton of unsubscribes you could play this a little fast and loose, but today you need to get real and offer real help or solutions to their problems!
So am I saying you can't send an email that sells something? NOPE again! Chris Brogan does a great job with his newsletter. Normal newsletter, catch title and great content. Sales newsletter and he lets you know that there is a selly-sell in there…funny thing is I read them both! Letting them know that it is something that you might want to buy can frame them to, well, buy!
Advanced Tips For Writing Great Email and Blog Content
These are some of my observations and reflections on writing.
Tip #6 – Last title tip… Use descriptive titles that are easy to share on social media
You have a great post, you want everyone to share it so it can "go viral" but the title is too darn long. What will happen when they hit the share button is that the program will cut off the end of your title or they will pick the parts that you DIDN'T want them to. Titles should be no longer than about 100 characters which will leave room for them to put the source (for example @taradactyl takes up 14 characters of a tweet). They may also want to add their own words so leaving a little room is never a bad idea!
if you want to check out what a 100 character tweet looks like, please feel free to share this article with your twitter friends! click to tweet
Tip #7 – Remember their worldview
This is the most powerful thing I have started paying attention to (see more about it in my post Seth Godin Q&A)
Basically Seth said that you need to make sure that you take their worldview into consideration when you are writing content. In his example he said that ladies who buy $1,000 shoes are not considering that luxury footwear, just a reasonable fashion choice. The fellow who was asking the question really wanted the women to recognize that $1,000 shoes are luxury but to them they were just normal footwear and luxury footwear was probably in the $10,000 range.
I though also of how we write for people who are interested in green cleaning or green cleaning products. Their world view already says that having healthy, safe products is more important than strong degreasing so there are two camps to address when selling these types of products. One is to people who already drank the Koolaid and who want their world view reinforced. We can also extrapolate that they might be interested in other health and environmental issues and can talk to them in a way that lets them know we are like them!
The other people are ones who are at least considering buying green cleaning products but who we have to convince that it is the right thing to do. These folks need different kind of content to move them down the sales funnel and into a decision. Neither is right (although the quicker sales come from Koolaid drinkers) but the thing to watch out for is how we talk to each and how we frame the message for them!
Tip #8 – What's in it for them
Whether it is an email or a blog post, NO ONE has time to read something that benefits you and not them. They don't care how many sales people you have on staff to take care of them (that is a feature), they care that if they call there is a zero wait time to order (a benefit). They don't care your company has been in business for 20 years, they care that because of your experience you know how to help THEM.
I see A LOT of marketing that is boilerplate and self serving. If you are sending out an email or a blog post, stop right now and see if more than 10 percent of it is anything other than pure bliss for your reader. Think about this post you are reading. It is not 9 Tips For Why Tara Jacobsen Is So Amazingly Awesome (not sure even my Daddy would read that), it is a post to help you, my reader, to understand how to write great content.
Tip #9 – Puffery is dead
If you have been in marketing any length of time you know what puffery is…functionally the fact that you can't get sued for saying that you have the "Best darn free email marketing course EVER" even if you can't prove that it is the best EVER.
I read a super good post today about Millennials (Gen Y) and why hype is no longer working. Marketing To Millennials And Other Skeptical Customers? Make Will Ferrell Your Gen-Y Consultant
Basically it is about been there, done that. If you bought one course that said you could make a million dollars with no website and no list and made even $10,000 you would feel cheated. The next time you see a course like that you are going to take it with a grain of salt and the 400th course like that you just reject out of hand.
There has been too much puffery in the marketplace to make anyone notice anymore and it may actually count against you. The people that I like and respect are not trying to shove miracles down my throat but are providing practical solutions to real problems I have at an affordable price. Now, your job is to figure out how to find people who want what you are selling and to make sure that your pricing is attracting the right crowd!