Lead generation is a topic that comes up A LOT in my world. Marketing is not exactly lead generation and so many small business owners to come to me frustrated and glum that they aren't making any sales when in fact all they are doing is promoting and not ACTUAL lead generating.
So what is the difference between marketing and lead generation?
Marketing is all about increasing exposure to your business via a multitude of channels including your website, social media, networking and about a million other available outlets.
Lead generation is the active collecting of people's contact information for the purpose of moving them through a sales funnel and ultimately to a purchase.
5 Steps To Amazing Lead Generation That Really Works
Step one – Know EXACTLY who you are trying to reach! A lot of times we hear that people want to reach women between 35-55 with a college education and a high income. That is not nearly good enough to develop an offer that will make them take notice. Are these women mothers, businesswomen, do they play soccer or do needlepoint? Are they homebodies or party gals? Do they have pets? Knowing the details of their lives lets you craft an offer that will get them to sign up to receive it. Which leads me to…
Step two – Know what you are trying to sell them. You CANNOT try to sell them everything you've got available. The more choices that you give human beings, the less chance that they will pick anything. For one of our offers, we are trying to attract small biz owners who are just starting out…we have a free offer and then followup with a chance to talk with us for an hour for a very low price. This is very congruent with what they can afford. If we gave a free offer about free marketing and then tried to seque them into a five thousand dollar package, we would probably not sell too many.
Step three – you have to have an AMAZING offer. I love that Seth Godin talks about the opposite of amazing is not terrible, it is just good enough. If you are trying to get someone to notice your business or sign up for your list you have to have something GREAT! Today's cluttered world means that anything less will just get lost in the shuffle. One of our amazing offers is 100 Free Marketing Ideas, another is The Best Darn Email Marketing Course EVER! Both are amazing and get people to opt in to our list on a daily basis.
Step four – This is where most lead generation fails…in step 4 you have to have a followup program to get them through a sales funnel. You need to take that lead and nurture it like a little seed, watering it with information about your product or service that can help them make a buying decision. We all know that it takes at least 5 "touches" before most people trust enough to buy. If you are following up once, twice or even three times, you are falling short of getting the sale most of the time!
Step five – Know the lifetime value of that customer. Instead of just getting a quick sale and out, why not look at your current list of customers and prospects and see if there is something else you could sell them. Develop and source items that you know they will like and offer those to this group of "already know, like and trust you" customers!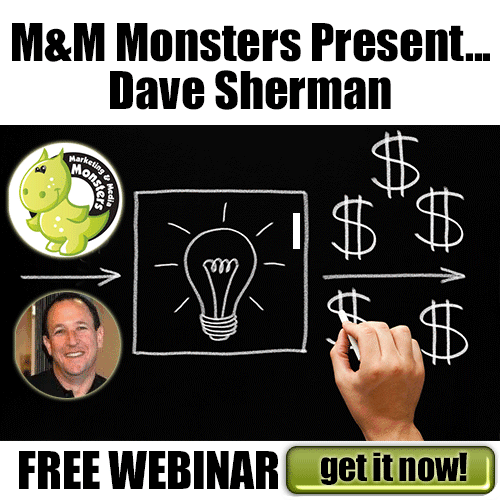 We are rabid collectors of big lists. My biz partner and I have over half a million people who are connected to us socially and databases of over 40,000 contacts (growing every day!) We LOVE Infusionsoft for our sales funnels and lead generation and are super happy that we got a chance to pin Dave Sherman down on a webinar to help give us even more pointers….:) Check out this FREE Webinar – Fixing Follow Up Failure – How to Convert your Lead Graveyard into a Gold Mine (replay will be available if you can't make it on that day!)