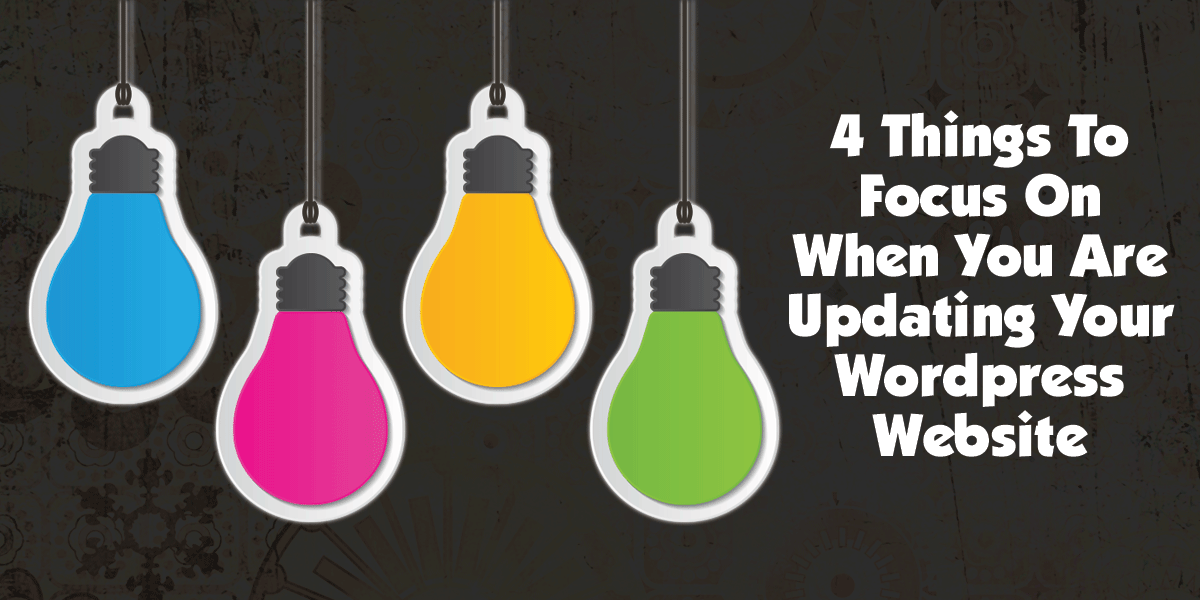 Website design is one of the things that I accidentally know how to do. Back in 2001 when I officially started my marketing company (it was called 4D Marketing back then) I needed to get work and making websites seemed like it would be a great idea. I had a working knowledge of how to make them and a little bit of creativity and so BAM…I made HTML websites. Fast forward to 2008 and I started making blogs until today…the pinnacle of my website design happiness, I revised the look and feel of my website for the last time!
The Back Story
Okay, I am an entrepreneur and so I like to mess with my "stuff". That said, I had made the last change to my website in haste, listening to a bunch of different people who said I had to be more "corporate" and "business-like" in my presentation. Because I was going through colossal sized changes at the time and didn't have an idea for myself what I wanted, I went with the boilerplate, stuffy, stock photo extravaganza you see on the left. I sorta hated it…not just because it wasn't pretty or fun, but because all that corporate-ness made it hard for my peeps to find anything they needed to use.
The rest of this post is about how I made the site of my dreams come true…:)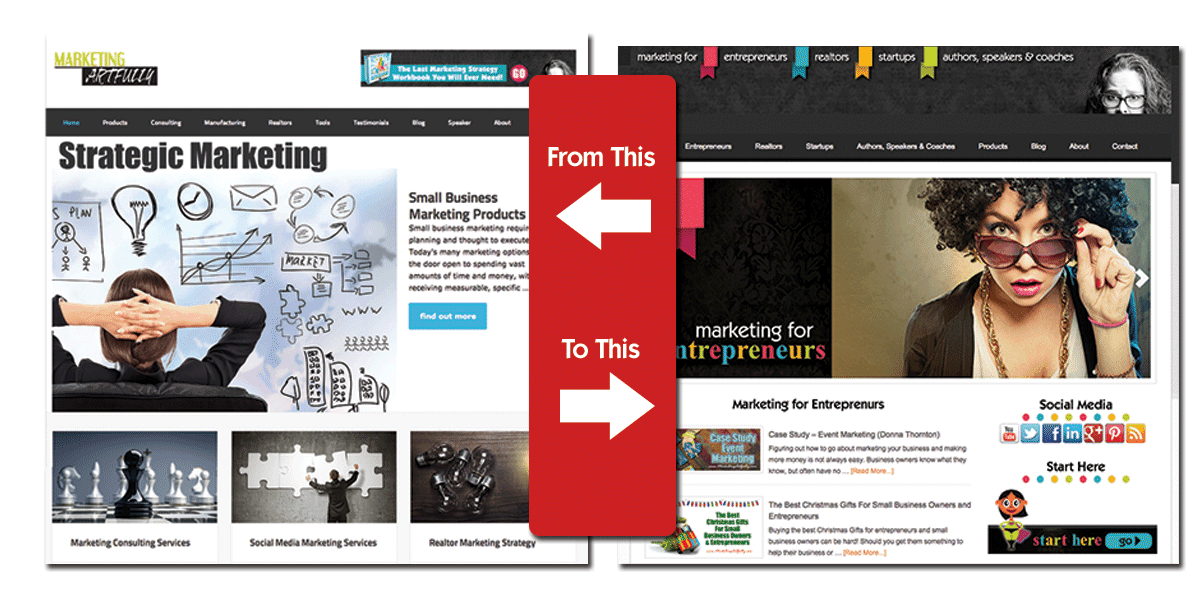 #1 Thing – Figure out the looks and feel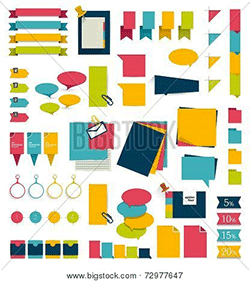 One of the reasons that I can say that I am done changing my site, at least for a while, is that I took a fair amount of time to figure out exactly what I wanted my site to look like. I decided on the fun colors of pink, blue, yellow and green used in a "Garanimals" way. For those of you too young to remember, Garanimals were clothes that all matched if you put the blue bears together or the yellow lions.
The way that I did that was to pick a color palette already done by an artist onBig Stock Photo. I did not have to design the color scheme or banners that I used, I could just pull them down and pop them in. If you are working with a web designer, they will probably be happy if you can be specific about things like this that give them clues to what you like.
Photography. I also know for a fact that more women come to my site, watch my webinars and read my books than men. With that in mind I really just wanted to make sure that the majority of the pictures would appeal to women.
WordPress. I picked a Genesis theme that was close enough to what I wanted and then spent ALL my time developing graphics that would make the theme pop. The slider at the top has just 4 pictures but it is beautiful and eye catching. The sidebar has LOTS of color and I use the 8 little dots in a row to divide things all over the site.
#2 Thing – Stop Worrying About Looks And Start Worrying About Functionality
Having worked with lots of clients in the the past on their websites, I can tell you that they spend WAY too much time worrying about what goes where and how the search bar looks. Stop worrying about looks and figure out what you want your website to do!
While I was focused on making the site pretty, mostly I wanted to make sure that people could find what they were looking for. With that in mind I started the navigation buttons with the 4 types of people I work with, Entrepreneurs, Realtors, Startups and Authors, Speakers and Coaches. Niching down always feels funny and it did to me too! I like working with Manufacturers (a group that does need the "corporate" looking website to feel okay about working with me), but at the end of the day something has to go and they got axed.
Next comes quick links to my products. I had to cut some things there too so I axed all my services. No more setting up websites or doing social media, I am moving to a coaching, my products and affiliate based model (this was necessitated by adopting 3 kids so it was a happy change, but a change none-the-less).
There is also a link to my blog posts with categories. Now, I am pretty well represented in Google, but it doesn't hurt to let people know how they can read your "stuff".



Another thing I did was to take a page out of Pat Flynn from Smart Passive Income's website and make a "Start Here" page. With all the blog posts and content I have on the site, it has to be crazy hard to understand without some sort of roadmap. Hopefully adding this page will reduce my bounce rate and keep people on my website longer!
#3 Set Up Consistency
I have built consistency right into my site. I have the little dots that separate the sections and am using just three different fonts predominantly (Times New Roman, Impact and Kabel).
Having this kind of locked down "style guide" structure means that I don't have to worry that all the bits will start to look cluttered.
Additionally I did the "Garanimals" color scheme meaning that Pink is for Entrepreneurs, Blue is for Realtors, Yellow is for Startups and Green is for Authors, Speakers and Coaches (you can see this in the top banner). The nice thing about this is that I can use this in the handouts I give and the digital products I develop.
#4 Sell Something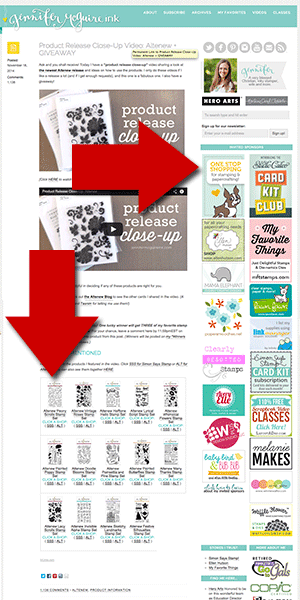 One of the BIG reasons I wanted to change the look and feel was that I need to be able to sell more effectively on my website. With the corporate look there wasn't a way to elegantly add sales banners or calls to action at the bottom of the posts. With this in mind, I added two types of sales functionality that I "borrowed" from the world of scrapbooking ladies (I KNOW, weird right? But these gals are nothing if not dedicated to making their hobbies a money making machine!)
I used a gal named Jennifer McGuire's site as a template for how I was going to structure my sales pieces. There would be a a bunch of sales items on the right sidebar (which sometimes people don't see because of "banner blindness") and also links at the bottom listing the resources that I used in each post.
Now, from a BUSINESS standpoint, I am sure some of you think that this is excessive. It really is just not done that blatantly usually. But that said, I don't think of the scrapbooking girls "selling" so much as showing me how to do something cool and then giving me a handy-dandy way to order the products right from that post.
I feel that same way about the links I share. I NEVER talk about something that I haven't used or bought and I just have to tell you when I find something cool, so why not make it easier for you to find it right away?
Conclusion and Question
So there you have it, the redo what's and why's. So I have a question for you! What do you think about providing resources this way? Tacky or helpful? Please let me know in the comments below!